For centuries explorers have looked East for treasures
Anutone's focus on its origins pays rich dividends
Assam
Gauhati
Project
Indian Institute of Technology
www.iitg.ac.in
Segment
Education
[Classrooms]
Installer
Kamakshi Enterprises
Products
Pixel 3/8, Subtex Clouds KSL, Slats Surco, Soak Plane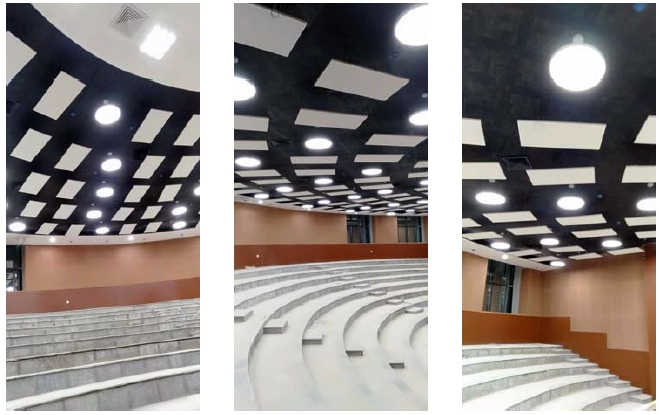 A premier engineering institute of the North East looks to Anutone for acoustical products, systems and solutions, year after year after year!
The next-generation semi-circular lecture halls that are designed as smartclass-enabled indoor amphitheatres needed matching acoustics apart from stunning visuals to realise the true potential of the student community and the faculty.
Primary ceiling is Pixel 3/8 painted black and secondary ceiling Subtex Clouds KSL [Snow White]. Acoustical panelling is a combination of Slats Surco and Soak Plane.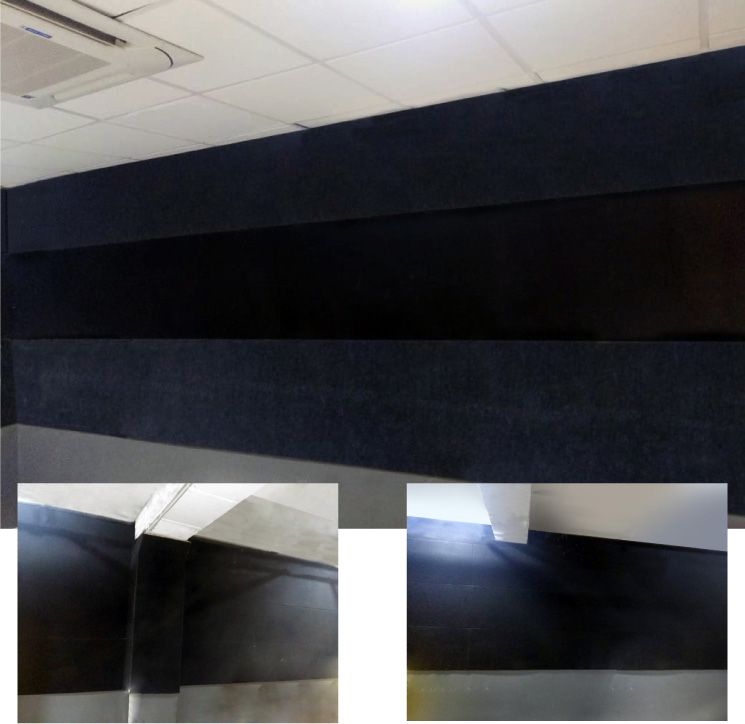 Bihar
Patna
Project
E-TV
Segment
Studio
Installer
AK Enterprises
Contractor
Sconce Global
Products
Soak Cord Ebony
A television studio in Patna opts for Anutone's Soak Cord Ebony to dress up its walls.
The beauty of Soak Cord Ebony is in it's being a neutral background to TV shows while soaking up the sound and light!
JHARKHAND
Ranchi
Project
Civil Court
Segment
Judicial
[Conference Hall]
Installer
Grihalakshmi
Products
Pixel 3/8 ceiling & Slats Surco panelling
As Civil or District Courts (also known as Sessions or Lower Courts)  across India upgrade, it is Anutone panels for acoustics, in many.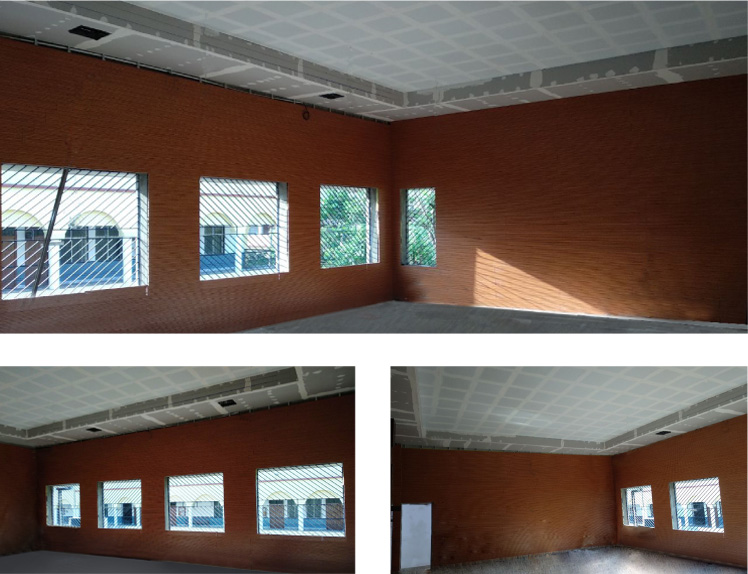 Consider the many aural difficulties faced by the judiciary. Everybody in the courtroom needs to hear cleary and distinctly the arguments of the plaintiff and defedant, the pronouncements of the judges and if the proceedings are in-camera via video-link then distortion-free audio with the accused in the jail. While doing all this any cacophony needs containment. Several acoustical duties indeed fulfilled with aplomb by Anutone's acoustical panels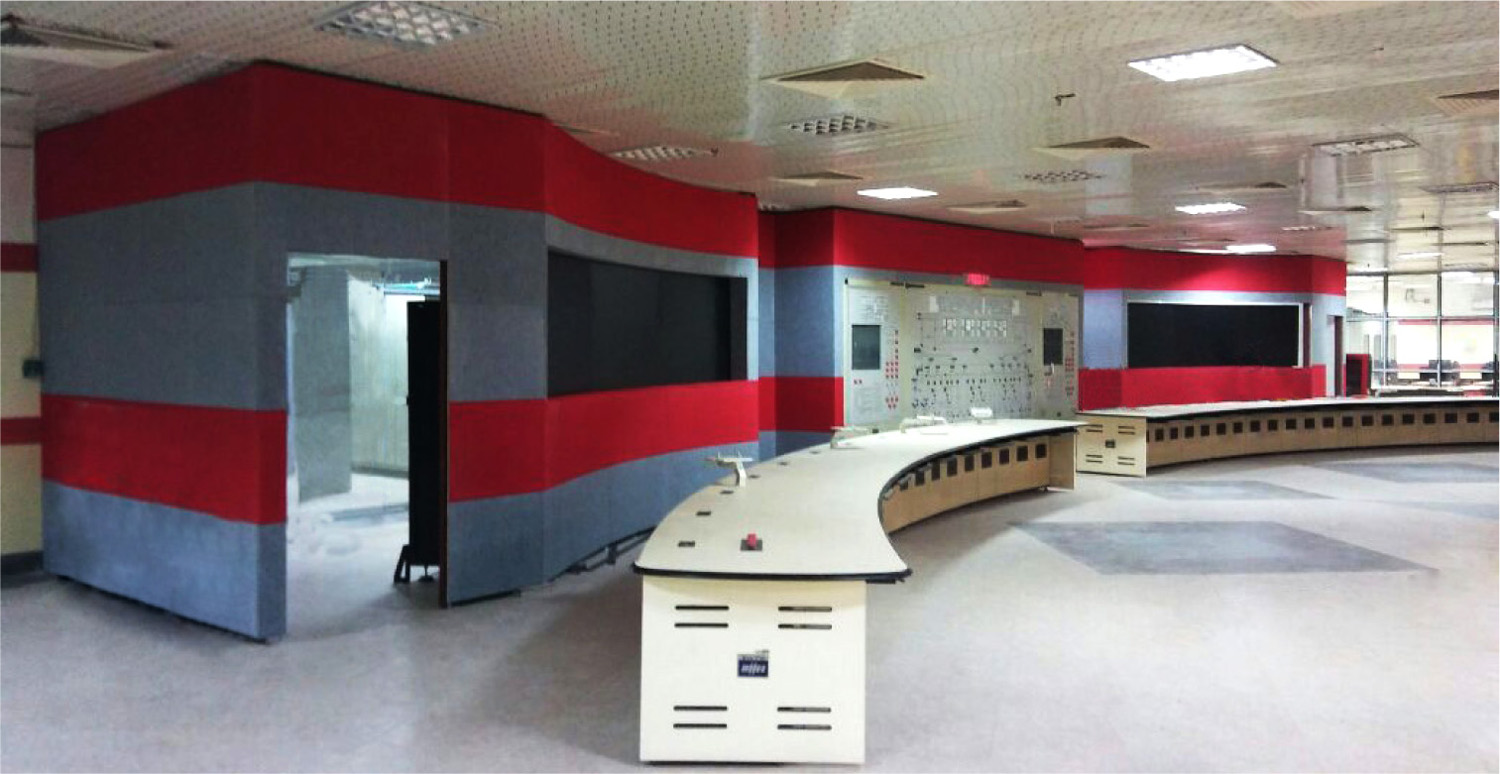 The Network Operating Centre (NOC) of OPGCL required perfect acoustics for sound absorption and noise isolation that was practical both for its budget and installation at a remote site.  Anutone materialised the matching solution with Smart Burl for noise isolation and Soak Cord | Plane for sound absorption. 
Network Operating Centres for power companies are their nerve centre for command and control. The giant video screens and sensitive microphones with precision loudspeakers or earphones need a very quiet environment for speech and hearing. The right surface finishes help create a disturbance-free, distraction-free, distortion-free (3D) atmosphere for the workplace.
ODISHA
Jharsuguda
Project
Odisha Power Generation Corporation Limited (OPGCL)
www.opgc.co.in
Segment
Corporate PSU
[Power Sector]
Architect
DCL Kolkata
Installer
Creative Solution
Contractor
NCC Construction
Products
Soak Cord, Soak Plane,
Smart Burl

West Bengal
Berhampore
Project
Circuit House
Segment
Public Admin
Installer
Creative Solutions
Contractor
SB Constructions
Products
Slats Surco, Soak Cord, Tufbloc HDFR

The Government of West Bengal chooses surfaces finishes from Anutone to refurbish its Circuit Houses
The Circuit House at every district headquarter serves as an important venue for Central | State government ministers to interact with local government and district officials. A unique combination of Tufbloc and Slats Surco ceilings and panelling alongwith Soak Cord panels facilitate sound interiors for such interactions.