Latest acoustical projects across India in different segments and applications.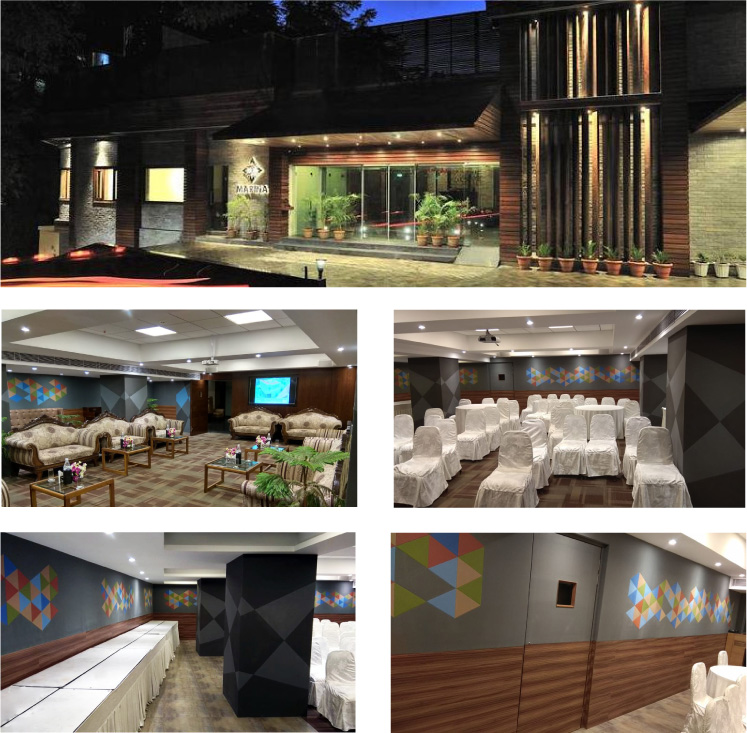 Hotel Marina
www.marinashimla.com
Place        –  Shimla
Segment  – Hospitality
Installer   –  F2C Interiors
Architect –  Kamat
Products –  Slats Surco,
.                    Spun Hush
Banquet halls are used for business meetings, product launches, fashion shows and the big, fat Indian wedding, of course!
This makes banquets a potential source of annoying noise to other resident guests and reverberant interiors for attending invitees, both being uncomfortable situations.
Hotel Marina, Shimla gets it right with Anutone's product solutions executed to perfection by it's authorised applicator.
Centurion University of Technology and Management
www.cutm.ac.in
Place         –  Jatni, Khordha Dist
.                      Odisha
Segment   – Education
Installer    –  Cineteek
Products   –  Mat Solo, Strand
Jatni or Khurda Road Junction, a suburb of Bhubaneswar, capital of Odisha, is made famous by the Indian Railways as it an important junction between Kolkata and Chennai.
Jatni now has a landmark in CUTM as a significant education hub of the region, made acoustically compliant for its lecture halls and conference rooms with Anutone ceilings installed by Cineteek.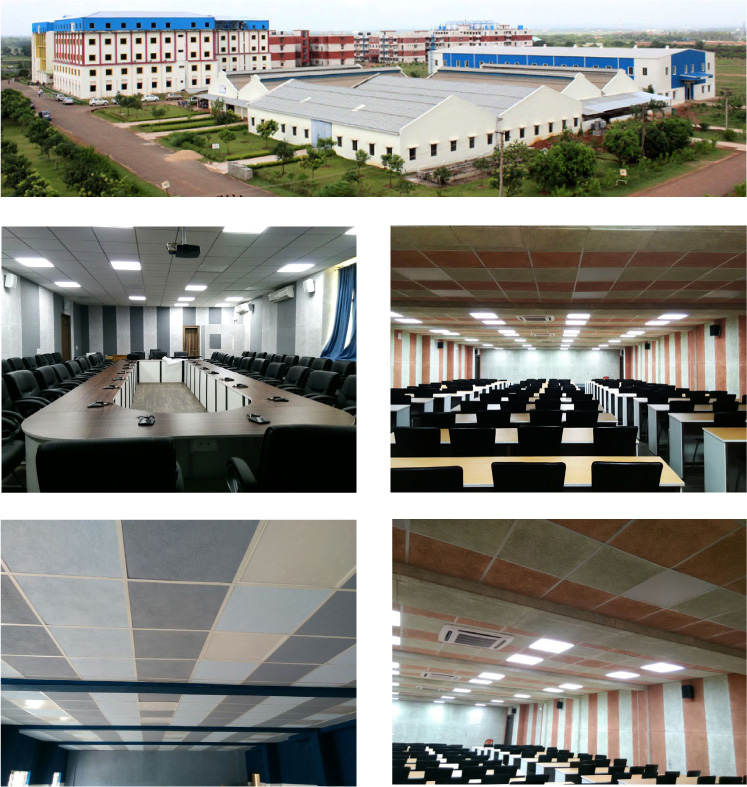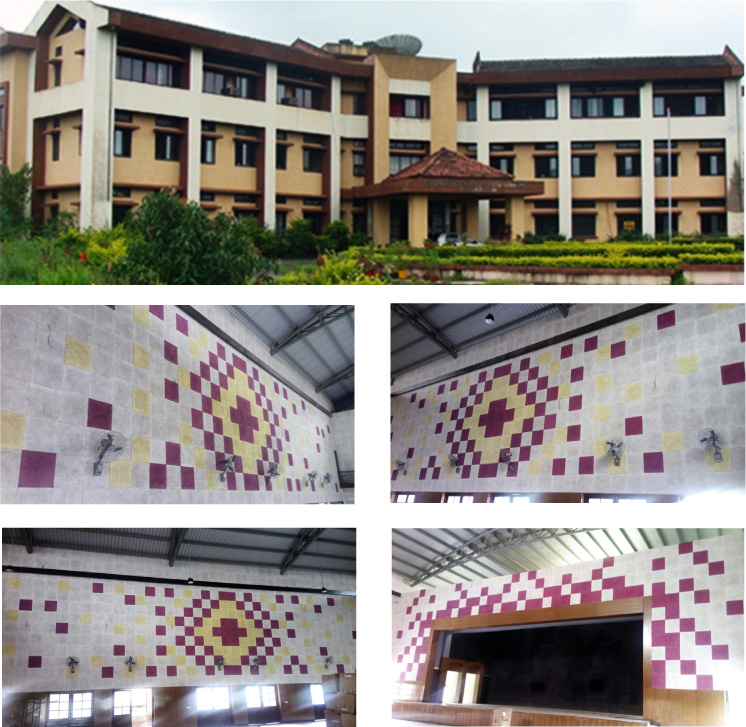 Government College of Arts & Commerce, Pernem
www.govtcollegepernem.org
Place       –  Goa
Segment – Education
Architect –  Milind Ramani
Dealer     –  Harshada Trading
Products –  Strand Colour
For the multipurpose auditorium in its educational campus, Pernem Goverment College, chose Anutone's Strand Colour installed in an interesting pattern on the auditorium walls.
Strand Colour is factory-painted acoustical panels with a fine-filament face surface and coarse substrate to ensure deliberate impedance mismatch for variable frequency sound absorption (broadband)!
Science City (PWD)
www.sciencecitychennai.in
Place       –  Chennai
Segment – Planetarium
Installer  –  Matrix
Products –  Subtex Ebony,
.                    Subtex Nubby
Random placement of a few Subtex Ebony acoustical ceiling tiles in an overall design of Subtex Nubby on Skelet Trelis creates an interesting pattern for this planetarium in Chennai.
Overall the Anutone ceiling deadens the reverberations off other smooth, hard surfaces
One of India's leading dealer and applicator, Matrix, executes the project to perfection, as always!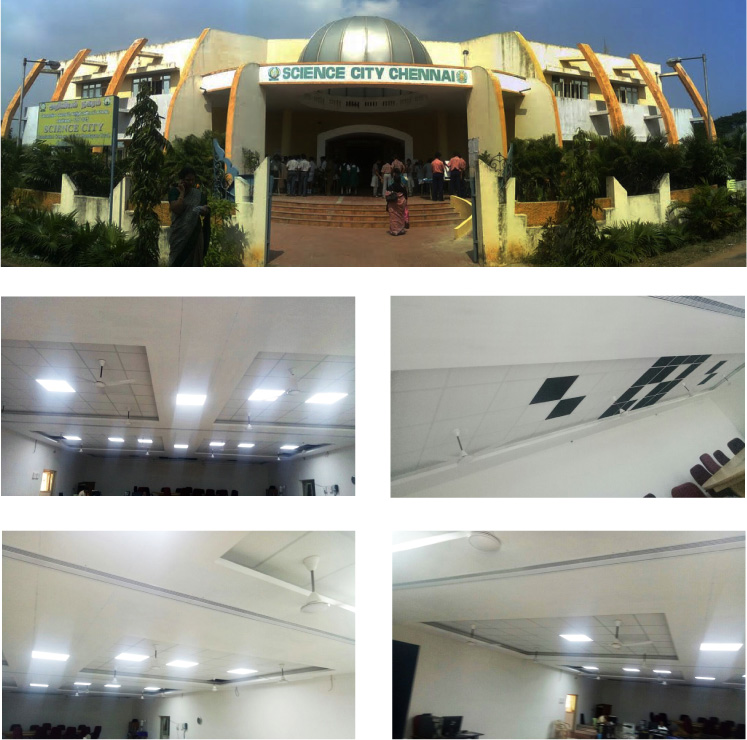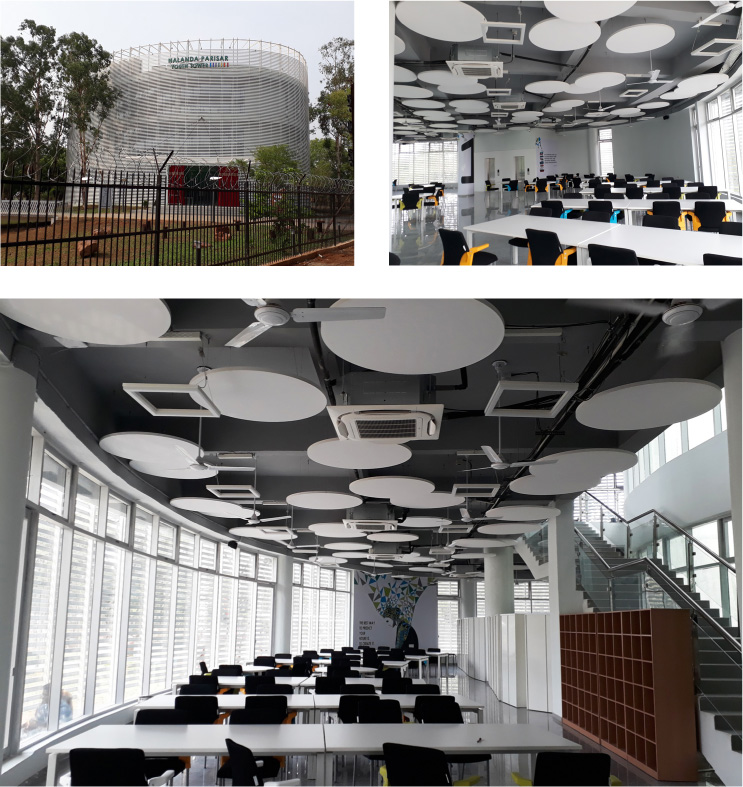 Oxyzone Reading Library (Nalanda Parisar)
www.raipur.gov.in/gallery/oxy-reading-zone
Place       –  Raipur
Segment – Smart Cities
Installer   –  Newlook Furnishers
Architect –  Zakir Khan (Buildkraft)
Products –  Subtex Shapes Nubby Circle
One of the first projects to take off under the Smart Cities plan of the Central Government, the Oxyzone Reading Library is part of the larger campus in Raipur.
Smart cities has a refreshing new approach to government planning and design. Acoustics plays an important role in building interiors.
For this library an open plenum circular discs in ceiling creates an interesting visual space.
New edition of Quick Guide 2018
Anutone updates it's QG with latest info
Anutone's popular Quick Guide or QG is an overview of its vast portfolio of products and projects for acoustical drywalls, ceilings and panelling. Release 4.0 just got launched for 2018-19. Request your FREE hardcopy today.