A taste of visual acoustics as total solutions across India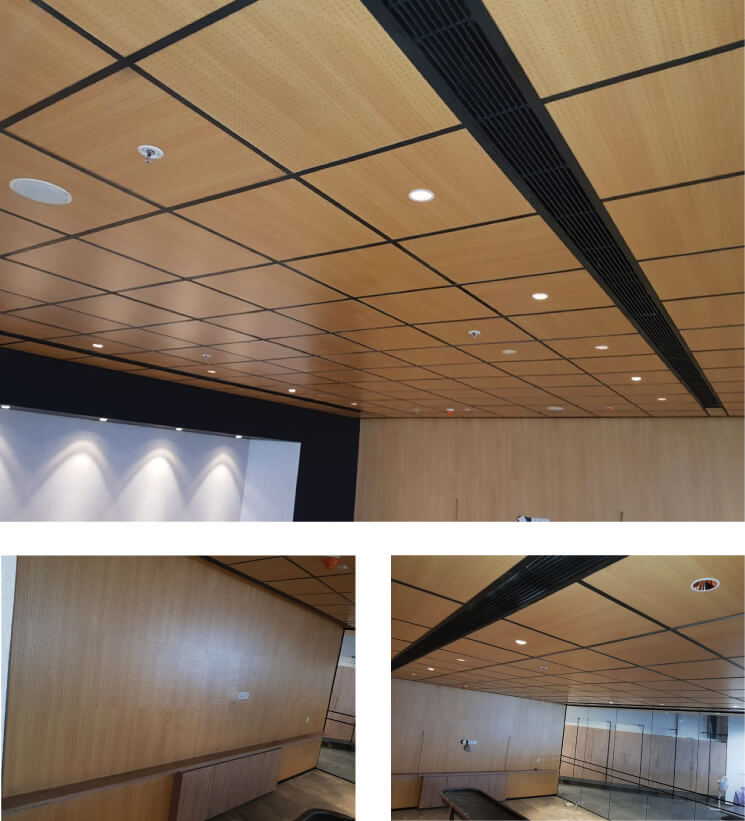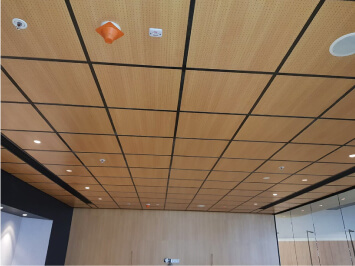 N – NORTH
Pioneer Square
www.pioneerurban.in
Place         –  Gurugram [NCR]Segment   – Office
Architect   –  Ultraconfidentiel
Installer     –  GMGR
Products   –  Spots MP3 Oak
                      Roble and Skelet
                      Trelis Ebony grid
The contrast beauty of wooden ceilings offset with black grid systems and all with effective acoustics built in for a superlative solution
The definitive look desired was of warm, light tones of a wooden ceiling set against the sharp, dark lines of a visible grid. And the definitive feel desired was of comfortable, echo-free interiors. 
Anutone delivered the combination, flawlessly executed by GMGR, with Spots MP3 Oak Roble on Skelet Trelis Ebony. What you desire is what we deliver and imagination gets truly realised !!!
E – EAST
Ramkrishna Mission
www.rkmvnarendrapur.org
Place         –  Narendrapur [WB]Segment   – Auditorium
Architect   –  Haven Architects
Contractor –  Ashimdas
Installer     –  Tihots
Products   –  Pixel 3/8, SynthPF
                      Slats Surco,
                      Strand Ebony,
                      Stretch NRC, Roctex Ebony
Narendrapur is named after Narendra Nath aka Swami Vivekananda and is famous across the world because of  Ramkrishna Mission
For their new multipurpose auditorium Ramkrishna Mission relied solely on Anutone for a total solution in aesthetics and acoustics, installed by Tihots.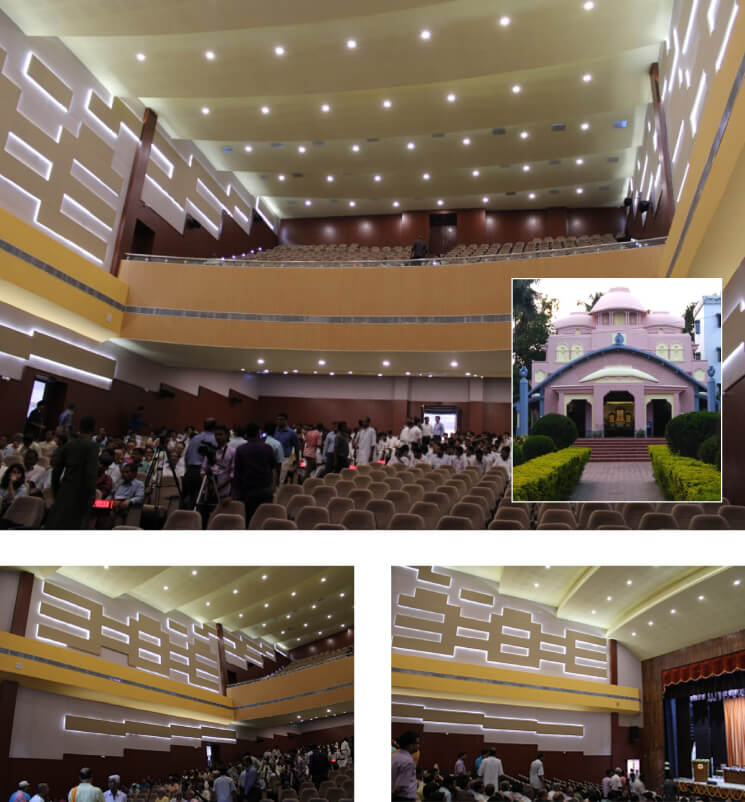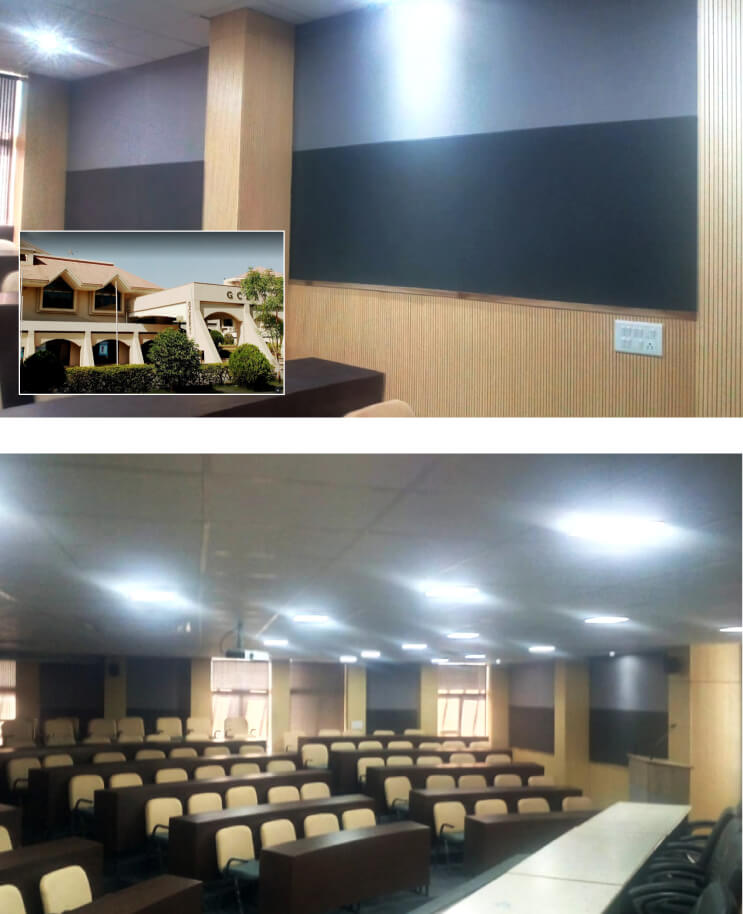 W – WEST
Gujarat Council of Educational Research and Training (GCERT)
www.gcert.gujarat.gov.in/gcert/
Place         –  Gandhinagar [GJ]Segment   – Education
Contractor – Vinayaka
Installer     –  Balaji Associates
Products   –  Subtex Nubby,
                      Slats Surco, Stretch Hush
What NCERT is for India, GCERT is for Gujarat and for their academic auditorium they chose Balaji to install Anutone
The light reflectivity of a white grid ceiling that reduces lighting load for an enclosed space apart from creating the illusion of volume contrasted with wood-fabric panelling that complements the furniture and flooring all to create a pleasant ambience for meetings and seminars where voice communications plays a primary role.
S – SOUTH
Revoke Gym
Place         –  Chennai [TN]
Segment   – Sports
Architect   –  PSP Architects
Consultant  – Turnkey Acoustics
Installer     –  Matrix
Products   –  Strand Colour, Synth Slim,
                      Stretch NRC
Synth Slim cutouts of sports figures on Strand Colour. What an idea Sirjee !!! Setting the perfect tone for a gym !!!
How do you get the health conscious into the right mood at every workout? By setting it right. With motivational workout figures CNC-cut in Slim Naranja on Strand Colour Siamese Blue executed brilliantly by Matrix. What the designer thinks, client says and user does, we link it all up in harmonious dynamism.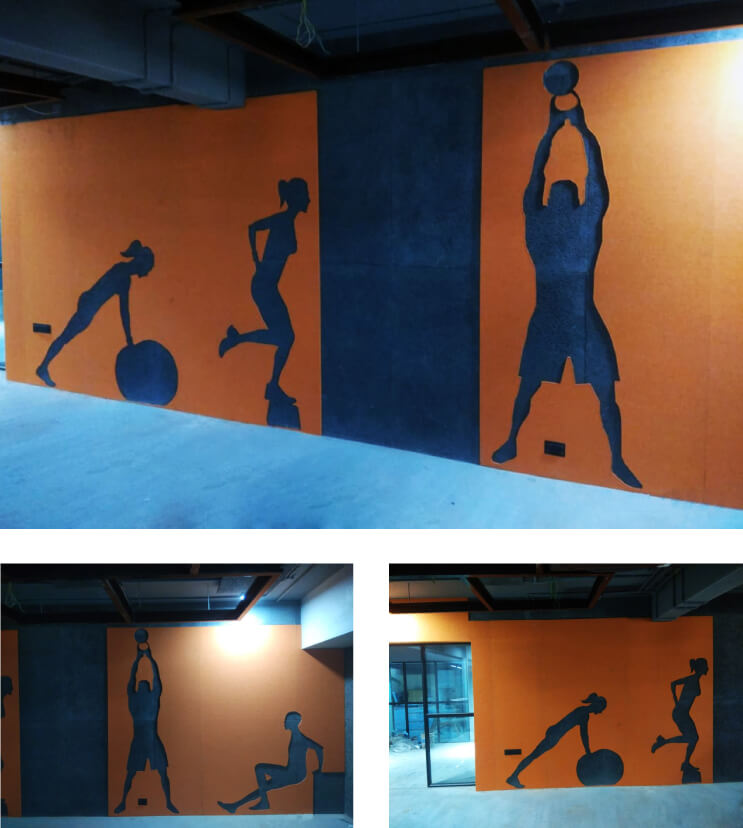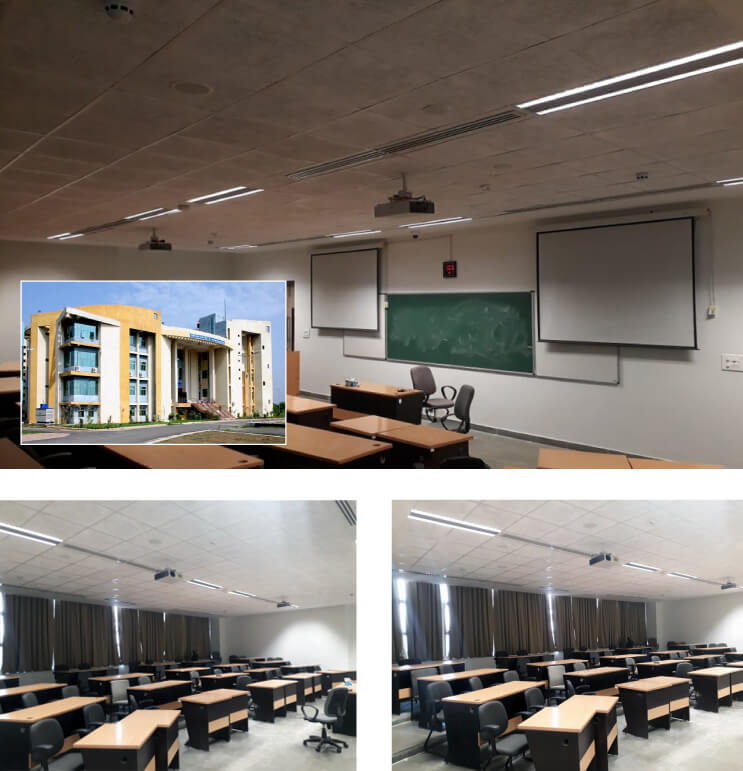 CENTRAL
Indian Institute of Management (IIM)
www.iimraipur.ac.in/
Place         –  Raipur [CG]Segment   – Education
                     [Classrooms]Architect   –  Arcop
Consultant  – Lee Consultants
Contractor –  NCC | Mythri Enterprises
Dealer       –  New Look Furnishers
Products   –  Strand Colour White
IIMs being environmentally conscious organisations like their acoustic interiors to be natural with quality green product systems. Hence Strand Colour was the natural choice for acoustical white grid ceilings
Lecture halls of premier institutes like IIMs are smart classrooms with AV forming an important component of learning. It is a unique combination of the traditional green board for chalking and white screens on either side for projection. This calls for extra-wide classrooms with curved seating. Hence the need for precise but practical acoustics as delivered by Anutone through New Look Furnishers !!!