Mat is an acronym for Microfibre Acoustical Tile [M. A. T.] Mat is natural, in terms of it's raw materials and also in it's natural ability to absorb sound.
We have divided our Mat portfolio into three parts and each part has three products for your easy understanding:
Mat Panels

Mat Variants

Mat Discretes
This edition is about Mat Panels.

1 Mat H+
This is a new product for 2020 in response to the virus. Means anti-microbial coating applied in a new paint shop with heat treatment at the Anutone. The Anutone Anti-Virus Shield for pandemic times. See an inspiration below.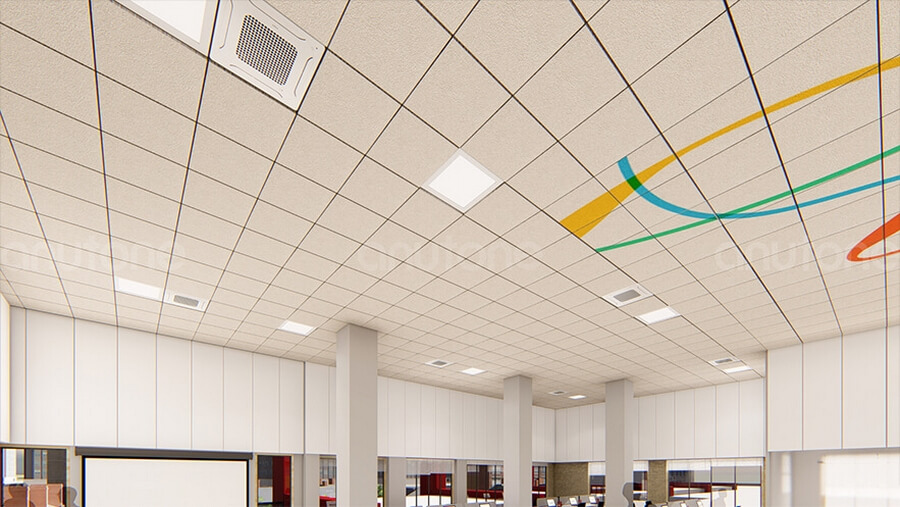 2 Mat Solo | Colours
Mat Solo is brilliant white and Mat Colours is factory-coated with a standard colour chart that you see alongside but also custom colours are possible.
Mat can be installed in many innovative ways:
Mat as a regular grid ceiling corporate auditorium at ISRO Delhi and for conference rooms as in CUTM Bhubaneswar as seen in pictures below.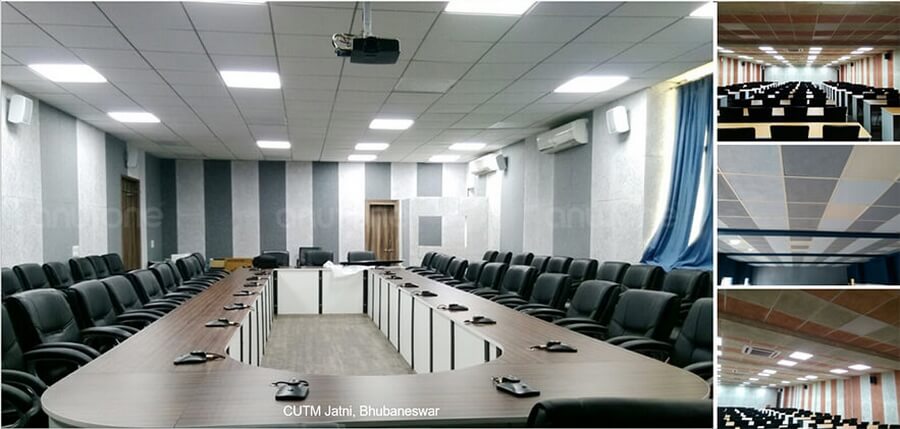 Concealed framing systems as in Talli Turmeric Restaurant Mumbai and JJ Medical College Davangere as seen in pictures below.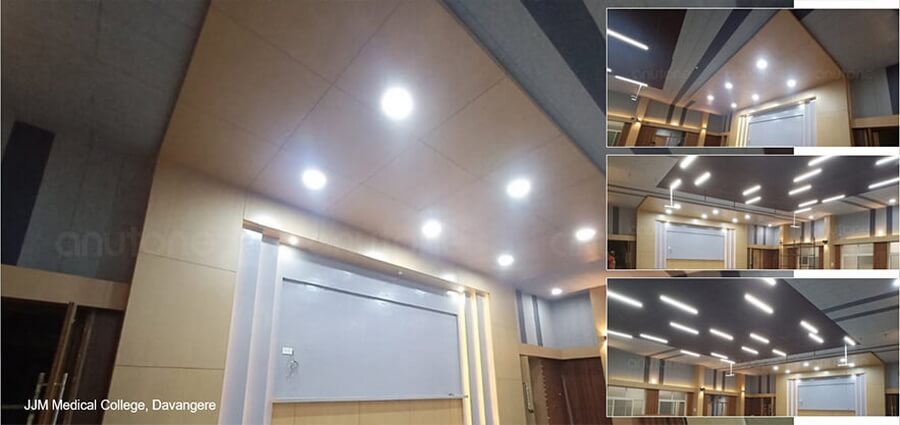 Mat as a Float, an acoustical canopy over a conference table with concealed lighting, at DJ Academy Coimbatore as seen below.

As wall panelling at Urbana Sports Complex, Kolkata, as seen below.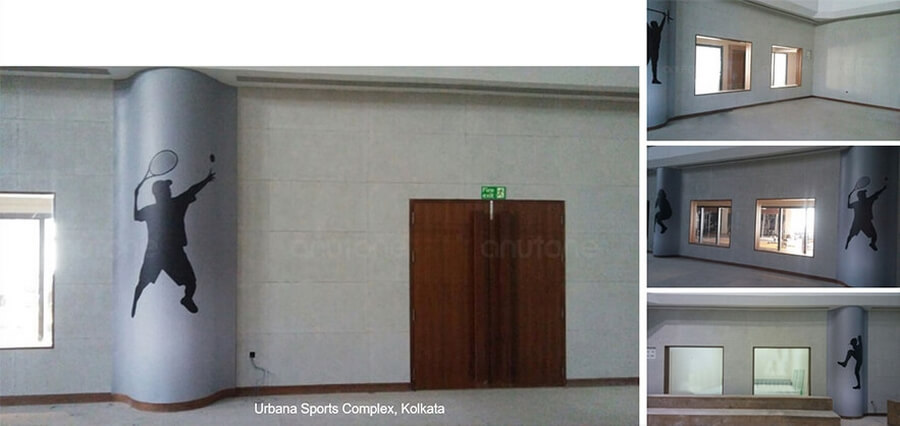 3 Mat Planks
Mat Planks for systemTRAX wherein the grid ceiling features service lanes for plenum utilities like lighting HVAC, life safety, PA systems etc. This leaves the main ceiling undisturbed which is a very neat solution from Anutone. Be inspired by the 3D below.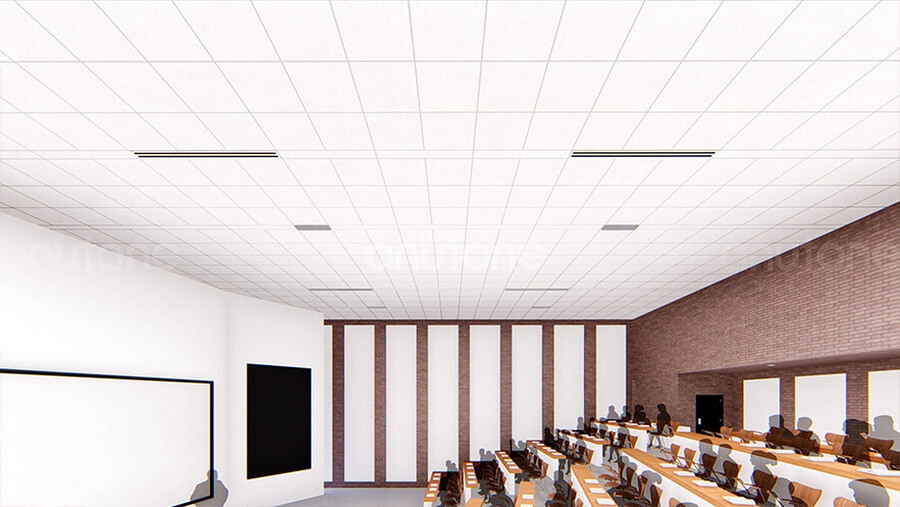 We also have Mat specials include 700x700mm custom size that neatly fits into coffered ceilings. Talk about flexi manufacturing by Anutone!  See this unique solution below.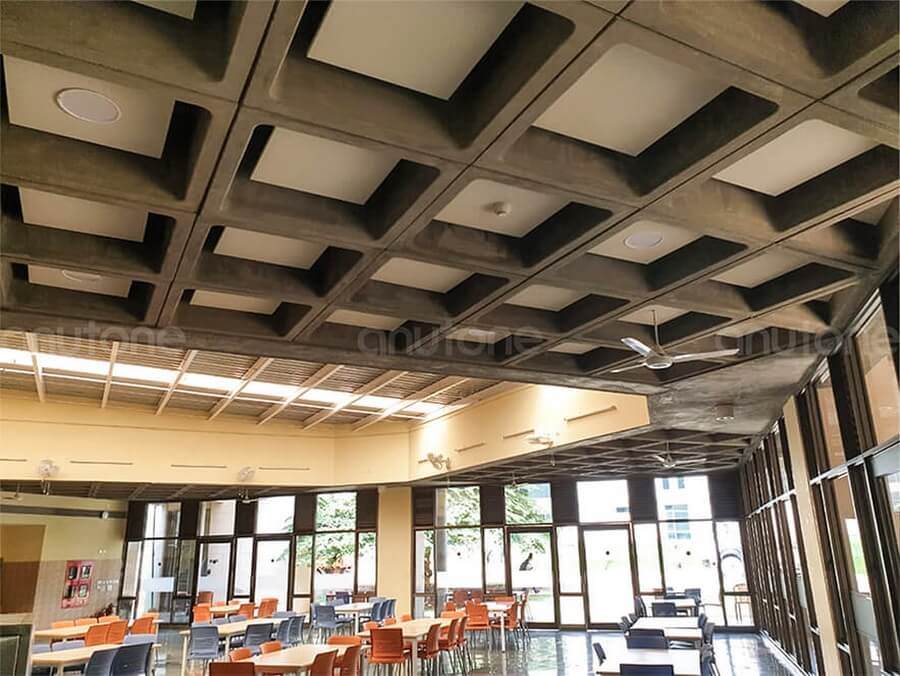 Acoustical performance of Mat
as tested and certified by NPL as per IS 8225 equivalent of ASTM C423 and ISO 354
Mat 15mm D50    0.65
Mat 15mm C50     0.75
Mat 15mm E300* 0.90

Sustainability of Mat
Mat is GreenPro certified which means Mat fulfils the stringent requirements of green certification as a product. Natural materials, low-energy manufacturing process, recycled content, recyclability, thermo-acoustic insulation for energy-saving in buildings etc etc. GreenPro is a Confederation of Indian Industry CII initiative supported by IGBC Indian Green Building Council. See the certificates below.

Fire performance of Mat
Fire certification by CBRI
BS476 Part 5 – not easily ignitable
BS476 Part 7 – Surface spread of flame – Class 1
ASTM E662 – Optical density of smoke – Low
Dimensional stability and durability of Mat
Rugged and durable with longevity along the lifecycle of the building
IPIRTI as per IS 14276
Modulus of Rupture – Dry 3.10, Wet 0.79
Tensile strength parallel & perpendicular – Dry 0.26, Accelerated Water Resistance 0.21
Screw withdrawal – 1325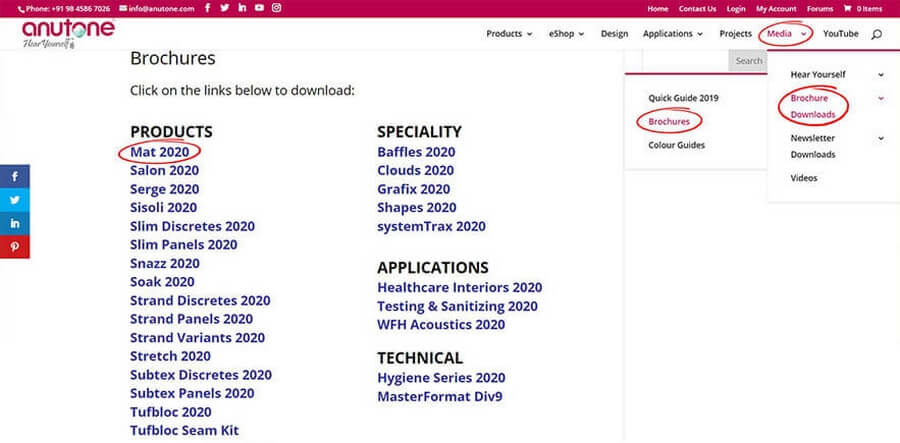 Download Mat 2020 Brochure from our website under the Media tab > Brochure Downloads > Brochures > Mat 2020
https://anutone.com/brochures/

Check more videos on our website – https://anutone.com/video/
And leave your comments. We value your feedback.