Art as Acoustics
Acoustics as Art

Art can have acoustics built into it and acoustical panels can now be presented as art. Printable acoustics or printed acoustics is art.
Acoustics has been through boring whites, it's been through a lot of different colours, so how about prints now? It's high time acoustical design moved forward into printable acoustics.
Below is this meditation hall with rangoli printed acoustical ceiling tiles!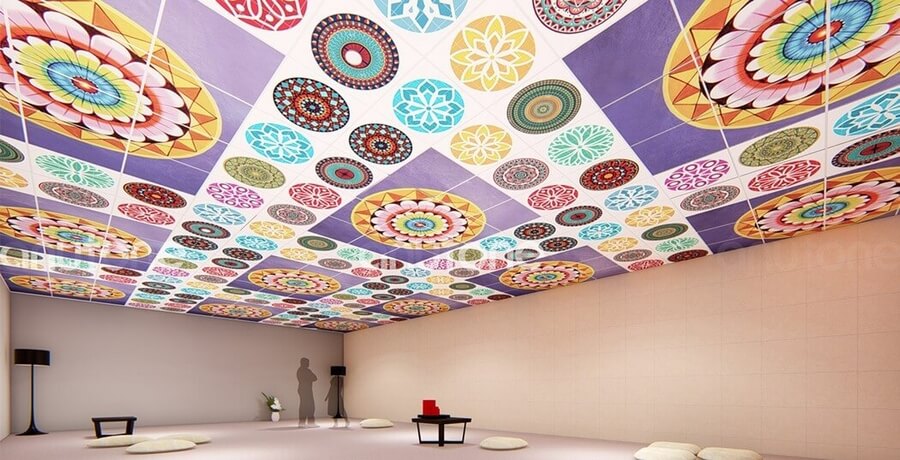 In a fully enclosed air-conditioned room, how about giving an open sky effect as seen in the acoustical ceiling below for a conference room?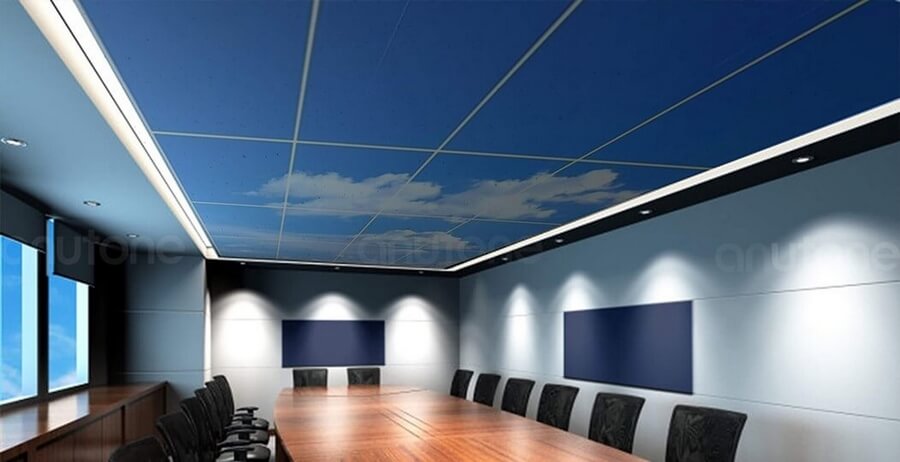 How about giving the feeling of sitting below a tree canopy, wherein the sun is shinning through the tree leaves, branches, right in the lap of nature as seen below for an air-conditioned study-cum-den in an upscale condo.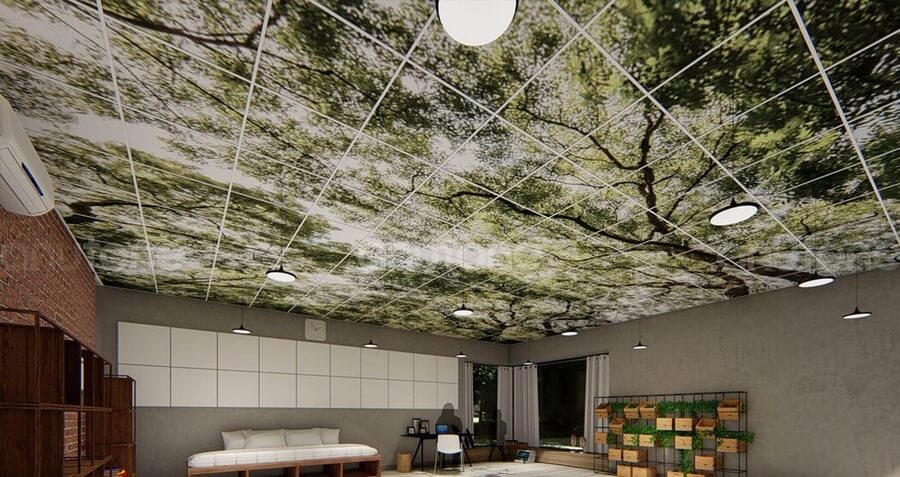 For the walls, in a fully enclosed space, one can have the feeling of open windows, looking into the meadows, rolling hills and pastures as in this officer's mess for a defence facility as seen below.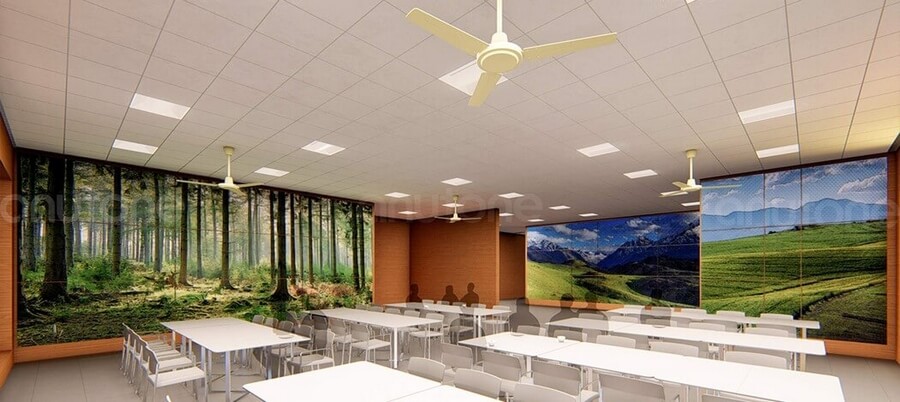 There is no limit the imagination when it comes to printable acoustics. Anutone provides a range of acoustical panels that can be printed on.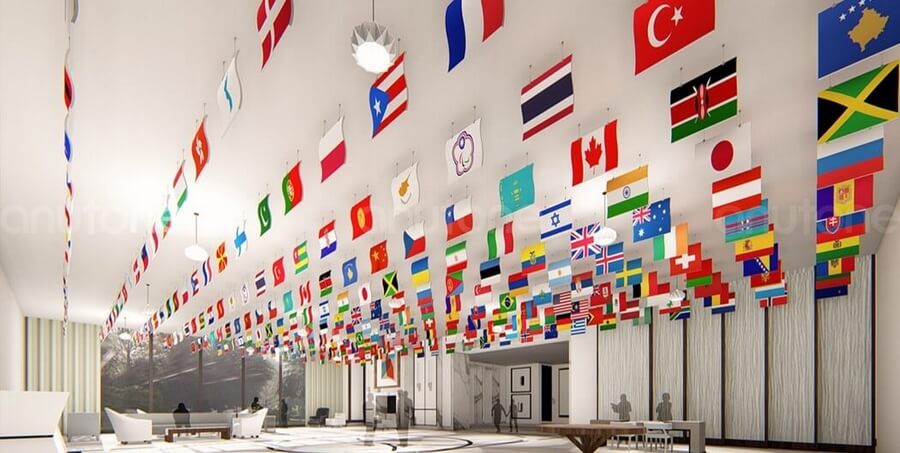 Above are acoustical baffles printed with flags of the nations for the lobby of an Olympic village. Just the right international ambience to a global village with effective acoustics when athletes congregate.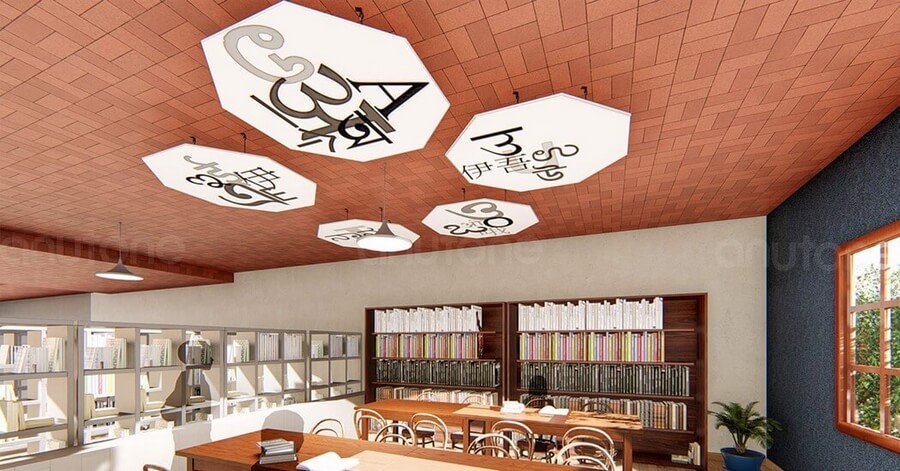 Above is the first letter in every language neatly printed on acoustical clouds shaped as hexagons that are independently suspended below the  wooden ceiling of a library. Perfectly themed!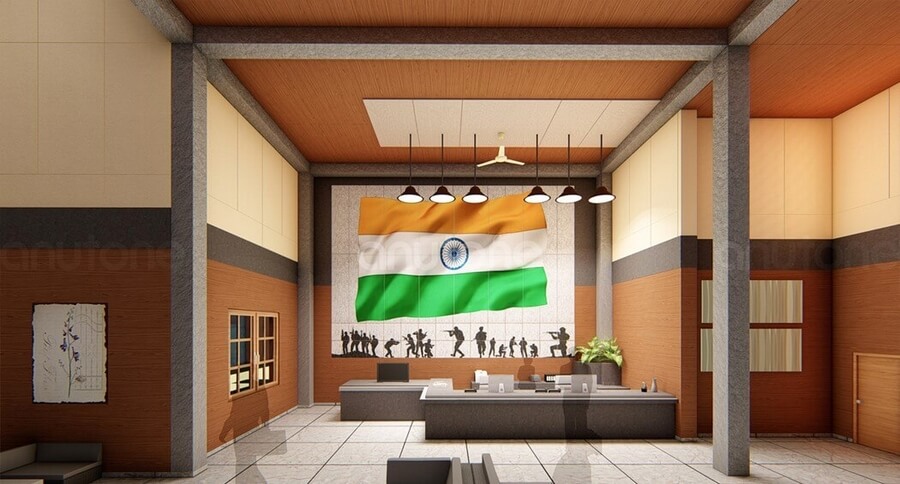 Defence facilities evoke a sense of patriotism and nationalistic pride in part helped with the national tricolor and soldier silhouettes printed on the acoustical paneling in this reception's backdrop mural as seen above.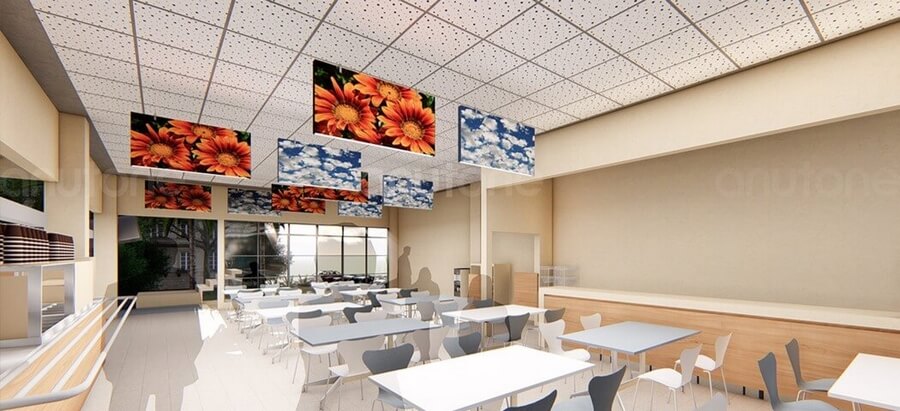 Above is an hospital canteen where visitors to patients and the medical personnel in these tension-filled virus times relax and catch up. Acoustical lighting with the acoustical baffles featuring flower prints to bring cheer amongst serious faces and animated conversations.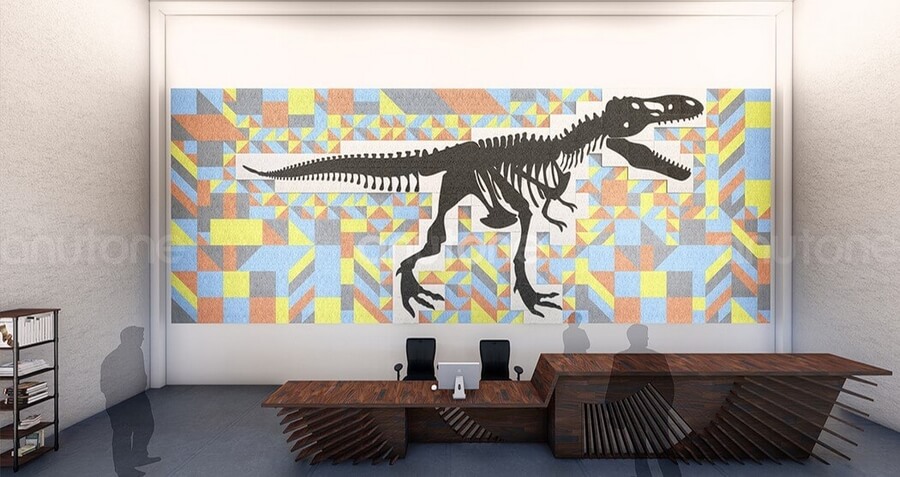 Above is acoustical panels on the backdrop wall as a mural for the reception of a museum wherein the theme is a giant dinosaur framed with multicolour mosaic motifs to excite the visitors on first entry.
Below is the theming of a seafood restaurant with underwater images on acoustical walls and ceiling to heighten the experience of seafood cuisine. Acoustical clouds, baffles, ceiling tiles, wall panels and stretched fabrics !!!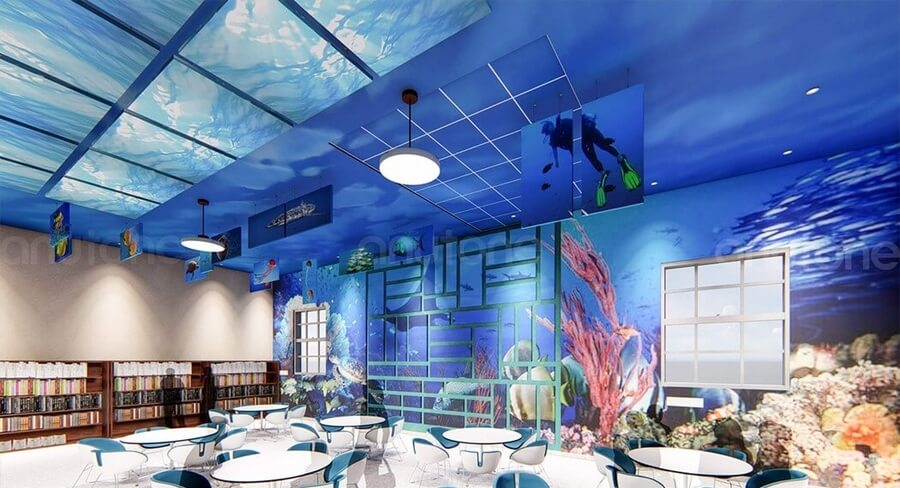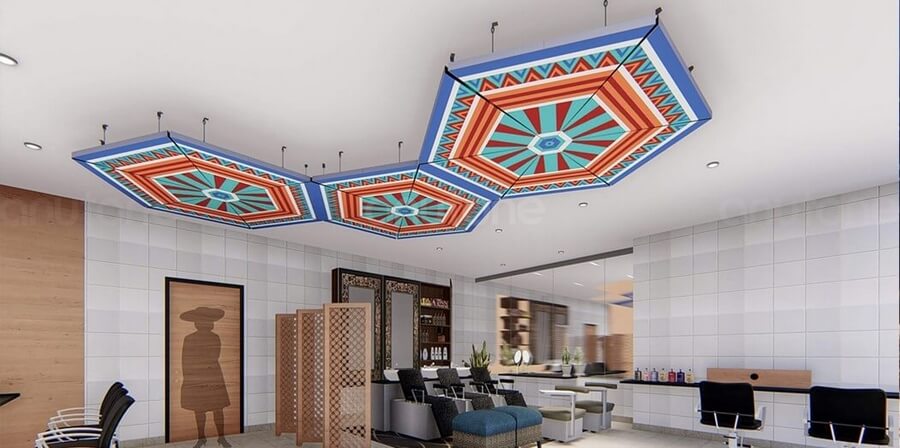 An upscale salon needs to differentiate itself for the discerning customer made possible in part with giant hexagon shaped acoustical clouds in the ceiling with mandala prints. The hexagons are actually made up of triangular panels clustered together as seen above.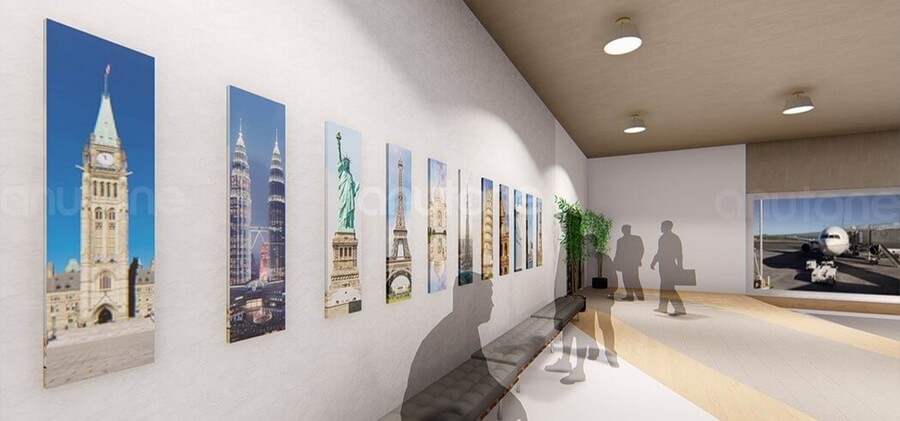 Wonders of the world and airport lounges go together you would agree. Passengers waiting for flights would be inspired by the wall art which is printed acoustical panels as seen above and just make those travel plans that keeps the aviation business whirring in these troubled times.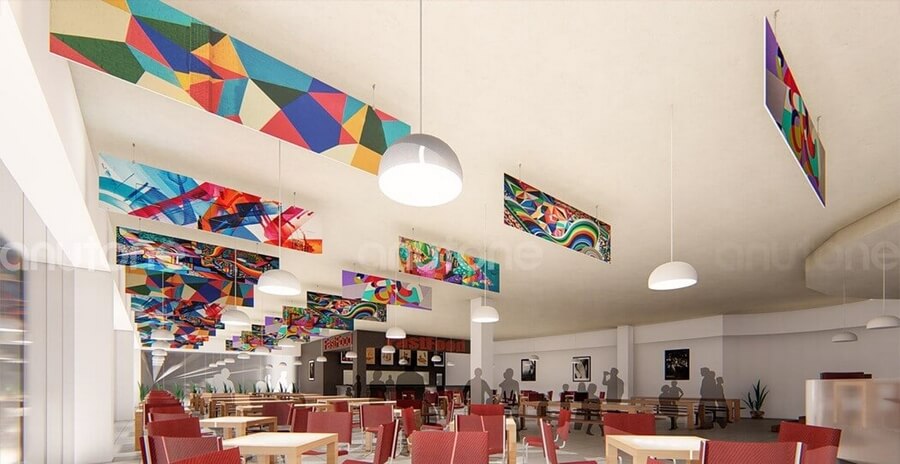 Above: Diners enjoy culinary delights in relative quietness & return often to this bright & cheerful food court partly in thanks to lightweight acoustical baffles printed with street graffiti that absorb the cacophonic din.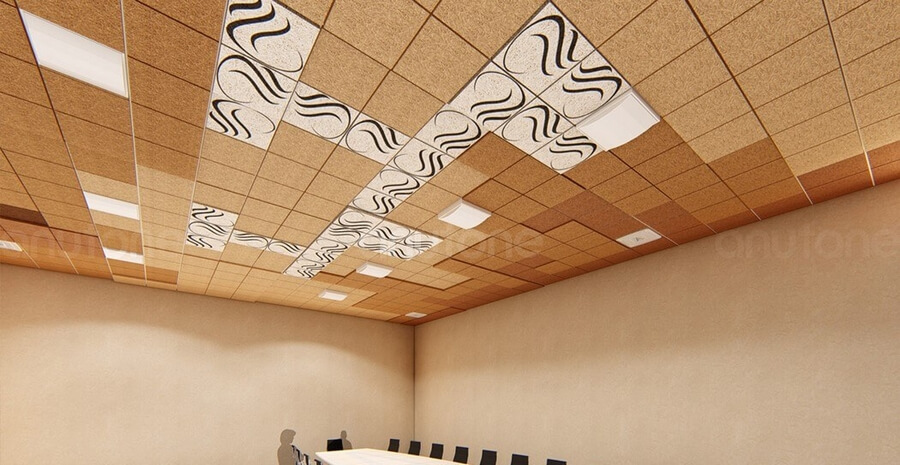 Conference rooms discuss serious business but need not feature boring ceilings. Above is an acoustical ceiling with tiles of different thickness and some printed with abstract art to make it funky and the meetings very productive.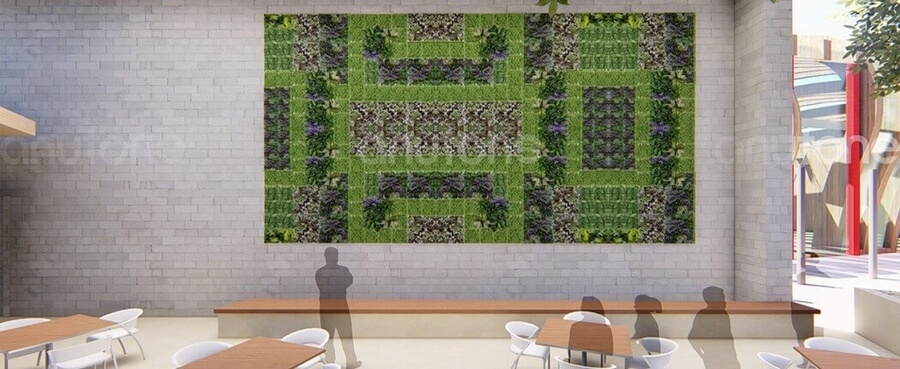 How about green acoustics with this vertical garden that features different thickness of rough textured printed acoustical panels. Imagine this placed in an open air restaurant to control the cacophony of wining and dining.
Check out on our website under the eShop tab. You can now buy some of these printed acoustical panels online for delivery to your doorstep. There is a special promotion till 30th June. Hurry and place your orders now.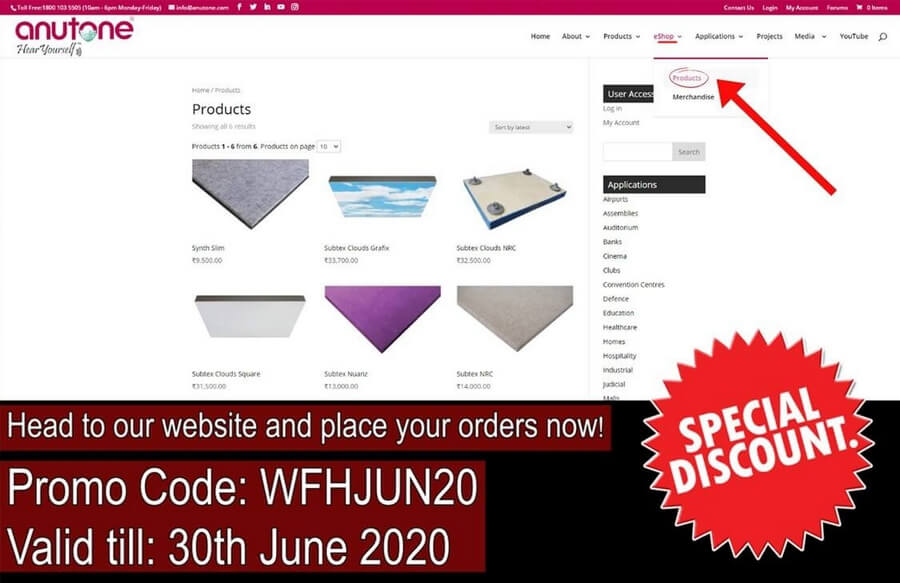 The code WFHJUN20 is case sensetive

Check more videos on our website – https://anutone.com/video/
And leave your comments. We value your feedback.