The Best of Design1
Hygiene Criteria
Sandeep Mittal, Technical Director at Anutone with 30+ years of experience offers insight into future trends of acoustical interiors related to surface finishes – ceilings and paneling – given the concerns around the virus. A thought leadership article for the design and build community.
Life safety concerns will now include hygiene ceiling tiles and wall panels that are also acoustical and sustainable for all kinds of spaces in the built environment not just hospitals, food, pharma and testing labs.
PART ONE – What were the design trends, pre-virus?
Amongst many other design considerations there was:
1.      Life safety which so far pertained to 2 aspects:
One, fire as in fire ratings of products and systems as they are installed in interiors and their reaction to fire as per BS 476 and EN 13501.
Two, life safety also pertained to seismic control in earthquake zone
with extra bracings or resilience to absorb building vibrations and sway
as per ASTM E580/580M.
2.        Hygiene related to 2 aspects:
One, climate control as in HVAC or air-conditioning systems for concerns on condensation and humidity to prevent fungus, mould and mildew growth as per ASTM D3273.
Two, Indoor Air Quality. The use of interior products of low VOC volatile organic compounds that did not emit toxic emissions over the lifecycle of a building were important. Adequate ventilation of air-conditioned spaces with fresh air bleed in supply air and number of air changes as per ASHRAE Standard 62.

3.      Maintenance also related to 2 aspects:
One, scratch & soiling resistance. Surface scratch resistance as per Hess Rake Test for ceiling tiles and soiling is ability to attract ambient dust.
Two, is cleanability to dry-wipe, damp-wipe or vacuuming.
PART TWO – What will be the design trends, post-virus?
Amongst many other design considerations there will be:
1.      Life safety after fire and seismic will now include a third factor – hygiene.
Yes, hygiene will become as important as other factors for life safety. Building codes and standards will be re-written around this. ISO 14644-1 cleanroom standards with ISO 4 classification may become the new normal. There may even be legislation to ensure and enforce hygiene.
2.      Hygiene as an attribute will include several more considerations than just fungus growth
and IAQ.
Resistance to high humidity like RH95 will become the new ask. Anti-bacterial surfaces that are anti-microbial or prevent the growth of viruses will become important. Words like disinfectable surface, anti-erosion, anti-toxic, anti-dust, anti-bacterial, anti-microbial will be more prevalent
3.     Maintenance considerations will now include scrubbability and washability and with an
increased frequency.
Scrubbability tests as modified from wall paints per ASTM D 2486 will be specified – the ability of a surface to withstand upto 150 scrub cycles with a hard bristle brush.
Washability tests would be the current 2h and 24h water absorption tests for ceiling tiles and wall panels (IS 2380 Parts 16 to 18) becoming the new ask in tender documents. Impervious to water will be the winner. Grid ceiling will have to be gasketed and clipped down with smooth, durable, non-corrosive surfaces.

PART THREE – In conclusion, Hygiene Series will become mainstream now
Acoustics in the last century was considered very niche as in only for auditorium, cinema and studio but became more mainstream at the turn of the century to include hotels, hospitals, education, offices, malls.
Similarly, very similarly, Hygiene products that were considered niche for hospitals, food, pharma, biotech, labs, cleanrooms will now become more mainstream.
Every hotel, office, mall, airport, government buildings and all other such public spaces will lay a lot of emphasis on hygiene products built into design specs. Even homes. Between stringently sterile environments and commercial considerations, hygienic drywalls, ceilings and panelling will be the new median.
Hygienic, acoustical, sustainable is already the mantra at Anutone to stay hygiene positive and virus negative.
Life safety concerns will now include hygiene products that are acoustical and sustainable!


Check out the brochure on our website in the
Downloads section under the Media tab on what
Anutone has to offer in terms of it's Hygiene Series
of ceiling tiles and acoustical panels.
https://anutone.com/brochures/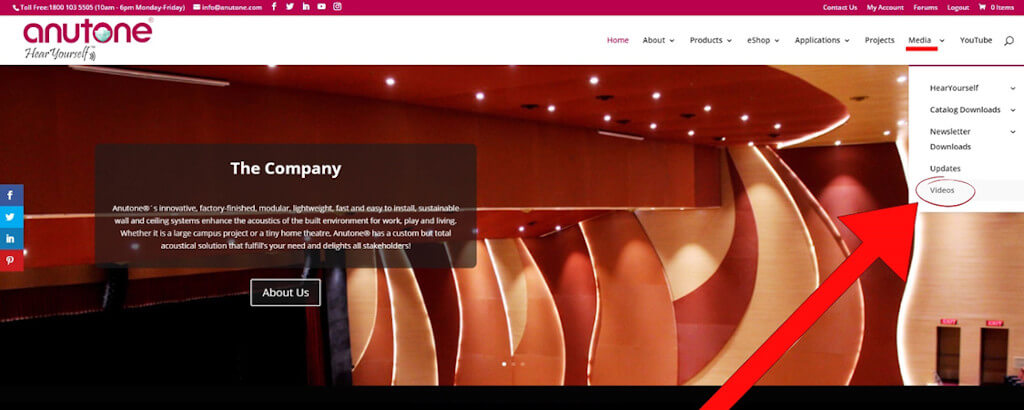 Check out more videos on our website