Anutone's new 150-page Product Guide
Now available – Request your free copy
The all-new Product Guide 2019 (Release 7.0) is not just an updated version of the previous Product Guide but a completely-revised next-generation Guide Book on Acoustical Walls and Ceilings. It nudges the building and acoustics community to the next new decade of design trends and product innovations in interior architecture.
Product Guide 2019 represents Anutone (pronounced as "a new tone") ready for 2020 and beyond! Anutone2020 is a reboot mode – a complete change, a major makeover, a total transformation. It features 100+ new design possibilities and product applications with multiple variants!
There is greater emphasis and lots more new in fibre-based natural acoustics in terms of more baffles, more clouds and other similar discretes. There is also lots more shapes, more colours, more grooves and more prints. The permutations and combinations are simply mind boggling.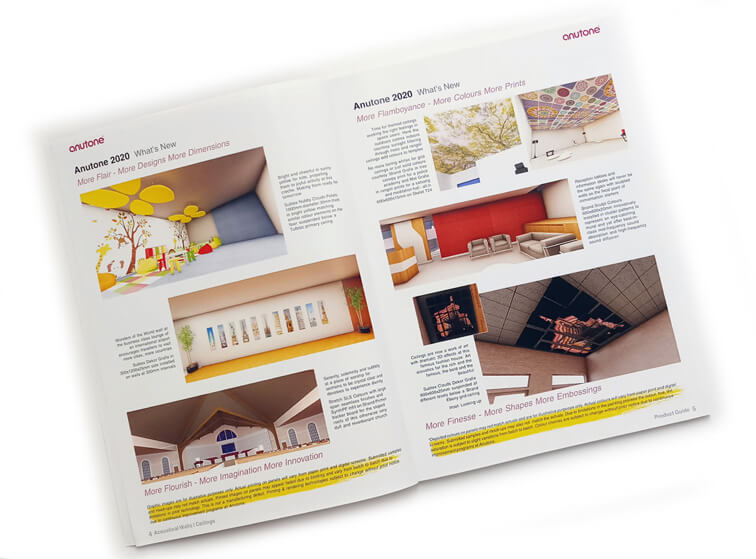 What's New teaser – 6 starting pages are a preview on the blazing new innovations inside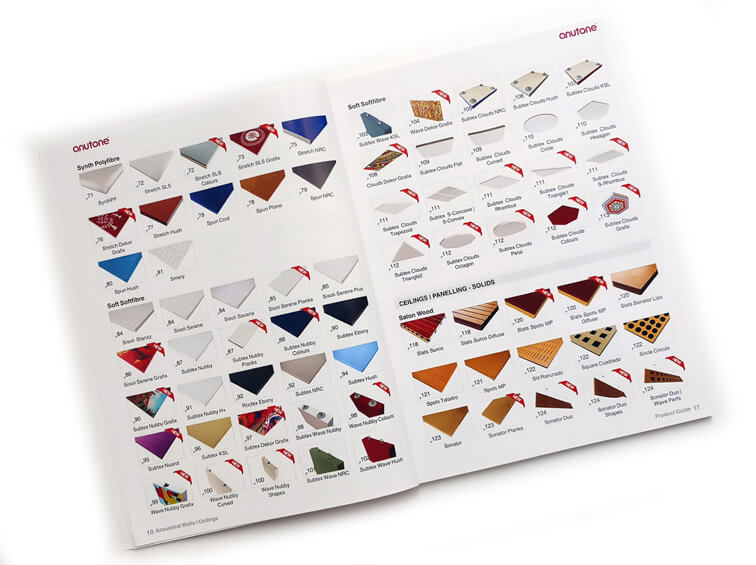 Contents overview – 6 pages of all products at-a-glance
Fibre-based panels, that are natural sound absorbers, have now been brought forward and given more prominence. Fibre-based panels are environmental-friendly as they absorb sound naturally due to their multi-cellular structure (machine-made perforations not needed) as compared to solid-based panels that absorb sound via acoustical fleece behind the machine-made perforations.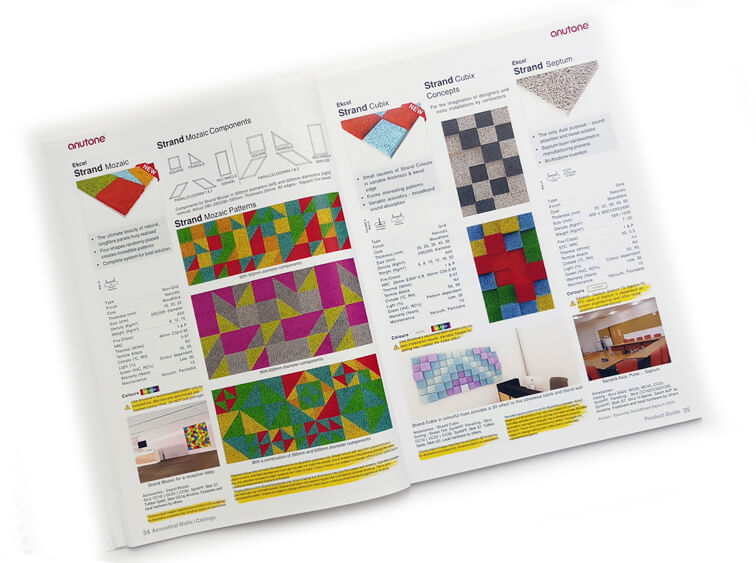 14 pages of Strand including fascinating concepts such as Strand Mozaic and Strand Cubix apart from Strand Grafix which is direct digital transfer of custom images.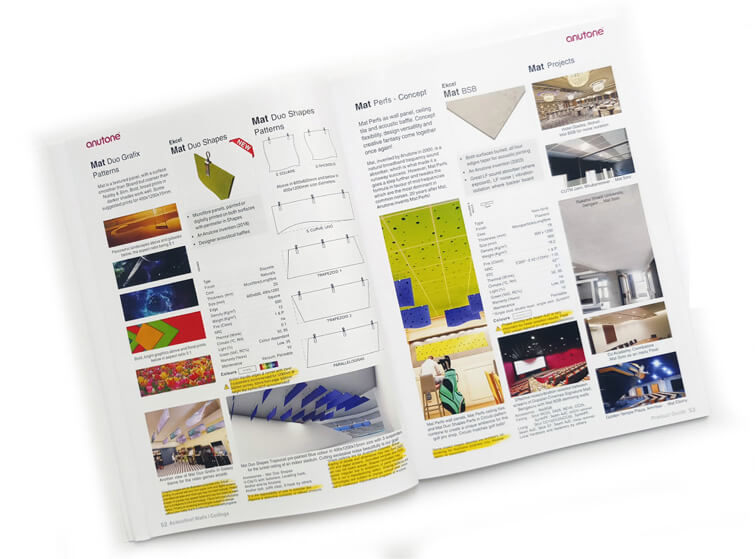 8 pages of Mat with flamboyant concepts like Mat Duo in all its variants of Colours, Grafix, Shapes and most importantly Mat Perfs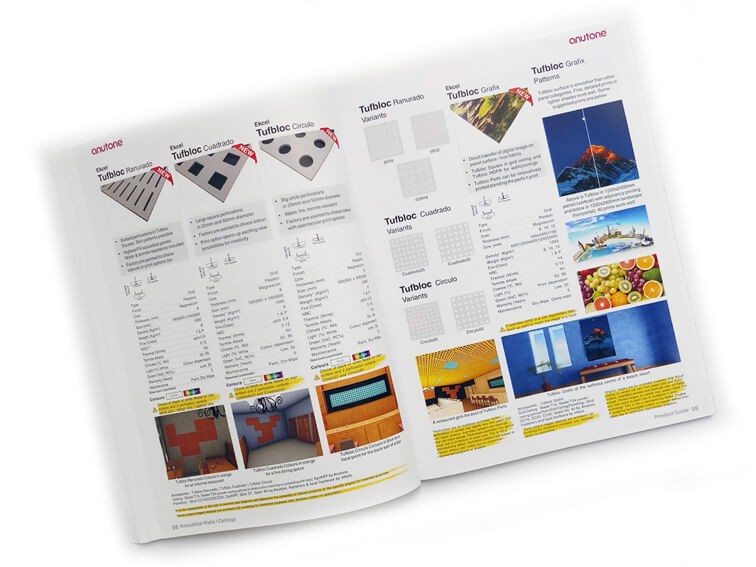 Tufbloc Perfs is another revolutionary concept with immense design possibilities minus the hazards of MDF-based perfs – water and termite resistance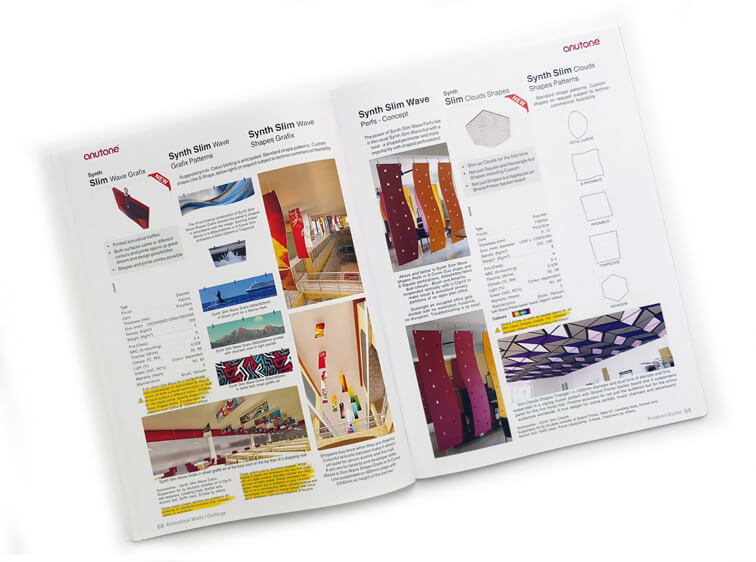 Slim Synth sees great expansion with 12 pages of design imagination and product innovations, highlight being 'Synth Slim Wave Shapes Grafix' suspended vertically as banners in atrium of malls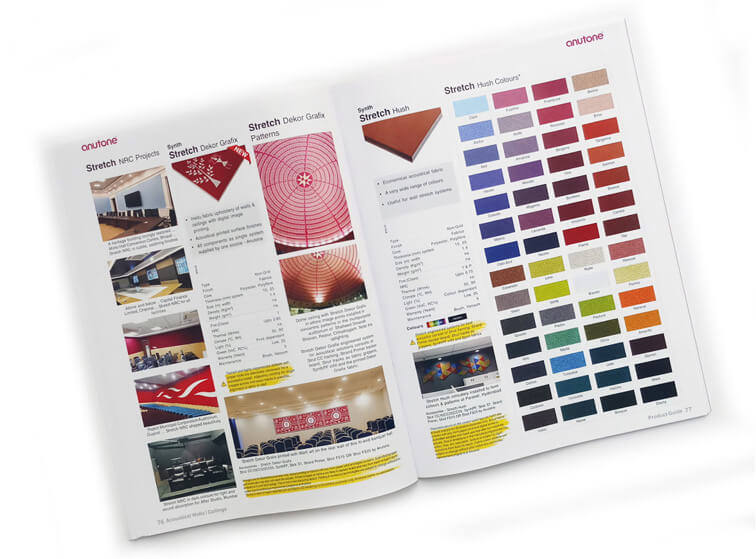 Stretch Grafix as printed fabrics stretched across dome ceilings and curved walls.
Now dressing up interiors with designer prints and custom images in a jiffy is hugely possible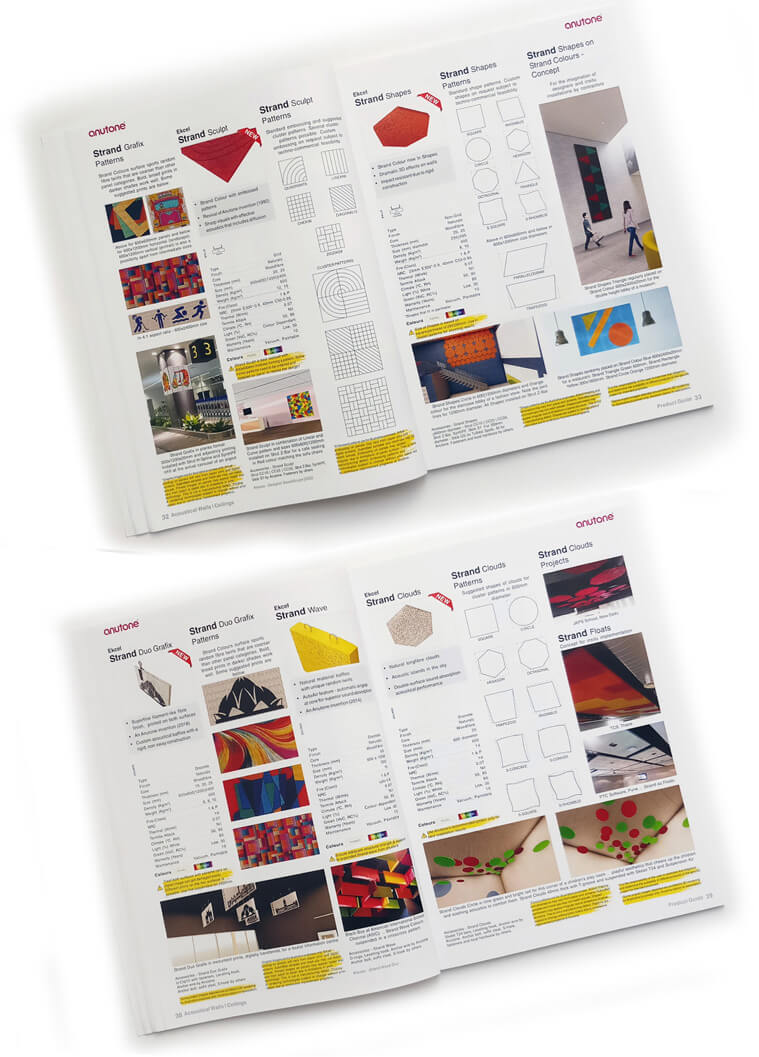 Not just the above but for the very first time, Anutone's new Product Guide features suggested colour combinations, shapes, prints, patterns and design concepts with 3D renders that serve as bold inspirations to the designer and user community.
Apart from the new Product Guide above also published and now available are the new Quick Guide and the new Salon Colours. Order your free copy* at info@anutone.com or call toll free 18001035505 or ask your Anutone representative