Inspirations from Anutone
for Museums & Galleries
Anutone presents four scintillating design options for different spaces of a museum or art gallery. Similarly concepts can be carried to planetarium and science city projects.
Anutone's design team will be pleased to work closely with clients, consultants and contractors on channelizing your imagination and creativity into viable 3D models for acoustical interiors such that dreams become real.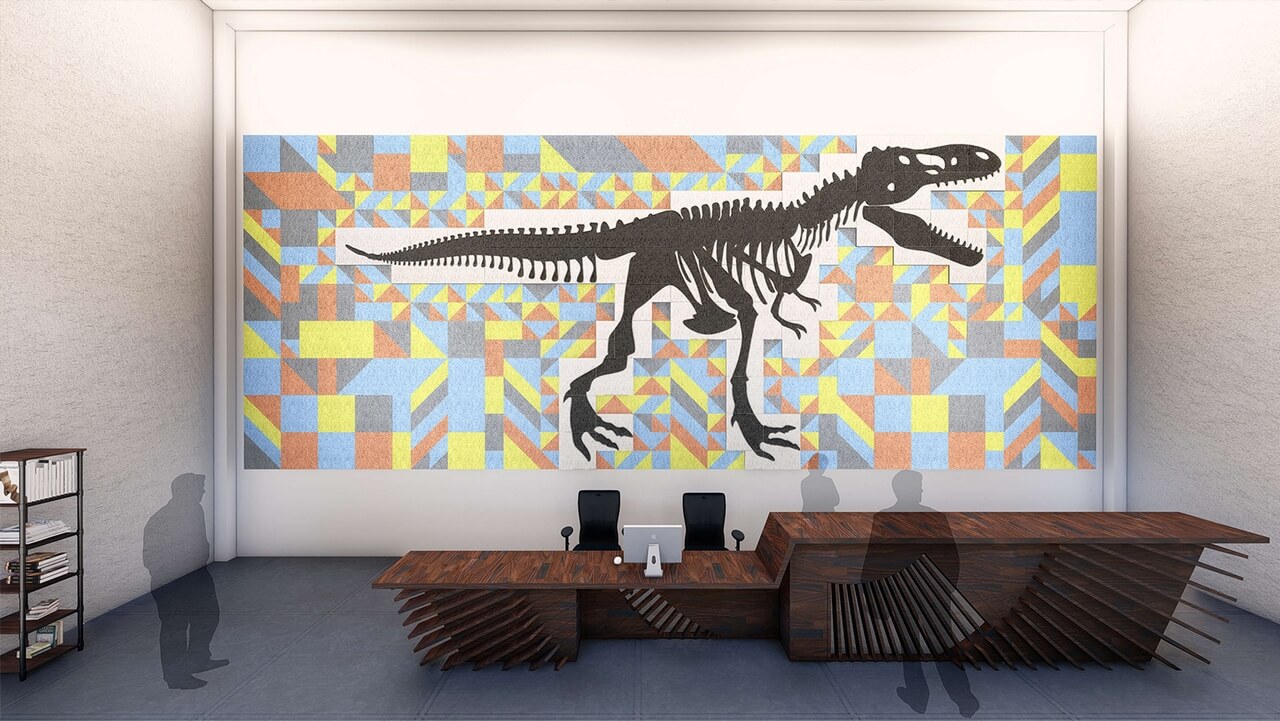 Reception Lobby
Reception lobbies and information desks at specialty venues like museums must heighten the expectations and excitement of visitors who have just bought admit tickets and are looking forward
For this museum the skeletal silhouette of a dinosaur becomes the focal point of attraction along with an innovative front desk. Kids just love it! Lobbies usually being very reverberant, this one is quiet. Parent love that!
Anutone presents a unique 3D combination of 'Strand Grafix' with the dinosaur print on 35mm thick panels and 'Strand Mozaic' as surrounds on 20mm thick panels to create a 'Strand Cubix' effect that results in an exclusive themed mural. The ceiling is Tufbloc and sidewalls are Tufbloc Smery.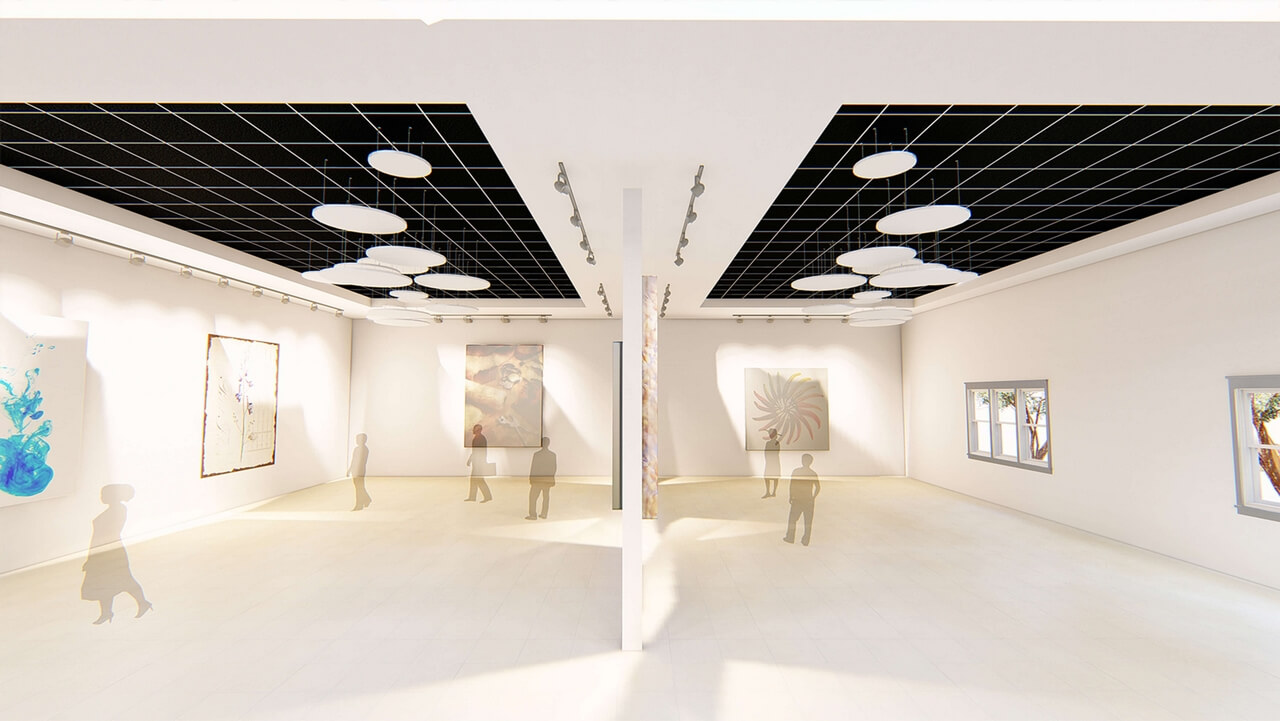 Art Gallery
The main focus being paintings as exhibits on the walls this art gallery has been deliberately kept bland. However to attract visitors a visual element of a dynamic ceiling was introduced.
The black and white theme carries out very well not only in terms of a black ceiling and white walls, white flooring but also in the Anutone detailing of black acoustical ceiling tiles on white grids, accented by white acoustical clouds. God lies in the detail!
Mat Ebony ceiling tiles with square edge on Skelet T24 White combination that results in grid boxes as a relief to the secondary ceiling of Subtex Clouds Circle in different diameters of 600mm, 1000mm and 1200mm suspended at varying heights. White ceiling and walls are Tufbloc.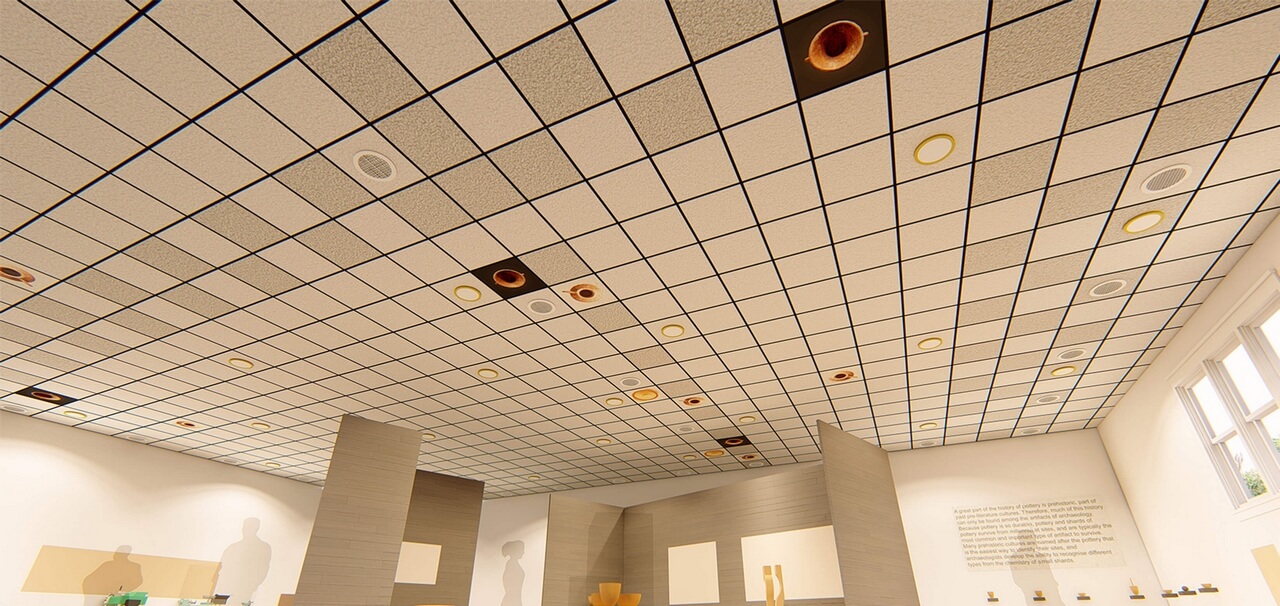 Exhibits Hall
While the brief from the client is to maintain bland visuals for the exhibits hall so that focus can remain on the pottery displays some interest needs to be created to attract footfalls into the hall
Again a beautiful combination ceiling that complements and highlights the theme of the terracotta exhibits of an era gone by. Ceiling tiles in two colours and a print on a black grid for the right aesthetics and acoustics.
Mat Solo ceiling tiles interspersed with Mat Colours (Winter Haze) on Skelet T24 Ebony. Note some Mat Grafix ceiling tiles with pottery-themed prints to create a custom ceiling! Walls are Tufbloc lined and painted white.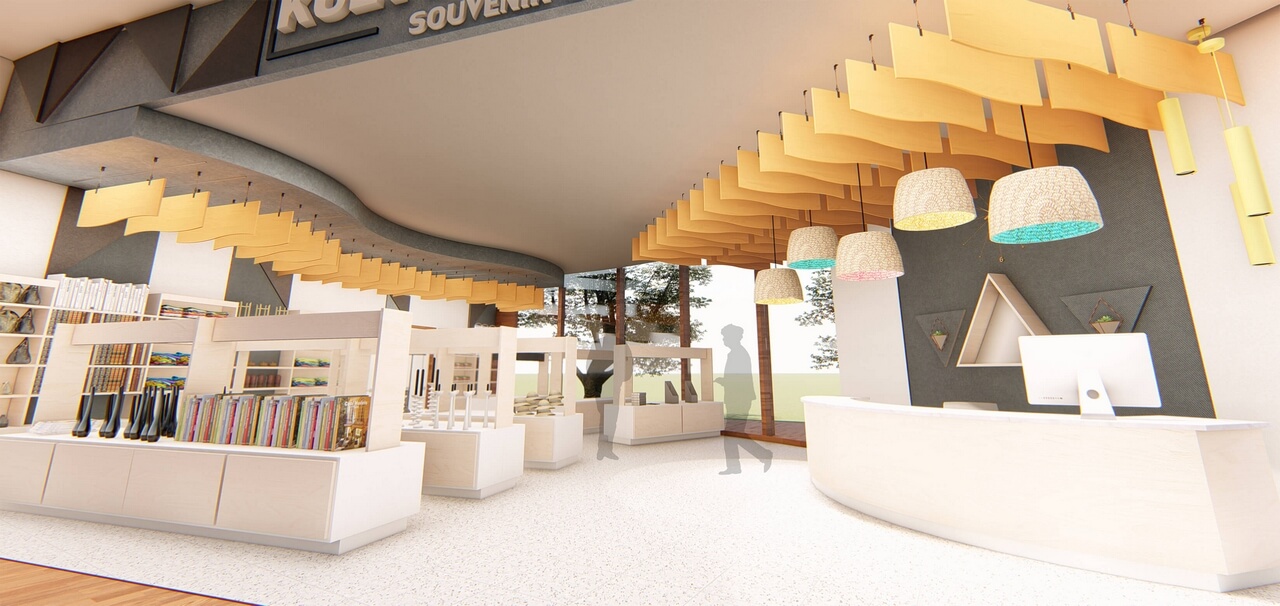 Souvenir Shop
The Souvenir Shop is strategically placed just before the exit by the client where patrons walkthrough and indulge in impulse buys as keepsake or remembrance of a great visit
This museum's souvenir shop exhibits great co-ordination between all elements – the walls, ceiling, flooring and furniture. Uncluttered displays and a brilliant 'speedbreaker' ceiling that encourages patrons to slow down!
'Sonator Duo Shapes' in Bavarian Beech shade and S-Curve Uno shape suspended with Strut U-Clip15 from the primary ceiling of Tufbloc partly painted white and partly laminated in dual-tone grey.
The Fire Element
Seek Clarity, Gain Safety

Slats FR vs Slats FR – Get your facts right!
First, 'Slats' is the product and the brand introduced by Anutone in India market since 2007. It has been imitated by several others making 'Slats' a generic word for grooved wooden acoustical panels is a tribute to Anutone's leadership.
Second, Slats Plus from Anutone is Fire-Retardant (FR) and classified as Class 1 whereas Slats Lite is Flame-Resistant (FR) and classified as Class 2. However unscrupulous others are confusing the consumer and offering Class 2 as Class 1, both being FR.
Third, Anutone's Slats Plus and Lite, both are made from pinewood MDF classified as E1 for emission and boast a laser-precision 2mm groove!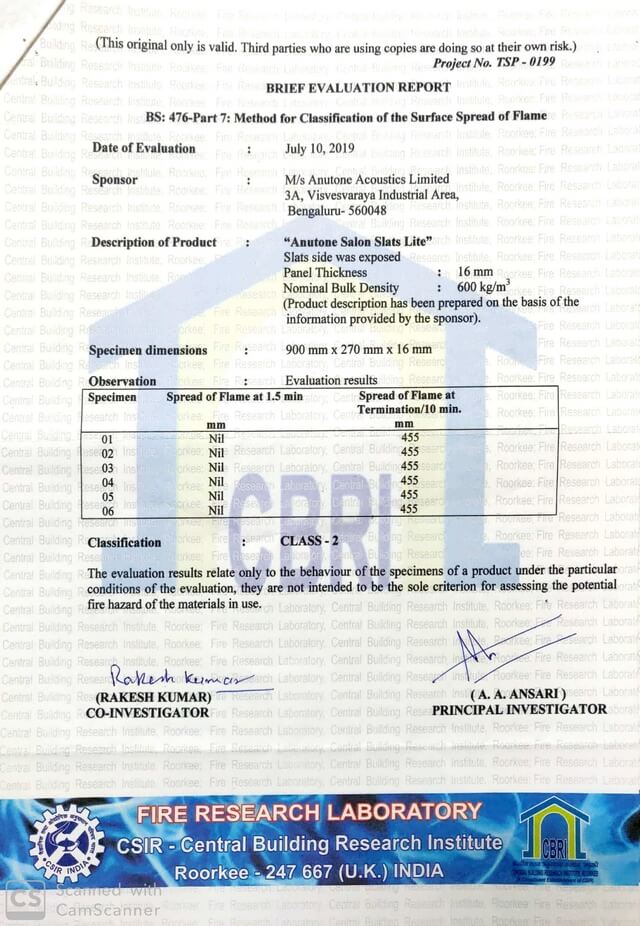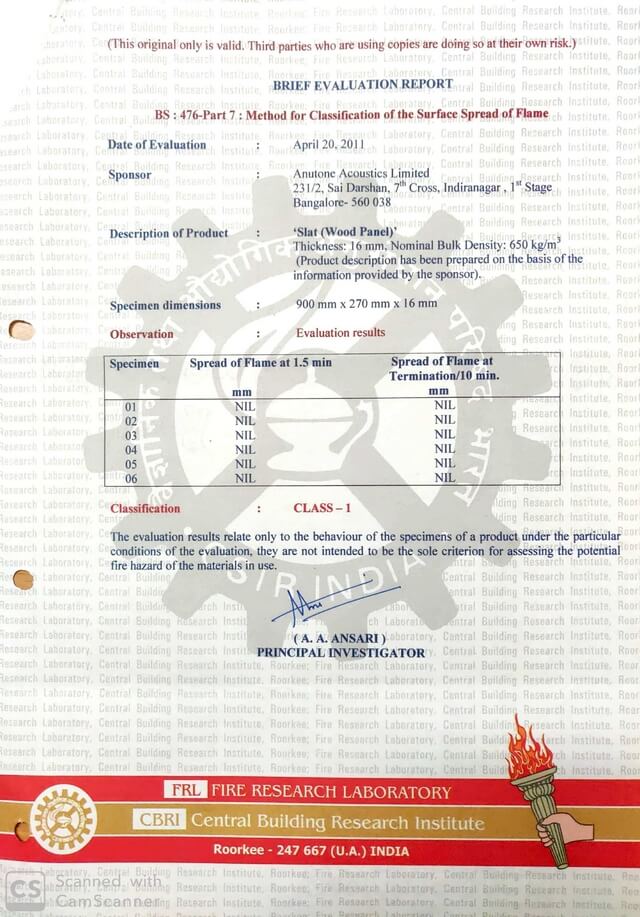 Project images are based on 3D renders for new products by an architect for illustrative purposes and Anutone claims no association.
Product colours, prints are indicative and may differ on actual panels due to blotting and fading. Product embossing, shapes are indicative and may differ on actual panels due to surface texture limitations.
It is the responsibility of the user to conduct due diligence and assess the suitability of the offered products to their specific projects.
Copyright and Intellectual Property belongs to Anutone. No contents must be copied, scanned, reproduced, transmitted, stored, retrieved or otherwise used in any form without prior written permission of Anutone.