Lessons from Judicial Reforms
Acoustics for District Courts,
High Courts, Supreme Court
Anutone Inspiration Series
Anutone presents 4 fabulous design concepts for the Judicial sector. Courts are witnessing rapid upgradation and modernization of their buildings and facilities by central and state governments.
Anutone's design team will be pleased to work closely with clients, consultants and contractors on channelizing your creativity into viable 3D models for acoustical interiors such that spaces realise their true intent and are a delight to all stakeholders especially the end users.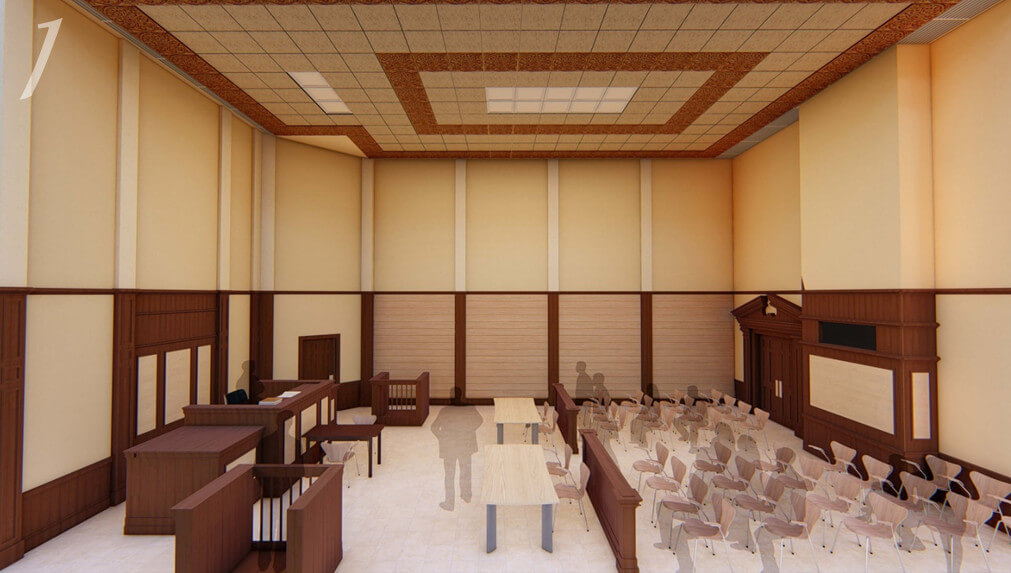 THE COURTROOM
The most important space for the Judiciary where plaintiffs, defendants, lawyers argue their case before the judge, jury, witnesses and the audience of media, relatives, public. 
The judge, jury need to hear and be heard clearly, for the arguments put forth by the prosecution and defense apart from the cross-examination by lawyers of the defendants, plaintiffs and witnesses.
A combination of 'Strand Cubix' and Strand Cubix Grafix' on 'Skelet Ebony' with 'SynthPF' overlay for the acoustical ceiling, 'Stretch NRC' in Beltane on FS15 tracks with 'Strand Primer' backer board and 'SynthPF' infill for upper reaches of walls with a transition band of wooden cornice, 'Slats Surco' L128-2 in Beech Haya colour for lower reaches of walls.
'Tufbloc Smery' (painted 'Tender Cream' to match 'Stretch NRC') on columns and other offsets. 'Sonator' in Wengue as wooden panelling to match the dark wood furniture.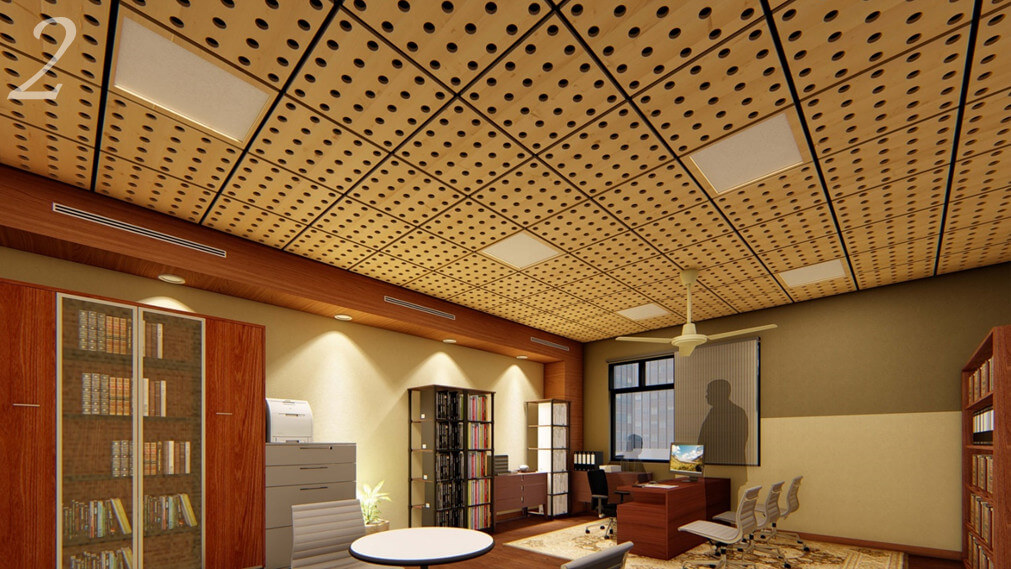 THE JUDGE'S CHAMBER
The Judge's Chamber is an oasis of solace and solutions. Solace as in judge retiring to his chamber after hectic courtroom drama. Solutions as in resolution of administrative issues as also resolution of legal disputes or warring lawyers.
The chamber of the Chief Justice must visually reflect statesmanesque authority and acoustical privacy with audio comfort for the occupants. The hon'ble members of the judiciary must feel comfortable to talk their issues.
Anutone's 'Salon Sircle Circulo25' Bavarian Beech colour with 'SynthPF' overlay in 'Skelet Ebony' framework as suspension ceiling, paneling in two colours of 'Stretch NRC' in Lerwick and Lomond on FS15 tracks with 'Strand Primer' backer board and 'SynthPF' infill to achieve low RT of 0.6s.
Invisible is the soundproof drywall partition with double-skin of 'Tufbloc' magnesia boards on either side of 'Studd' metal framing and 'SynthPF infill' adhered with Stick S7 glue spots, joints finished with Seam Kit to achieve STC51.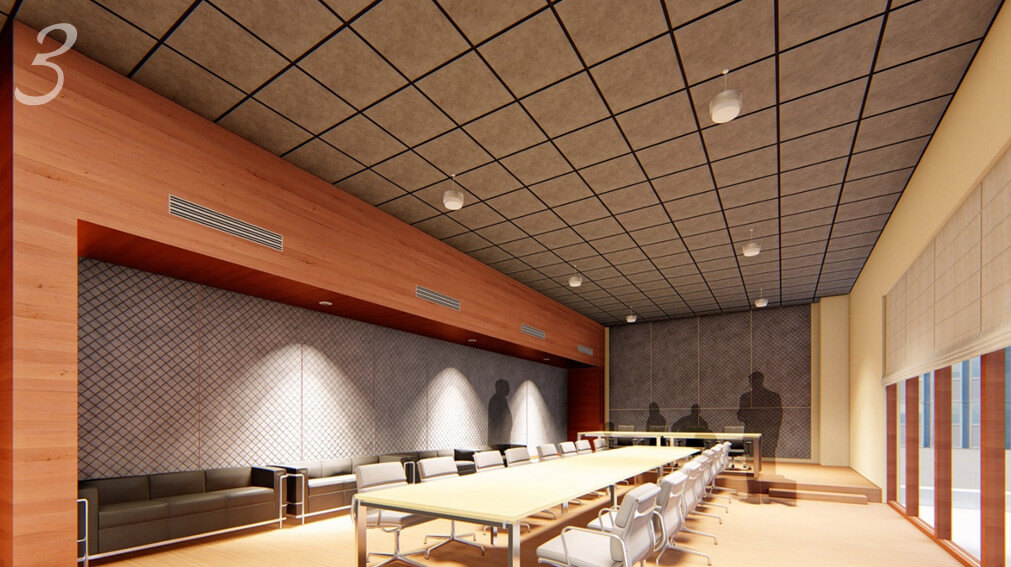 THE ARBITRATION ROOM
Where mutual agreements have an arbitration or mediation clause prior to exercising judicial rights in case of a dispute, the Arbitration or Mediation Room then precedes the Courtroom for dispute resolution. Disputing parties can explore and conclude otherwise sue and go to court.
Such situations consist of an arbitration panel of mutually acceptable, eminent persons of repute on the head table and the disputing parties on either side of a long table with aides retiring to the sofas for help if needed!
Ceiling is 'Synth Slim Square' in Cinder colour with tiles in size of 595x595mm in 'Skelet Ebony'. Walls are panelled with 'Synth Slim Sculpt' in a Quilted pattern in Granite colour but full size of 1200x2400m on 'Strand Primer' 10mm and 'Strut' framing with 'SynthPF' backlining. This creates insulated walls for energy conservation apart from acoustical ambience!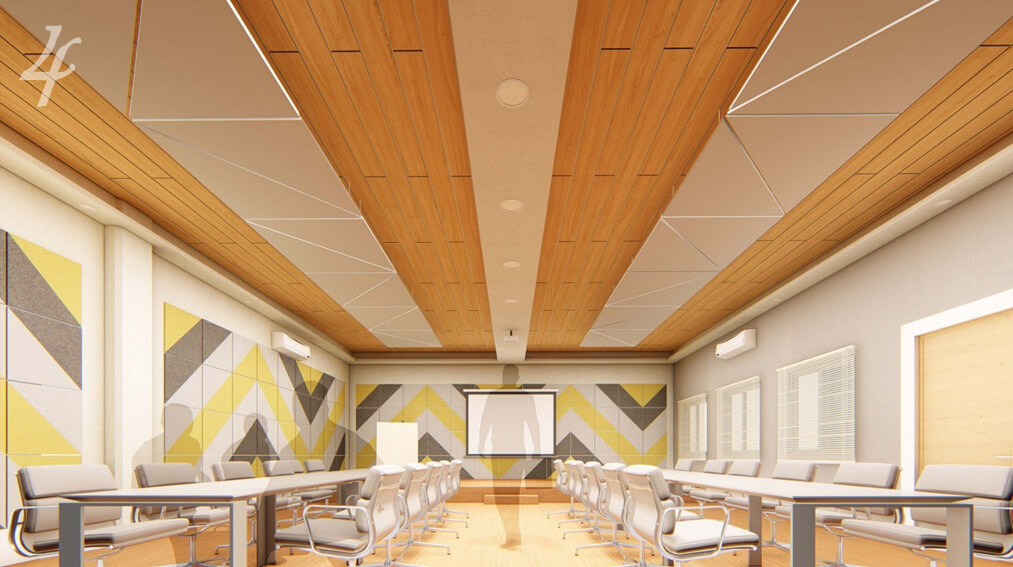 THE BAR COUNCIL
After the exhaustion of persuasive arguments, tactical maneuvers in the courtroom or for preparation of their next case, lawyers need to relax and share notes in the Bar Council Hall or Advocates Room. This space also works as a venue for town hall meetings with a podium, lectern and projection for AV presentations.
The hall is spacious and seats many including many more standing during town hall meetings. It can lead to a cacophony situation and hence high-performance acoustics is of paramount importance!
Here the ceiling is a combination of 'Slats Surco' L128-2 in Oak Roble with 'Subtex Clouds Triangle1' suspended in a two-track linear pattern with LED mood lighting.
Panelling on two adjacent walls is 'Soak Plane Triangle' with panels finished in dual-tone colours from three options – Camel, Pigeon Grey and Black Granite – and backlining of 'SynthPF' on Strut framing! The other two adjacent walls sport 'Stretch NRC' in Hillswick colour on FS15 tracks with 'Strand Primer' backer board and 'SynthPF' infill.
Project images are based on 3D renders for products, systems and solutions by an architect for illustrative purposes and Anutone claims no association.
Product colours, prints are indicative and may differ on actual panels due to blotting and fading. Product embossing, shapes are indicative and may differ on actual panels due to surface texture limitations.
It is the responsibility of the user to conduct due diligence and assess the suitability of the offered products to their specific projects.
Copyright and Intellectual Property belongs to Anutone. No contents must be copied, scanned, reproduced, transmitted, stored, retrieved or otherwise used in any form without prior written permission of Anutone.
Download newsletter as a presentation (ppsx)