How is law & order in UP?
POLICE BHAVAN LUCKNOW

Introduction
The State Government of Uttar Pradesh decided to bring the various branches of the police at one place for the purpose of proper/effective control of crime and to strengthen the law and order of the state. Hence the construction of a sprawling campus in Lucknow through which the exchange of information will be hastened among various branches of the police and hence control crime. This new police building "The Signature Building" is in sector-7 of Gomtinagar extension, Lucknow.

Fact File
Project –  Police Bhawan l www.uppolice.gov.in | Place – Lucknow, Uttar Pradesh | Segment – Auditorium | Architect – STUP New Delhi | Main Contractor – L&T Chennai | Dealer & Installer- Krishna Associates, New Delhi |  Anutone Products – Slats Surco, Stretch Hush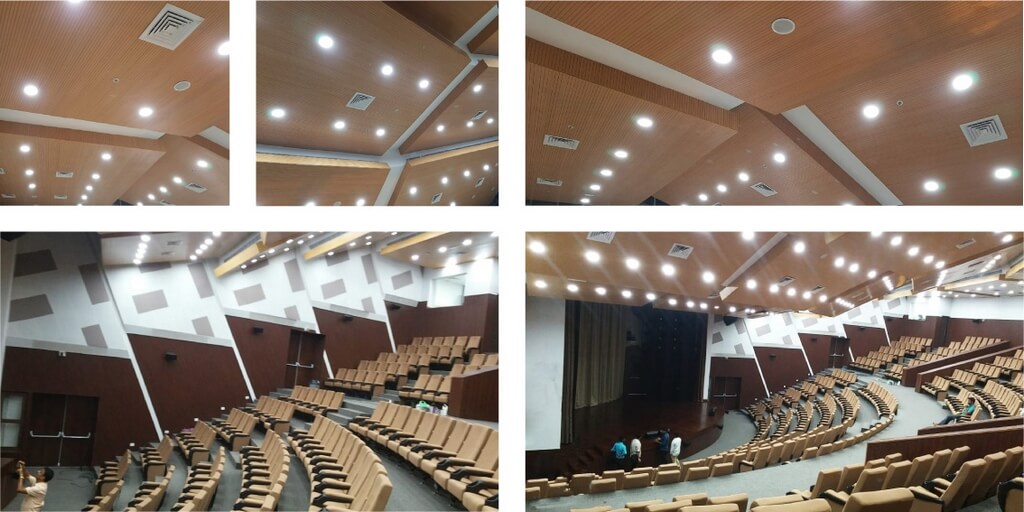 Requirements
The government of Uttar Pradesh wanted a world-class auditorium for the international-style police building they had built the latter being not just for the administration of law and order of the vast state but also for the facilitation of the citizenry interface. The auditorium would be the fulcrum of socio-cultural activities apart from seminars and workshops by professionals.
Solutions
Anutone worked closely with the stakeholders to the project especially the architects Stup who arrived at a minimalist but elegant solution that ensure classic aesthetics and unobtrusive acoustics. The brief was to evoke the warmth and soft tones of wood and some accents of fabric too.
Under the guidance of the main contractor, L&T, the Anutone dealer-installer, Krishna Associates, executed flawlessly. Snags, if any, were promptly attended for a smooth, seamless handover within timelines

Outcomes
The result is visible in the several pictures above. Slats Surco Mahogany Caoba for the lower reaches of the panelling and Stretch Hush Blanco for the upper reaches. Similarly the ceiling is fully Slats Surco Beech Haya in slanted bays that facilitate beneficial sound reflections and diffusion apart from sound absorption. This ensures reverberation-free enriched audio optimised for multipurpose performances.
Download newsletter as a presentation (ppsx)