How about landing aliens on
your coffee table or VIP seat
in stadium for IPL finals?
Acoustics for tomorrow's home
theatre in a living room today
Immersive 3D sound with 15.2 channels
of Dolby Atmos, Auro 3D, DTS:X
Anutone Inspiration Series
17 speakers and 2 subwoofers in a living room for 3D sound can mean cacophony & clutter unless you have the right acoustics for coherence and clarity.
1 MODERN HOME THEATRE SPEAKER SET UP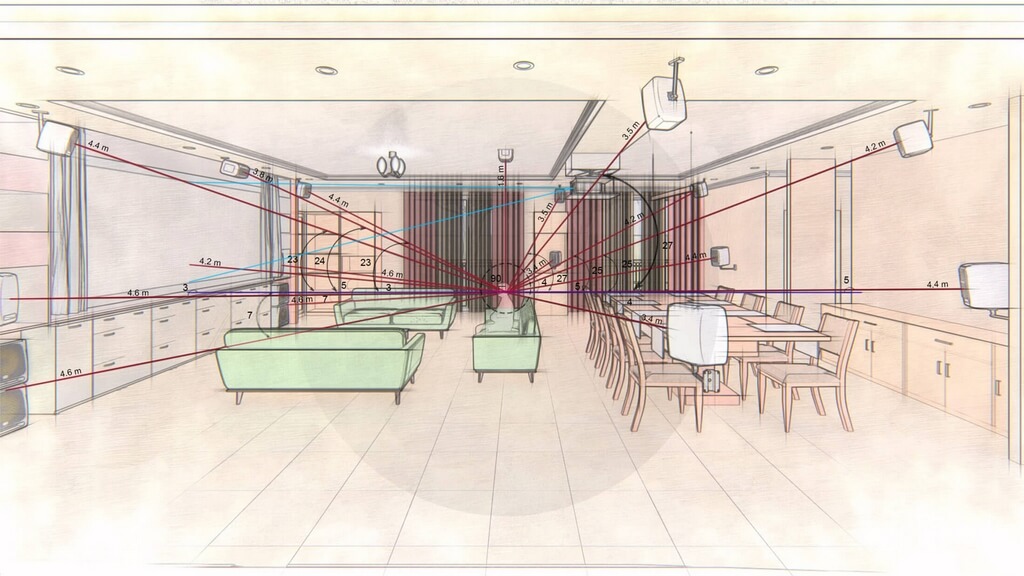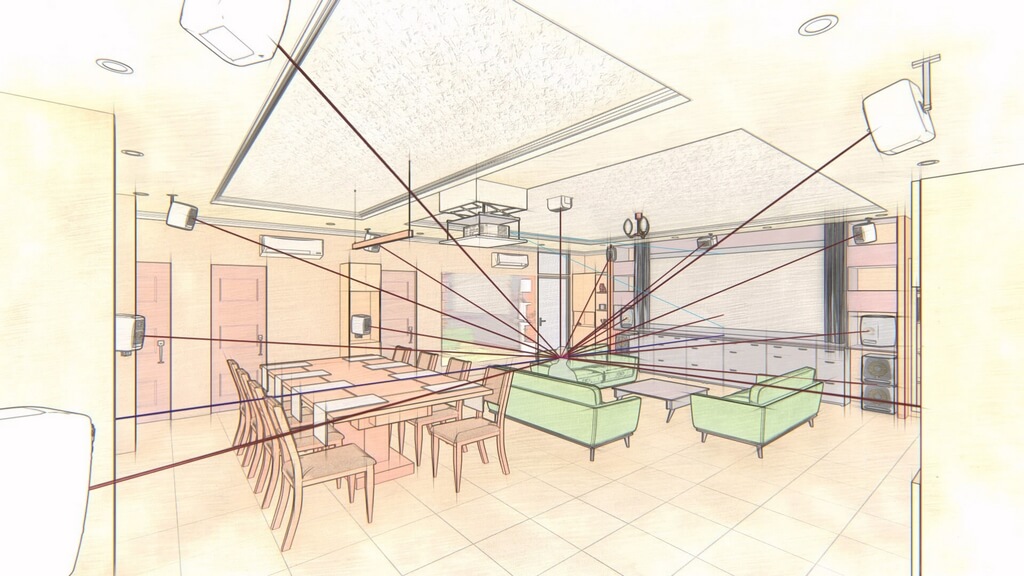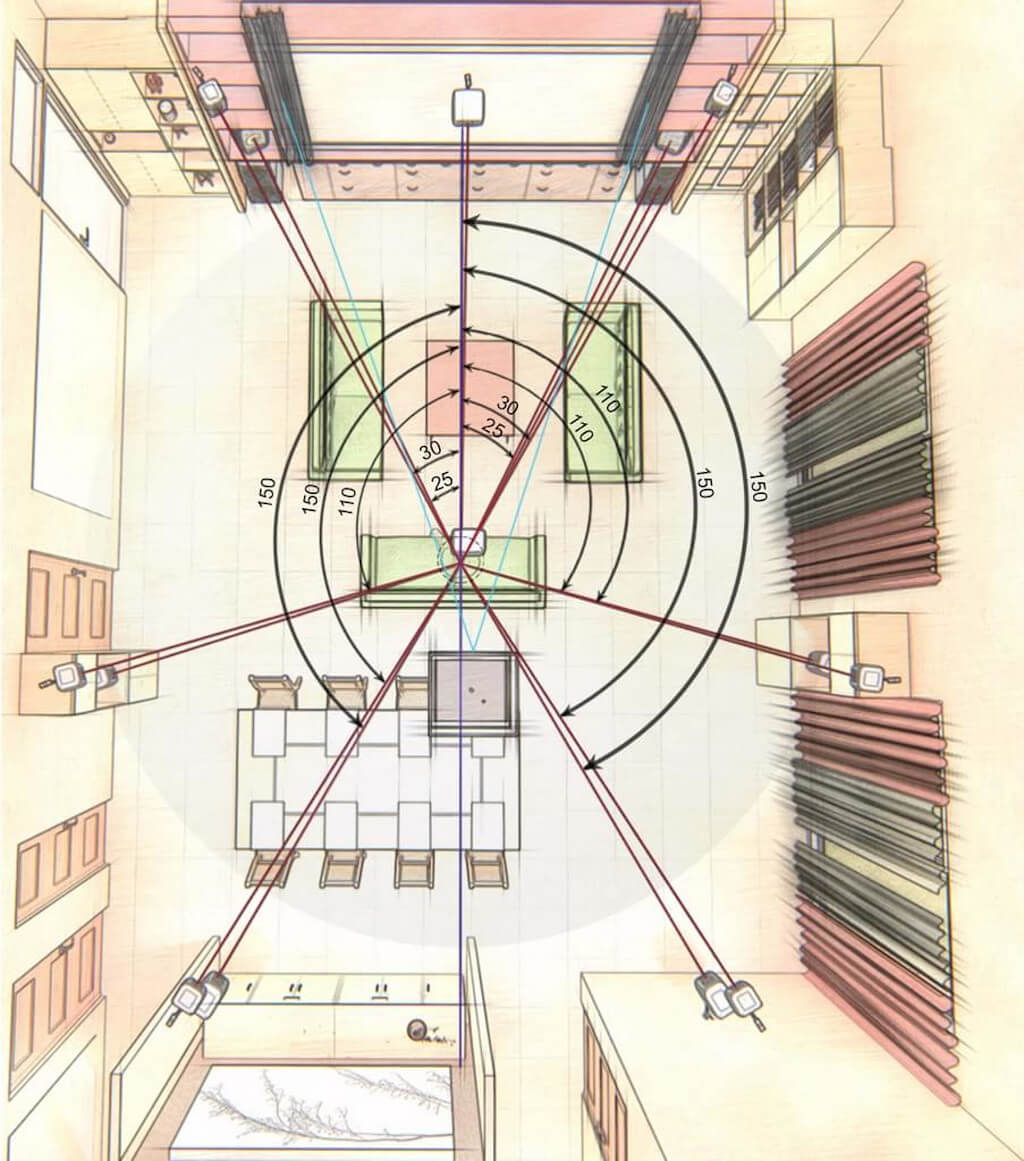 7.1 surround system at listener-level with Left, Centre, Right, Left Surround, Right Surround, Left Back, Right back and subwoofer(s) on floor.

7 height speakers just below the ceiling and above the 7.1 surround system to create a height sphere of audio for 3D sound envelope. Or height speakers in the ceiling as per Dolby Atmos

One speaker in ceiling known as voice of God for Auro 3D that creates further illusion of height audio.

Hence totally four levels of speakers to create a 3D dome of immersive sound – floor at 0m, listener-level 1m, height 2.4m and ceiling 2.75m.

This means sound waves either discrete channel based or object based is bombarding the six surfaces of your living room all the time. Floor, four walls, ceiling – six surfaces.

Thus the need for calibrated acoustics on each surface to take care of reverberations at the same time being unobtrusive in a living room so as not to intimidate family and guests.
2 ACOUSTICAL SOLUTIONS FOR HOME THEATRE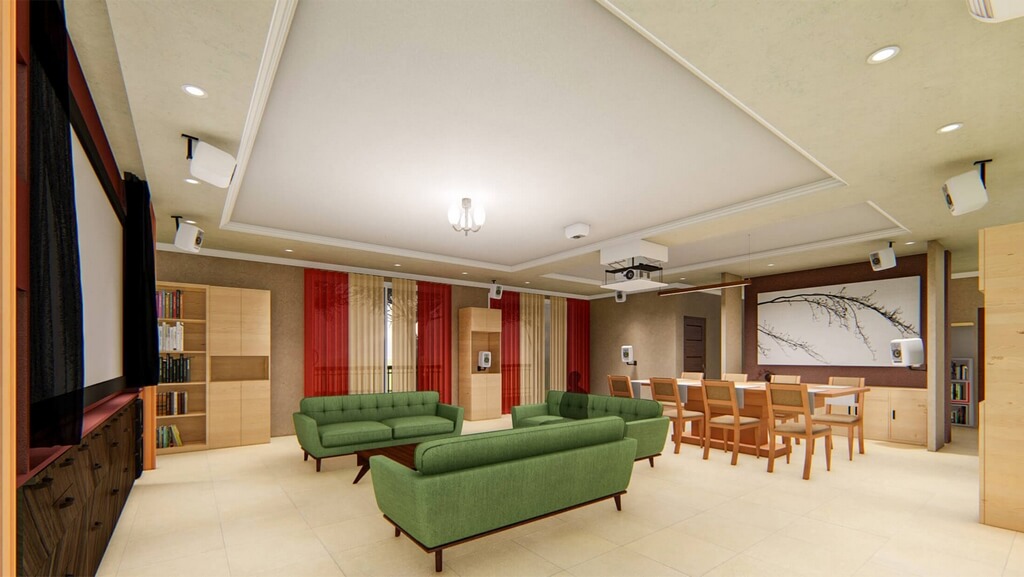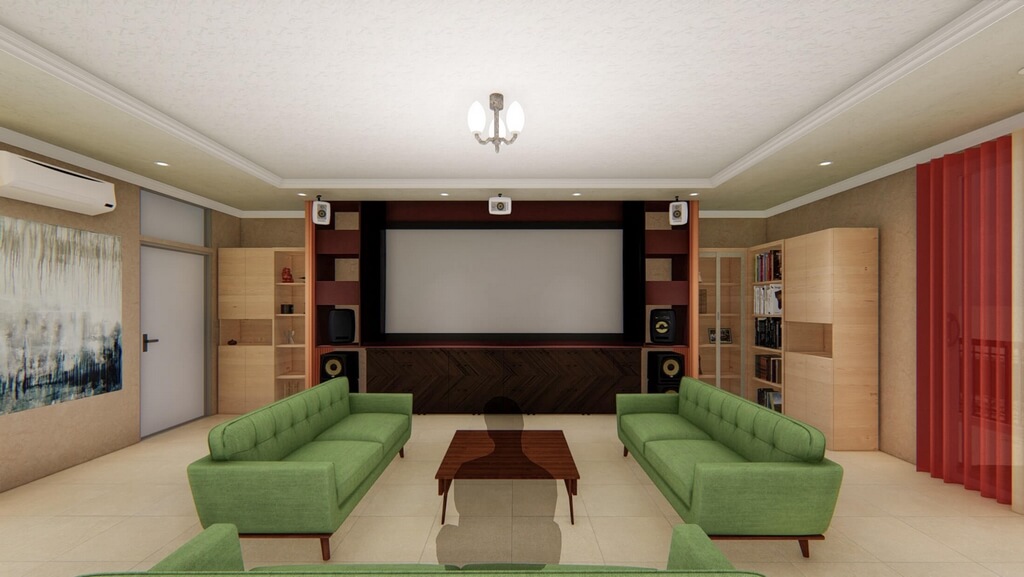 Ceiling – A combination of Tufbloc on Strut framing with SynthPF overlay on perimeter for low frequency sound absorption and Pixel Smery on Strut framing with SynthPF overlay in the centre for mid and high frequency absorption. Finished in two levels with gypsum cornices to create sound diffusive elements.

Screen wall (front wall) – Strand Ebony with SynthPF backer on wall for broadband sound absorption and Soak Cord for cabinet surfaces to prevent speaker near-field reflections.

Rear wall facing screen (back wall) – Stretch Dekor Grafix on Strut framing with Strand Primer backer board and SynthPF infill for mid and high frequency sound absorption.

Side walls – very less surface area maybe available in a living room but if available then Stretch Dekor Grafix panels with family vacation pictures etc. Also heavy drapes on tall windows would help (not by Anutone).

Floor would have the sofa and island rugs as home décor (not by Anutone) with helps prevent annoying sound reflections and some useful sound absorption.

Noise isolation to prevent ingress and egress of sound – it is best to air-condition the living room with low-noise split ACs and acoustic sealant gaskets on all doors and windows (not by Anutone).

NOTE
All referred brand names are registered trademarks and belong to their respective owners. Anutone claims no association or endorsement.
Project images are based on 3D renders for products, systems and solutions by an architect for illustrative purposes and Anutone claims no association of products to actual projects.
Product colours, prints, embossing, shapes are indicative and may differ on actual panels due to limitations.
Lighting plays an important role in the final visual perception of surface finishes and colours. Daylighting and house lighting can make a difference. Please request table-top samples and site mock-ups for a true look and feel.
It is the responsibility of the user to conduct their due diligence and assess the suitability of the offered products to their projects.
Copyright and Intellectual Property of this presentation, drawings and rendered images belong to Anutone.
No contents must be copied, scanned, reproduced, transmitted, stored, retrieved or otherwise used in any form without prior written permission of Anutone.
SEASONS GREETINGS
& HAPPY HOLIDAYS
We are done with 50 episodes of Season 8. Hope you enjoyed our 2019 UPDATE releases as much as we enjoyed presenting them to you. If you missed any you can visit at www.anutone.com
Team Anutone Update will take a break and be back with Episode 1 Season 9 in a new-look format by mid January 2020. Wish you the very best of 2020 and look forward to engaging with you in the decade ahead.