The future of acoustical walls & ceilings
The What's New for 2019-20 launched at Soundz last week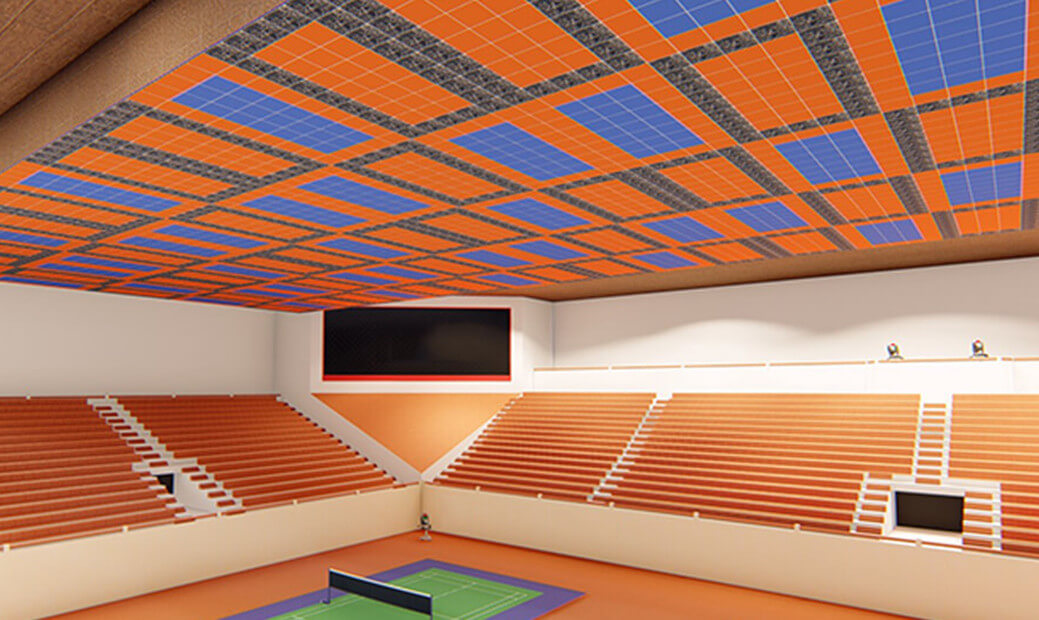 An indoor stadium with a lightweight roof that needs to troubleshoot highly reverberant conditions with a featherweight acoustical ceiling.
Synth Slim Square 595x595x12mm on Skelet T24 Colours to the rescue. In colours and prints to make for a bright and vibrant indoors that energizes everybody!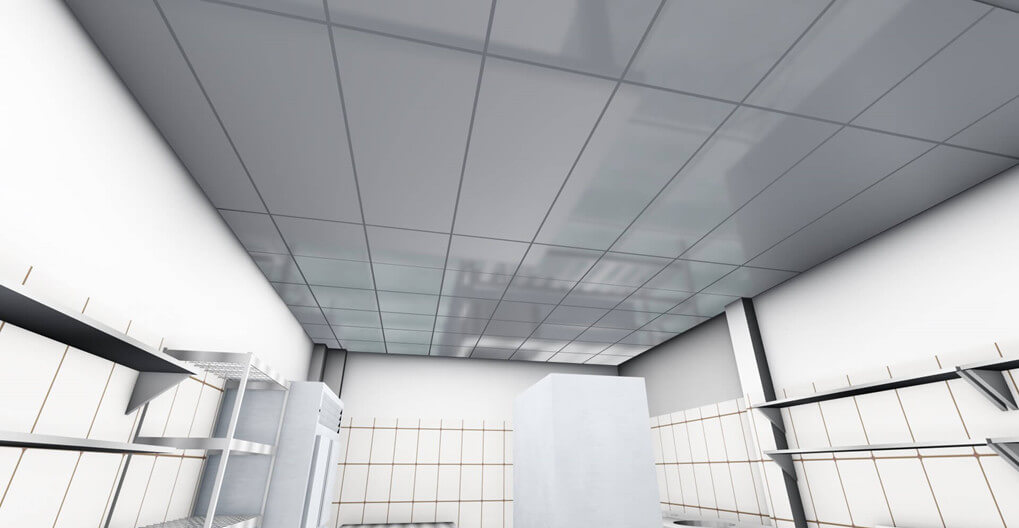 Modern community kitchens need to be healthy & hygienic at all times. The ceiling, after the utensils and equipment, can be the greatest source of joy.
Contributing to joyfulness here is Serge Astral Lay-in Aquila in Stainless Steel for daily wash and wipe!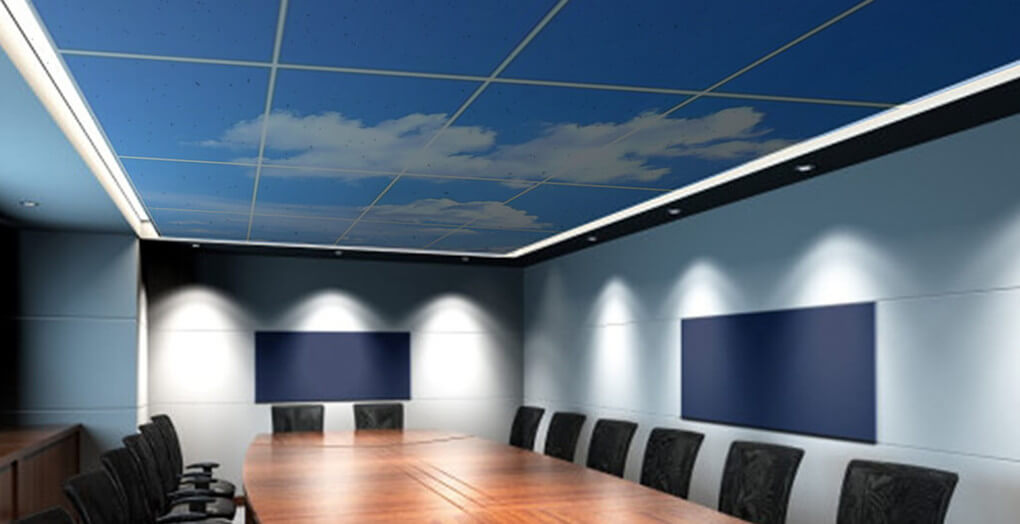 The blue sky & white clouds printed on Sisoli Serene Grafix makes you feel an open sky video conferencing in an air-conditioned room!!!
Note the adjacency printing of a larger image and ceiling tiles placed accordingly in the standard grid of global white colour. Grid options include colours.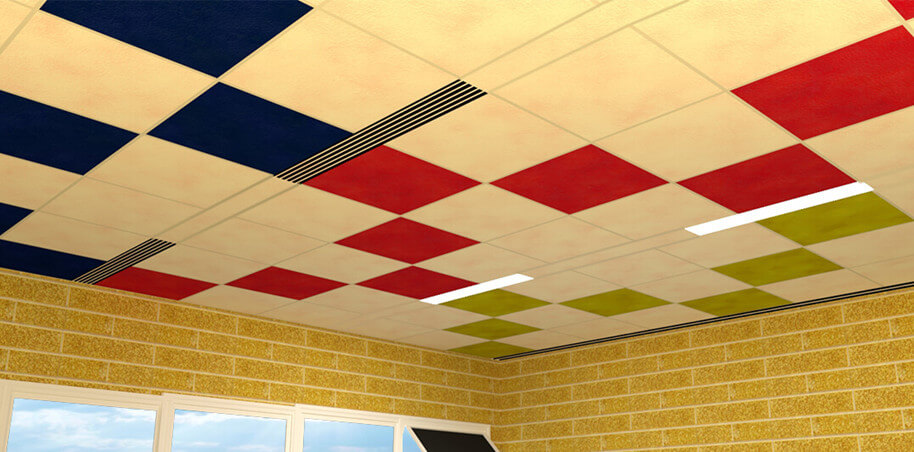 The conventional grid ceiling gets a major makeover, a complete change, a total transformation with Tufbloc tiles and systemTRAX.
Tufbloc Square, Tufbloc Colours, Tufbloc Vin Planks combine to create this masterpiece that is both practical and economical for this multipurpose hall of a primary school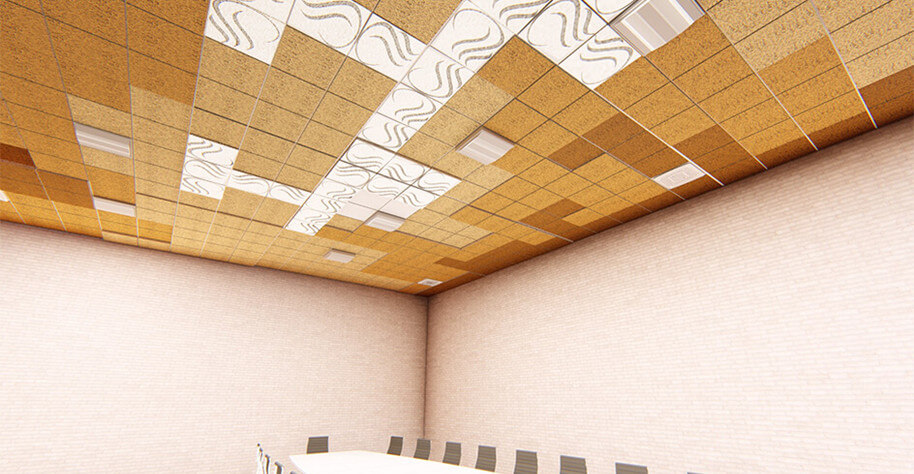 A high end council hall with state of the art audio-video equipment boasts a grand painted and printed ceiling in variable levels.
Strand Cubix Colours ceiling tiles with some tiles as Strand Cubix Grafix in different thicknesses and steppe edges placed in Skelet T24. Height of creativity and innovation!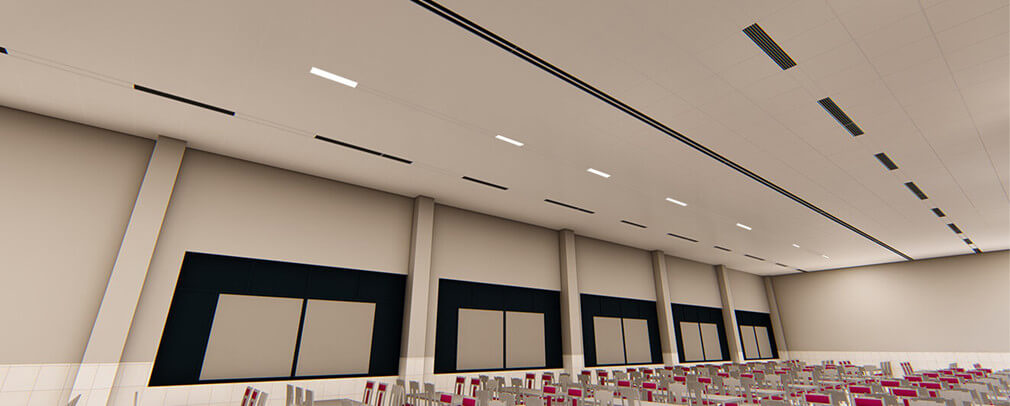 Slate Vin Planks on Skelet T24 for an industrial canteen where the management places high  emphasis on a clean environment for the benefit of its workers and managers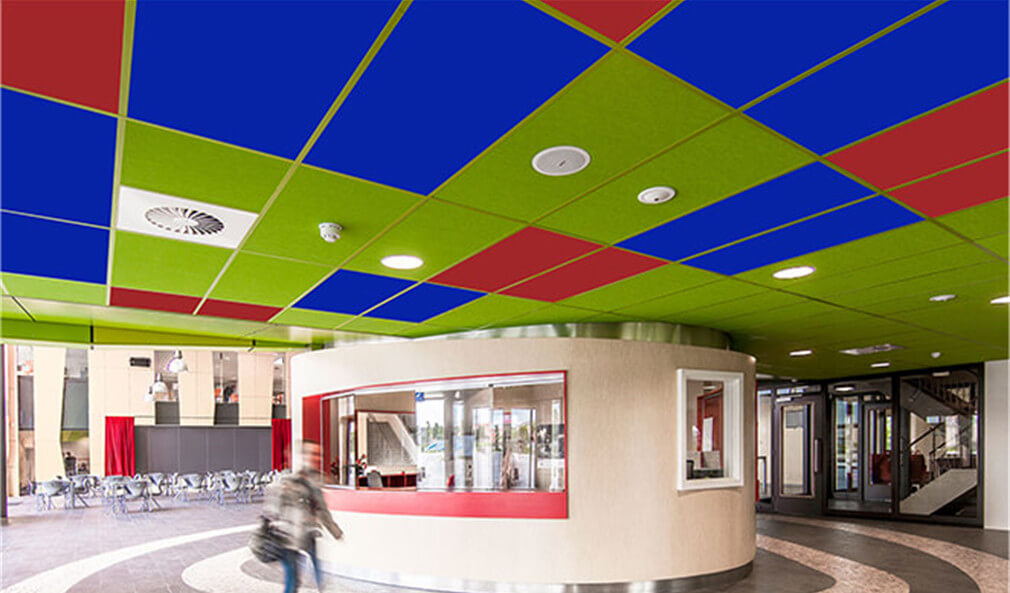 No more boring whites in grid ceilings. Subtex Nubby Colours in Summer Green, Palash and Siamese Blue makes grid ceilings not just interesting but welcoming too for visitors. Here around the information kiosk of a public building
Soundz in April is an internal event of Team Anutone. SoundzPW and other Soundz events are open to eligible ecosystem at other times of the year but on invitation.
Actual availability of the featured new products is minimum one quarter later viz July 2019 onwards. Samples and prices on request.
Project images are 3D renders by architect for illustrative purposes and Anutone claims no association.
Product colours, prints are indicative and may differ on actual panels due to blotting and fading. Product embossing, shapes are indicative and may differ on actual panels due to surface texture limitations.
It is the responsibility of the user to conduct due diligence and assess the suitability of the products to projects.
Copyright and Intellectual Property belongs to Anutone. No contents must be copied, scanned, reproduced, transmitted, stored, retrieved or otherwise used in any form without prior written permission of Anutone.