Since 1966 Anutone has be a strong evangelist of 'Make in India' for acoustical panels,
much before 'Make in India' became a populist slogan, a pioneering trend, a pride label.
Anutone occupies the centrestage of this narrative and the trajectory of 50+ years
continues to propel us to new products which are first in India as Make in India
Case Study 1
Salon Slit Ranurado & Salon Sircle Circulo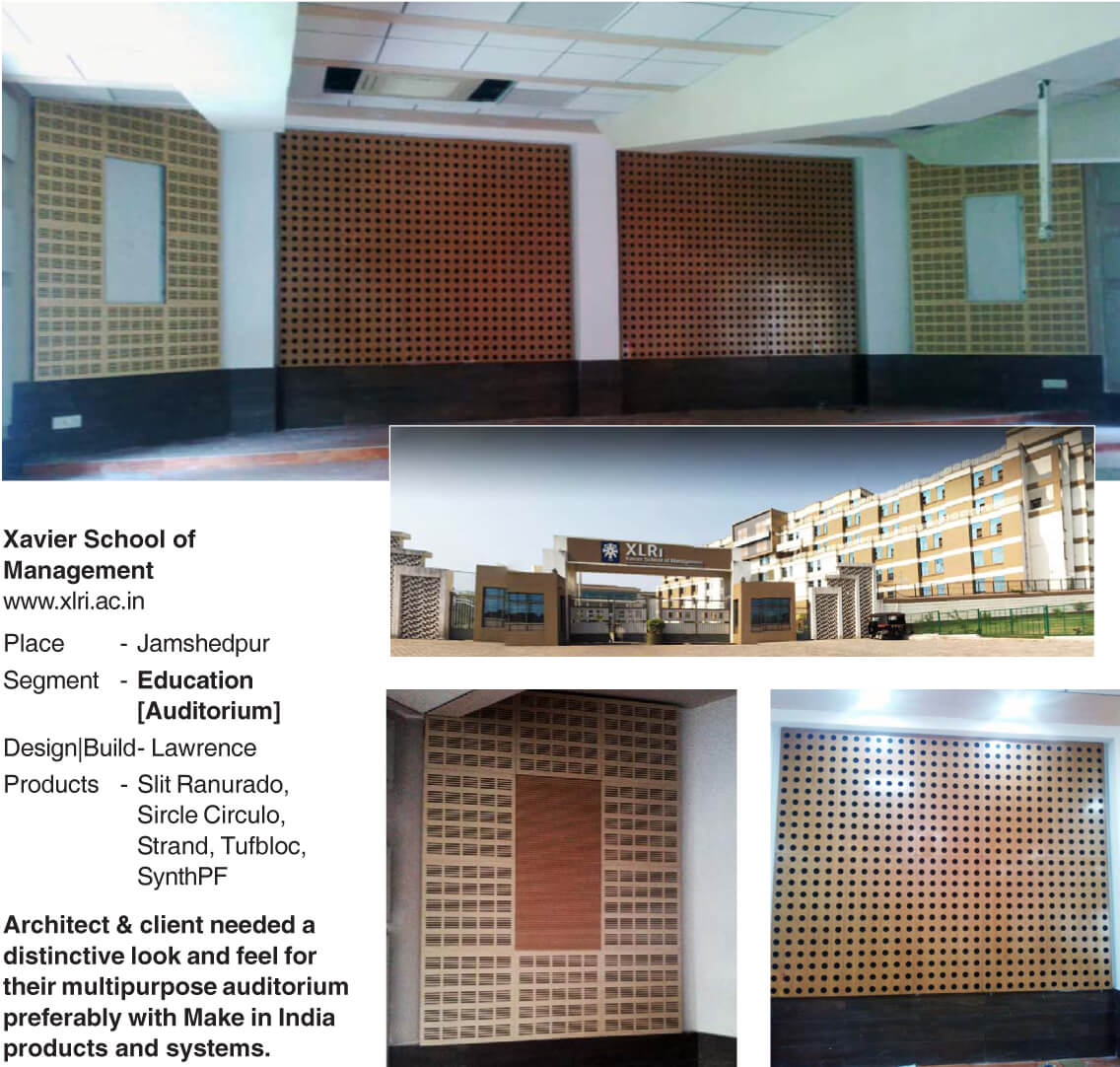 Team Anutone came up with the perfect solution that fulfilled three key parameters
1) Stunning visuals
2) Effective acoustics
3) Make in India products
with a combination of Slit Ranurado and Sircle Circulo for the walls apart from Tufbloc and Strand for the ceiling. Needless to add, SynthPF was used as a backlining for performance enhancement.
Case Study 2
Salon Square Cuadrado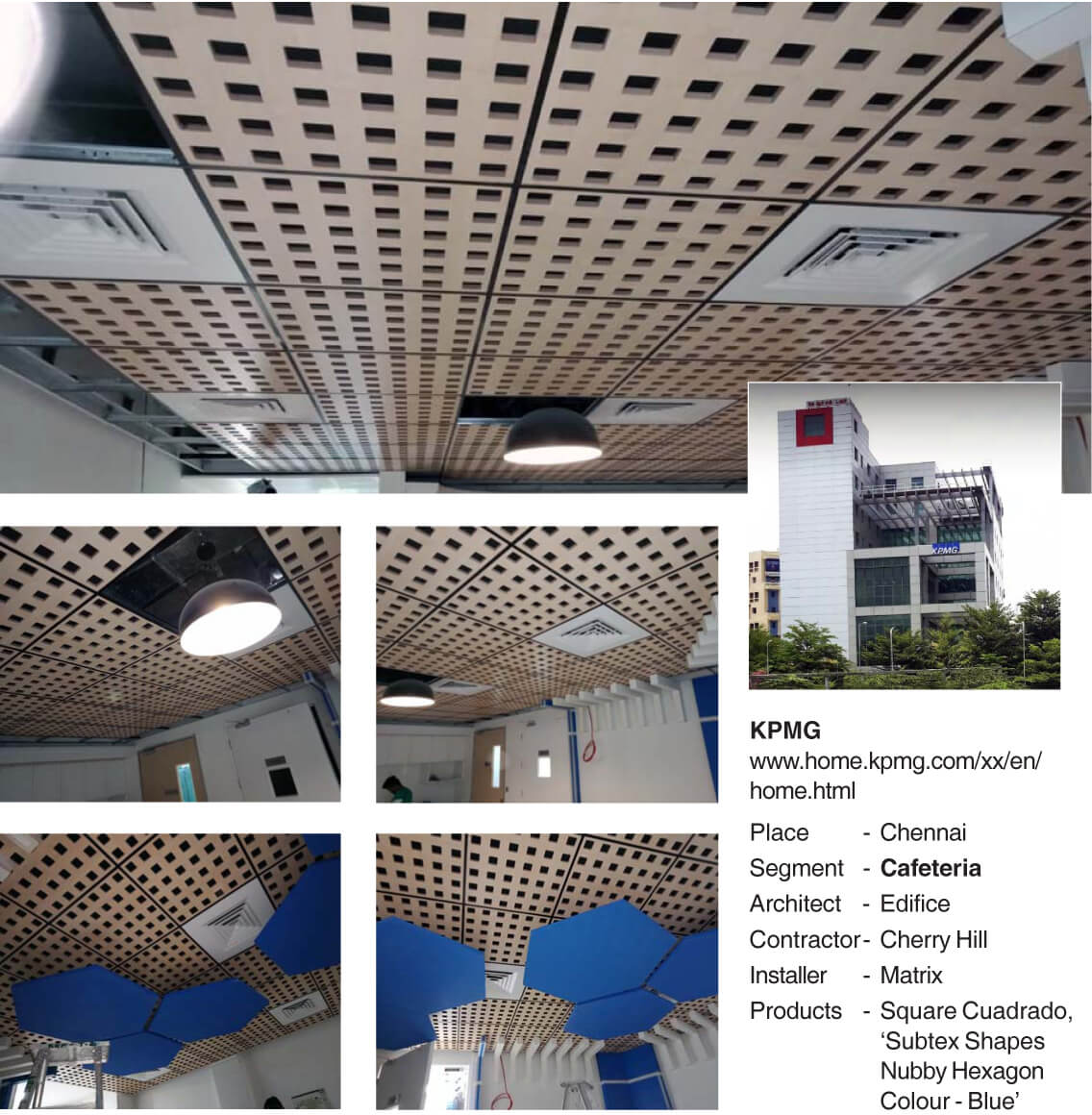 How to achieve a dynamic, designer ceiling that scores high on visuals and aurals? Anutone teamed up with India's top talent at Edifice Architects and Cherry Hill Contractors for a unique solution executed to perfection by Matrix.
The answer is a multi-level, multi-product, multi-colour ceiling.
Primary ceiling is Square Cuadrado in light shade installed on Skelet Trellis Ebony framing that contrasts with the tile surface and yet matches the square black perforations.
The secondary ceiling is Shapes Hexagon in Blue colour installed in clusters of three panels. If you haven't guess it, the blue, of course, is inspired by the KPMG logo!
This is one cafetaria that KPMG employees will enjoy given the dynamic, designer ceilings yet the quiet, comfortable environment. No more for MNC corporates in India those drab, dreary cafetarias that are noisy and stressful to visit.
Case Study 3
Serge Astral Clip-in – Stainless Steel Aquila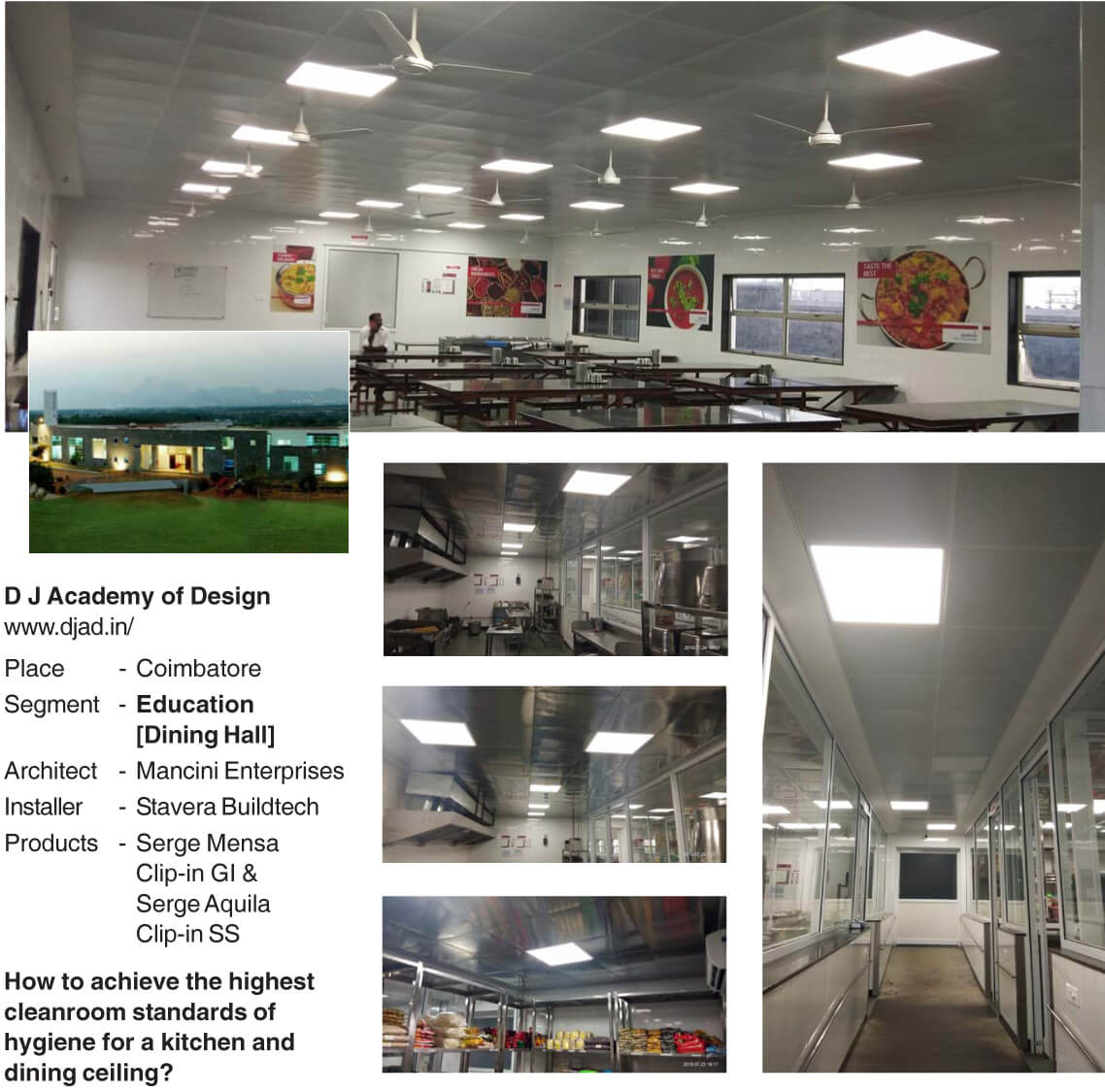 Team Anutone came up with another perfect ceiling solution that fulfilled three key parameters
1) Striking visuals with services integration
2) Cleanroom with zero corrosion or dust
3) Make in India product with green credentials
the key product being Serge Astral Clip-In in Stainless Steel core and finish.
It is in our less-used Aquila variant which is unperforated and provides for a glossy clean surface, easy to maintain at all times.The Galvanised Steel – Mensa variant which is perforated was used for the less critical areas like corridors etc.
The tight Clip-in SpringT framing ensures zero dust transmission for the plenum, the stainless steel ensures zero corrosion, the glossy finish ensures easy wet cleaning and Make in India ensures green credentials of less carbon emissions in transportation.
A healthy and safe space is created for food preparation and dining. Just as the client wanted and architect intended.