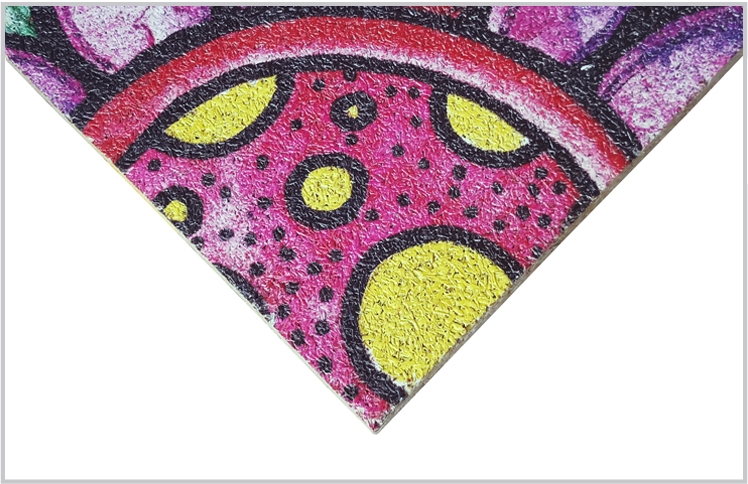 Ekcel
Mat Grafix
Designer acoustics re-defined with direct transfer of digital prints
Anutone's gift for bespoke interiors
Stunning visuals with effective acoustics. Shapes an option too!

Parameters
Specifications
Type
Grid
Finish
Naturals
Core
Microfibre|Longfibre
Thickness (mm)
15, 20
Size (mm)
595|600x595|600|1195|1200
Density (Kg/m3)
600
Weight (Kg/m2)
9, 12
Fire (Class)
1 & P
NRC (15mm)
E300 - 0.75, C50 - 0.75
Thermal (W/mk)
0.1
Termite Attack
Nil
Climate (0C, RH)
50, 95
Light (%)
Print dependant
Green (VOC, RC%)
Low, 35
Warranty (Years)
10
Maintenance
Vacuum, Damp-wipe
Install Accessories - Ceiling
Skelet T24, Strut SA25, WC25, MC45, CC25,
SynthPF, H-Spline (for 20mm only)
Install Accessories - Panelling
Strut CC with Strut Z-Bar | H-Spline (for 20mm only), SynthPF,
Stick S7 by Anutone. Local hardware by others
Remarks
For larger images, adjacency printing is possible.
Skelet T-grid ceilings will divide images. Strut H-Spline
will provide hairline joints. Do not fill joints with Seam
AJP. Natural gaps & grooves work best!

Mat Grafix of a cricket field in 600x600x20mm grid in Strut H-Spline on the wall of the entrance lobby of an international cricket stadium stimulating a large digital screen