Five jewels from the East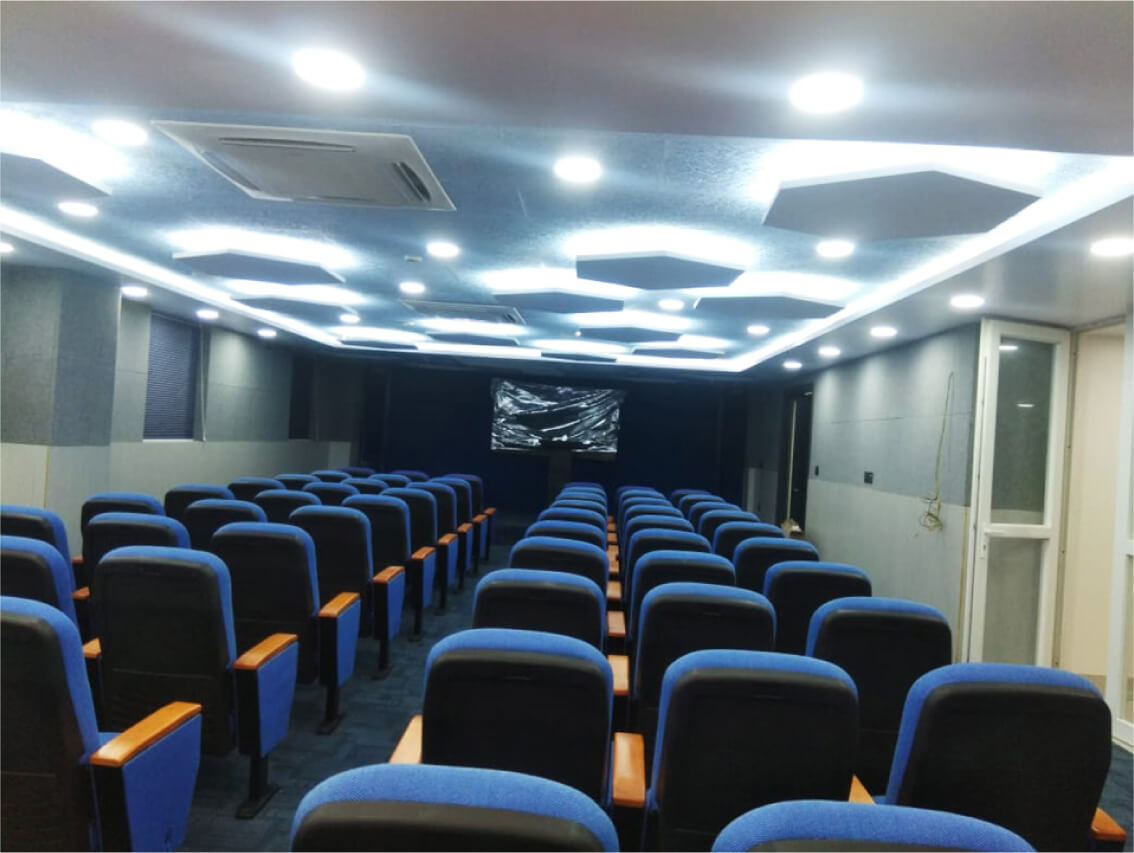 Requirements
Big Hospital is a multi-disciplinary super-speciality mega healthcare facility centrally located on Sheetla Mandir Road in Patna for the Bihar, Jharkhand, East UP and Nepal region. It grew bigger in 2018 from its origins in 2009.
The requirements for Big Hospital were not only anti-bacterial ceilings as it commonly believed but a variety of visually interesting and acoustically compliant walls and ceilings that would contribute to the wellness of medicos and patients.
Solutions
The design team at Anutone worked closely with the architect and client ecosystem to come up with solutions that were not just acceptable but a delight to all stakeholders. Of great help were the 'What's New' products that Anutone innovates and launches at regular intervals. 
Outcomes
Modern hospitals are not just about wards and operation theatres (OTs). Modern hospitals are mini-cities with a great community feeling. They are equipped with auditorium, food court, speciality venues and much more. It is similar to hotels, malls and airports that are mini-cities in their own right.
Fact File
Big Hospital | www.bighospital.org | Place – Patna, Bihar | Segment – Healthcare | Architect – Amrendra Dayal, Patna | Dealer and Installer -A K Enterprises | Products – Tufbloc, Strand Colour, Slats Surco, Soak Cord, Subtex Clouds Hexagon, Subtex S-Concave | S-Convex
Belonia Town Hall, Tripura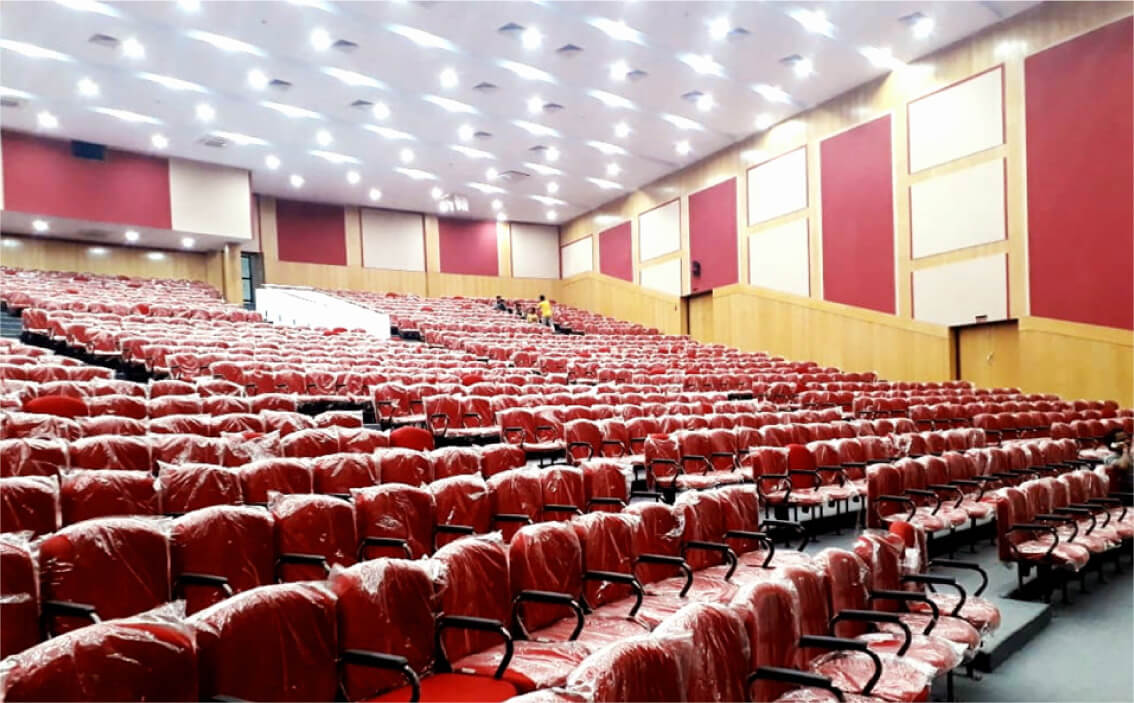 Introduction
Interestingly, Belonia Town Hall is the only government auditorium in that place and hence a boon to the local populace. Belonia is the headquarters of the South Tripura district and such a multipurpose facility for meetings and performing arts was much needed.
Needs & Solutions
The customer wanted a distinctive interior architecture that is evocative of the region and effective for acoustics. Since the hall is being used for multipurpose applications Anutone came up with broadband frquency absorption as a primary concern apart from matching the walls and ceilings to the seating and flooring.
Outcomes
The people of not just Belonia but also South Tripura are delighted with a performing space that does them proud and adds top value to the socio-cultural mileu of Tripura state.
Fact File
Town Hall Belonia | Place – Belonia, Tripura | Segment – Auditorium | Dealer and Installer – Sabcon | PMC – NBCC | Contractor – M/s Shibu Saha | Products – Stretch Hush & Subtex Nubby
Tata Medical Centre, Kolkata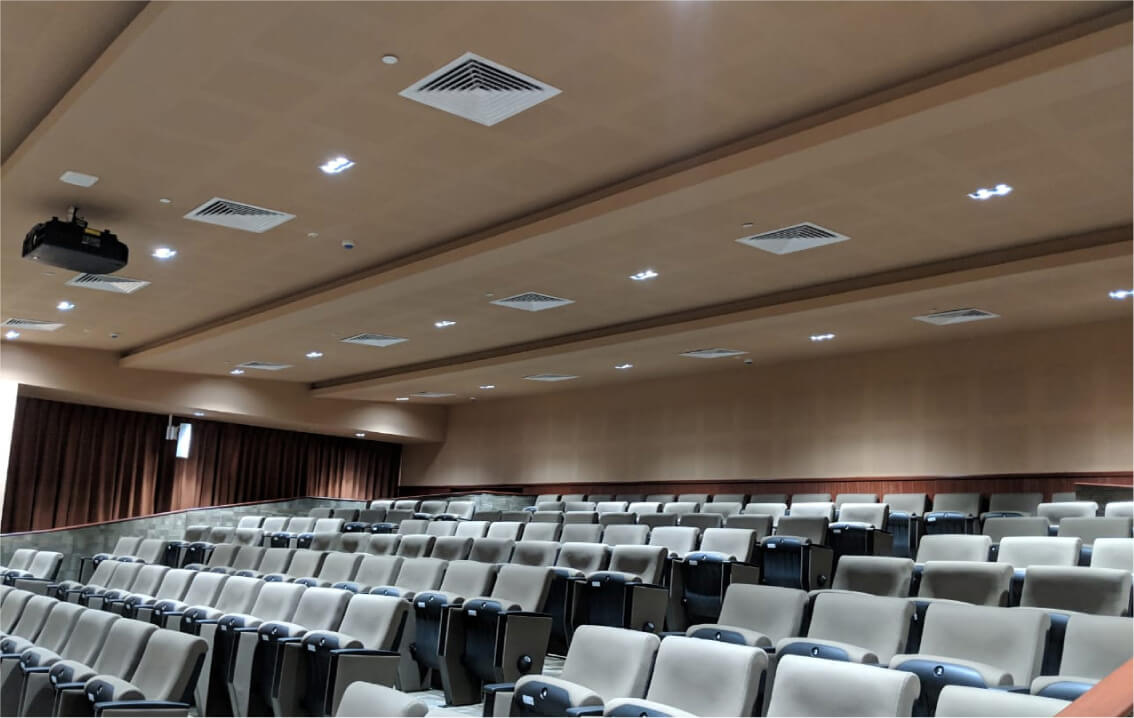 Requirements
Tata Medical Centre in Kolkata has been set up as a sprawling campus to deliver comprehensive cancer care with cutting-edge technologies by world-renowned healthcare professionals. It features a a world-class auditorium for international conferences, symposia and workshops on medicare.
Solutions
For what will eventually become a hallowed institution and a bright star on the healthcare firmament of Kolkata, the architect and client wanted state-of-the-art 'acoustic-aesthetic' solutions that will outlive current fads and last forever as an enduring legacy.
Outcomes
Anutone design team worked closely with the project ecosystem and eventually the logistics team delivered Pixel 0308 micro-perforated gypsum ceiling and Stretch NRC panelling, both backed by SynthPF and supplied|installed expertly by Satellite Electronics.
Fact File
Tata Medical Center – Cancer Hospitals  | www.web.tmckolkata.com | Place – Kolkata, West Bengal | Segment – Healthcare | Architect – Jacob, Kolkata | Dealer and Installer – Satellite Electronics | Products – Pixel 0308, Stretch NRC, Slats Surco, Synth PF
Neriwalm Auditorium, Tezpur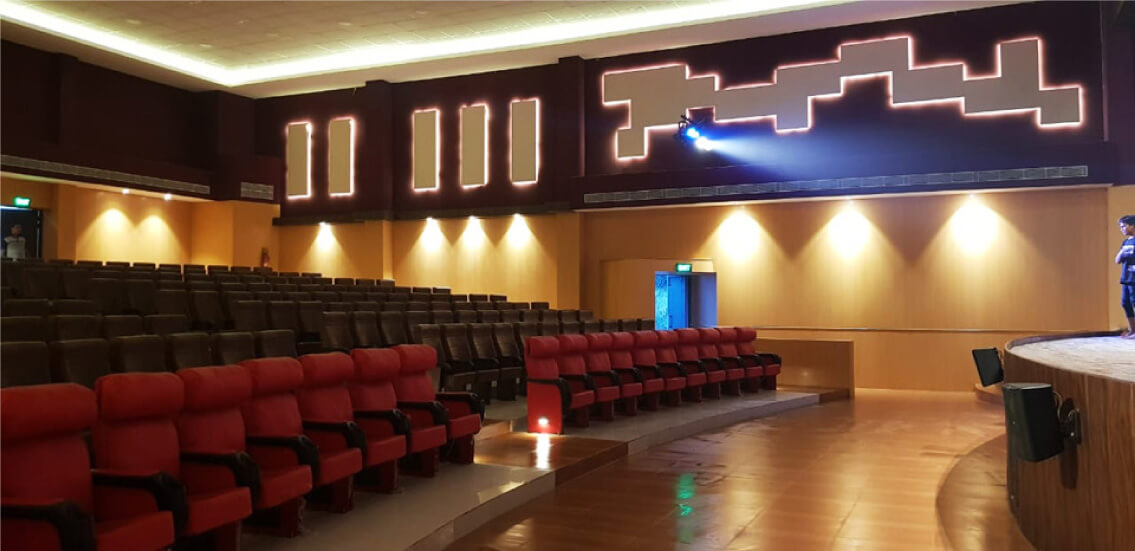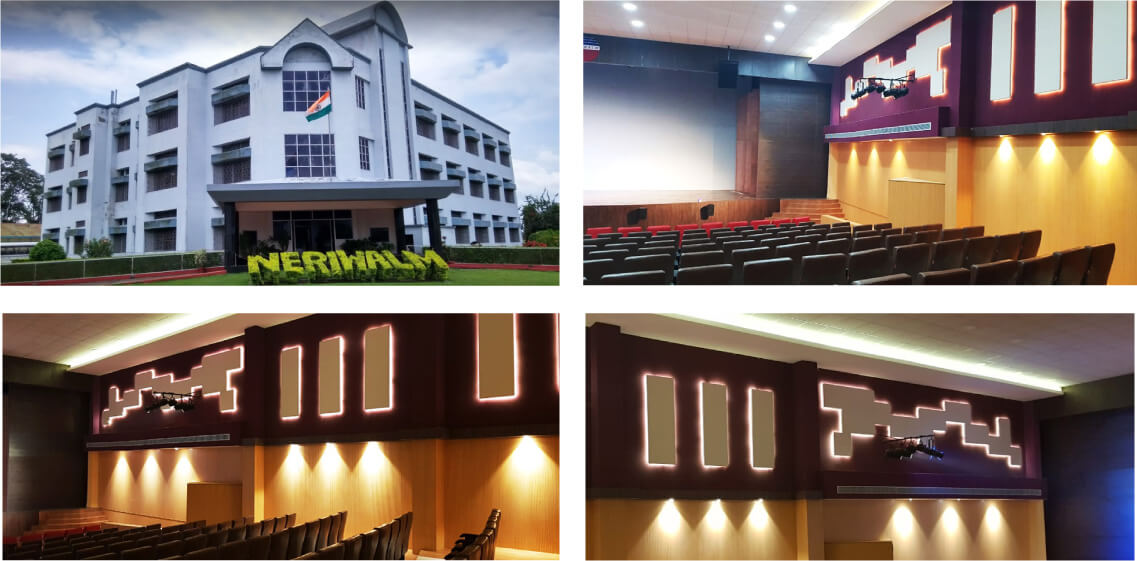 Requirements
Neriwalm, originally established by North Eastern Council (NEC), is currently a Government of India enterprise under the Ministry of Water Resources, River Development and Ganga Rejuvenation and the 216-seater mini-auditorium on the campus is envisaged to be a fulcrum of multifarious activities of the institute.
Solutions
The needs of the client was not only a well designed auditorium but easy to maintain and longevity of the interiors over the building lifecycle given the harsh enviroment of excessive humidity and oppressive heat.
Outcomes
The acoustical ceiling soft Subtex Nubby in main hall and Subtex Ebony on stage whereas the panelling is Stretch NRC in upper reaches and Slats|Sonator combination for the lower reaches.
Fact File
North Eastern Regional Institute of Water and Land Management [Neriwalm] | www.neriwalm.gov.in | Place – Tezpur, Assam | Segment – Auditorium | Dealer and Installer – Acoutec, Guwahati | Products – Subtex Nubby, Subtex Ebony, Slats Surco, Strand, Stretch NRC, Synth PF
Kalinga Institute of Industrial Technology, Bhubaneswar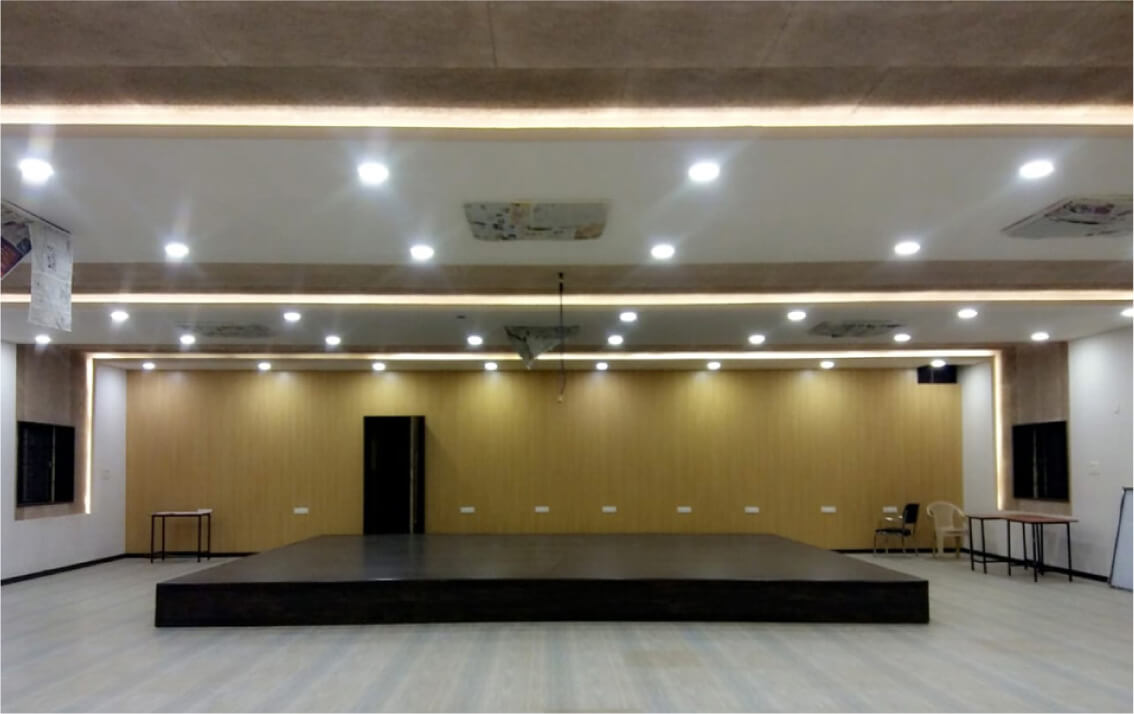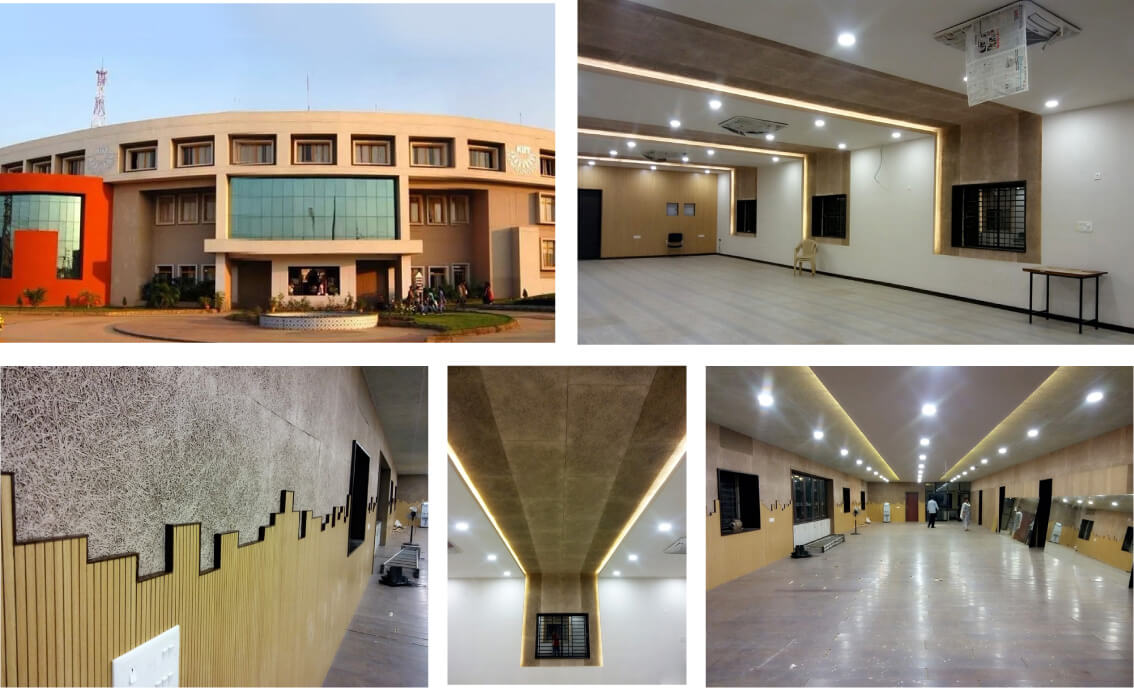 Requirements
Kalinga Institute of Industrial Technology [KIIT] built a new multipurpose hall for its faculty and students. The architect desired a minimalist look based on classic elegance and the use of natural materials for a green building.
Solutions
The evolved design and solution led to Slats Surco on the walls as visible in the pictures in an urban skyline silhouette with Strand in it's natural form on the walls and uniquely turned on the ceilings. Tufbloc HDFR boards is the third material used as a relief, seen as plain white surfaces.  
Outcomes
Anutone products, as usual, deliver effective acoustics while maintaining the minimalist, natural looks of the hall, ensuring true delight to all the stakeholders of the project.
Fact File
Kalinga Institute of Industrial Technology | www.kiit.ac.in | Place – Bhubaneswar, Odisha | Segment – Education | Architect – Jayanta Seal | Dealer and Installer – Kalyani Traders | Main Contractor – Swastik Assets | Products – Slats Surco, Strand, Tufbloc