Bengal & Kerala turn capitalist
Modern acoustics for government projects
Indian Oil Corporation Ltd, Haldia (West Bengal)
Introduction
One of India's most valuable companies, Indian Oil Corporation, boasts of a 500-acre sprawling petrochemical complex in the port city of Haldia, 136kms south of capital Kolkata in West Bengal state, producing Lube Oil Base Stocks (LOBS). It is the only coastal refinery for IOC and a lube flagship.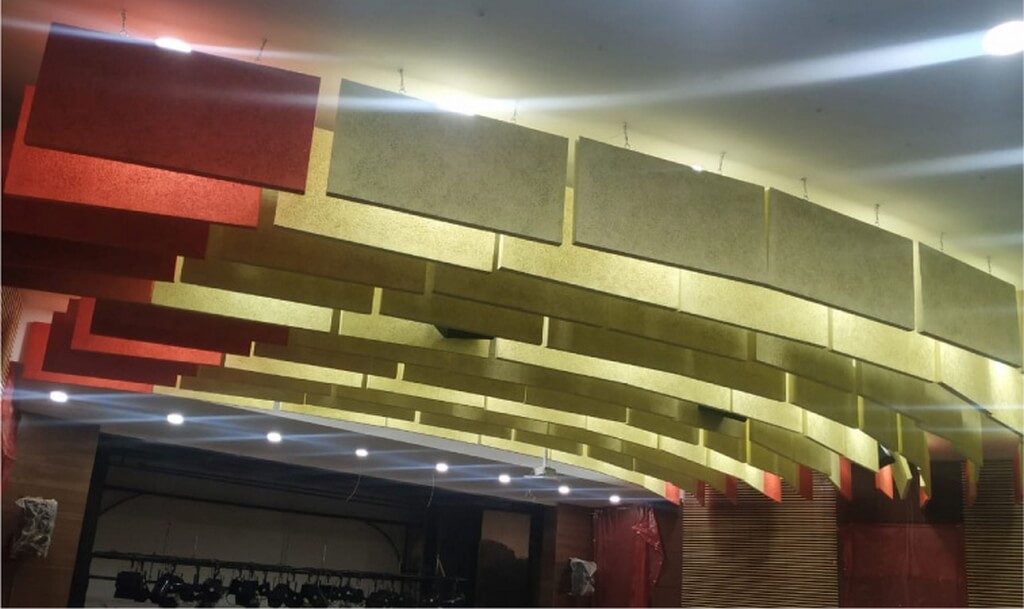 Fact File
Project – Indian Oil Corporation Ltd l www.iocl.com | Place – Haldia, West Bengal | Segment – Auditorium [Corporate] | Architect – Creative Forum, Kolkata | Interior Contractor – GTech Engineering | Dealer-cum-Installer – Creative Solutions | Anutone Products – Strand Wave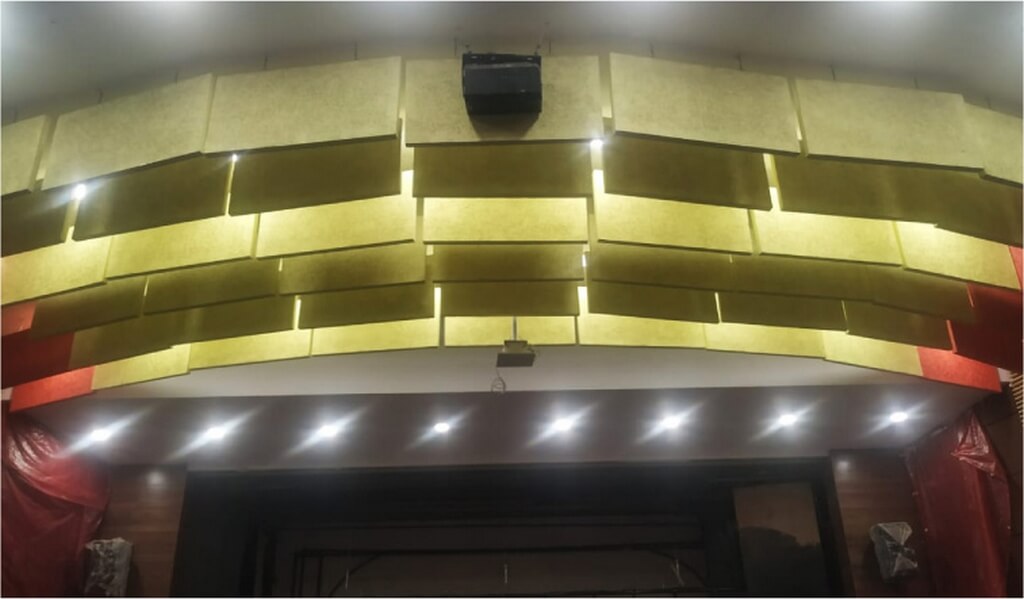 Requirements
IOC commissioned a corporate auditorium for their Haldia campus for product workshops, knowledge seminars, industry conferences and socio-cultural performances. Hence the need for a multi-dimensional, multi-purpose auditorium with audio-video and acoustics to suit. They were emphatic on visual grandeur given the flagship status of the complex in the petrochemicals industry.

Solutions
One of the most sound-absorbing, most acoustically efficient, ceiling baffles from Anutone, the Strand Wave, has been very imaginatively and innovatively used by the architect to provide the necessary visual magnificence as well as variable sound absorption befitting this multi-purpose auditorium. Strand Wave in a two-colour combination suspended very neatly in curved clusters by the installer.
Outcomes
With Anutone the required acoustical performance can be taken for granted, so sure we are of our core competence, that for every project the first time and every time we get it right! Since 1966 our track record is testimony and this IOC project at Haldia adds to the tried, tested, proven dictum.
Conclusion
All the stakeholders to the project are delighted that design, supply and execution of the acoustic sequences met project requirements. On inaugurating the auditorium, IOC looks forward to great programming and performances.
Vigilance and Anti Corruption Bureau, Thiruvananthapuram (Kerala)

Introduction
Vigilance and Anti-Corruption Bureau, with head office at Thiruvananthapuram, is a specialized agency of the state government, responsible for the investigation and prevention of corruption in Kerala.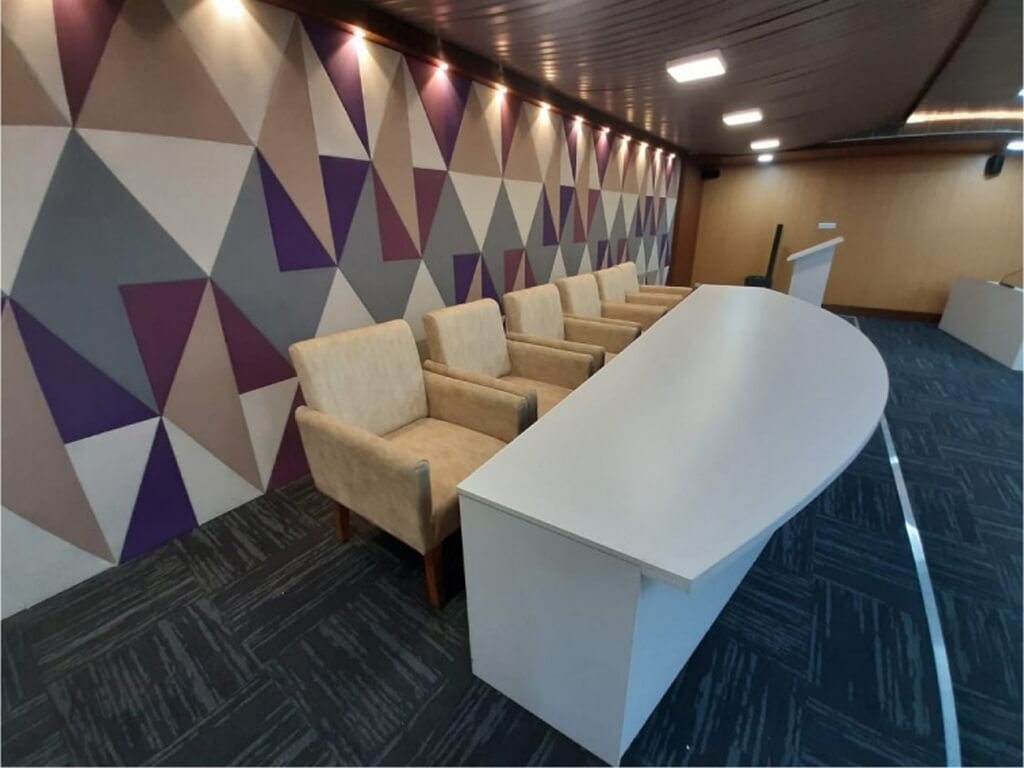 Fact File
Project – Vigilance and Anti Corruption Bureau l www.vigilance.kerala.gov.in | Place – Thiruvananthapuram, Kerala | Segment – Seminar Hall | Dealer – Nobel Audio | Installer – Rajesh contractor | Anutone Products – Slats Surco, Stretch Hush, Synth PF
Requirements
The Bureau wanted a well-equipped mini-auditorium that serves as a training-cum-lecture hall with theatre-style stepped seating and a podium with lectern et al. To retain interest of participants they wanted a dramatic backdrop to the dais as well as wooden panelling on other walls. Perfect but practical acoustics especially in terms of wall panelling was also the emphasis.

Solutions
For a dramatic backdrop that keeps the delegates awake, alert, aware Anutone selected Stretch Hush in a palette of colours and shapes much like Stretch Mozaic as an imitation of Strand Mozaic. Imitation is the best form of flattery and we are sure the Ekcel division is rejoicing over the Absol division of Anutone. For the other three walls – two sides walls and the rear wall – it is Slats Surco all the way.

Outcomes
The wall panelling not only adds to the calm and serene ambience but also ensure the best of visuals as desired by the customer in terms of a dramatic dais backdrop contrasted with other walls that sport a rich woodgrain finish. Participants are able to pay full attention while remaining alert, aware, awake!
Conclusion
The Vigilance and Anti Corruption Bureau is delighted with the results and looks forward to working closely with Anutone for their future projects subject to usual techno-commercial terms. A repeat customer is final testimony to the acoustical strengths and opportunities with Anutone.