Projects sparkle with innovative acoustics by Anutone
All that glitters is not gold but acoustics !!!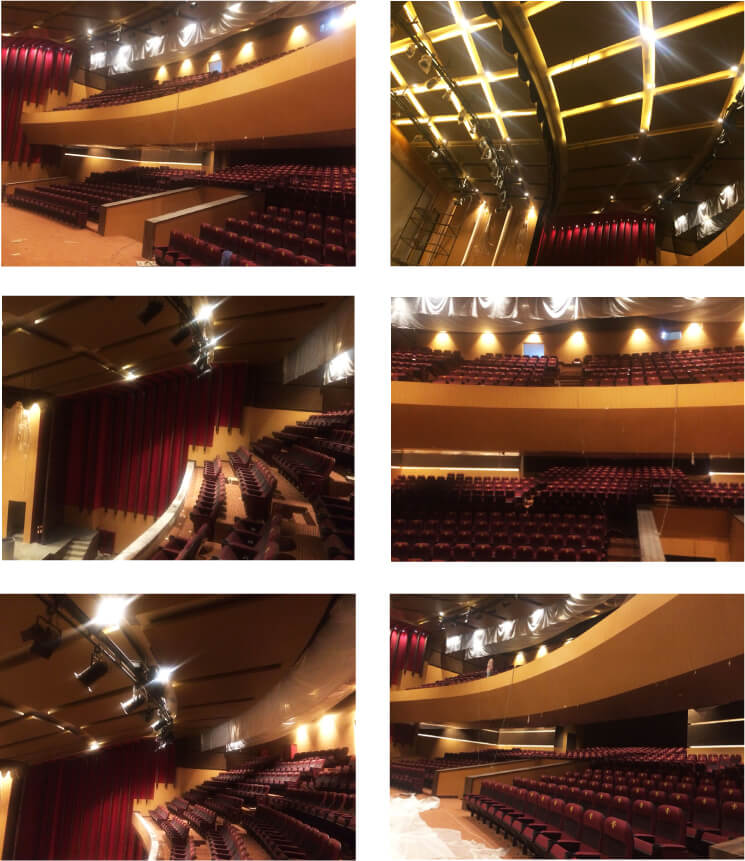 NORTH
Allahabad Medical Association (AMA)
www.imaallahabad.org
Place         –  Allahabad
Segment   – Auditorium
.                    [Healthcare] Installer     –  Chisel Interiors
Consultant- Rahul Jhaveri
Products   –  Spots MP3, Strand
State-of-the-art convention centre with an ultra-modern auditorium to celebrate the centenary of AMA,  a 52-year old brand delivers acoustics!
Born in 1918, AMA precedes Indian Medical Association (IMA), established in 1928, by 10 years! The sense of historical importance is unmistakable.
To celebrate its 100 years, AMA commissioned this 800-seater auditorium and other facilities. The pictures say it all!
EAST
Sri Krishna Institute of
Public Administration
(SKIPA) formerly
Administrative Training Institute
www.skipa.nic.in
Place         –  Ranchi
Segment   – Auditorium
.                    [Public Admin] Installer    – Grih Lakshmi Sales
Products   –  Snazz Pixel Square
.                      grid ceiling, Ekcel
.                      Soak Cord &
.                      Salon Slat Surco
.                      panelling
Eastern India's foremost training institute for state administrative officers recently commissioned an acoustically enhanced auditorium
IAS officers now get a new facility crucial for their training, knowledge seminars, cultural performances and felicitations.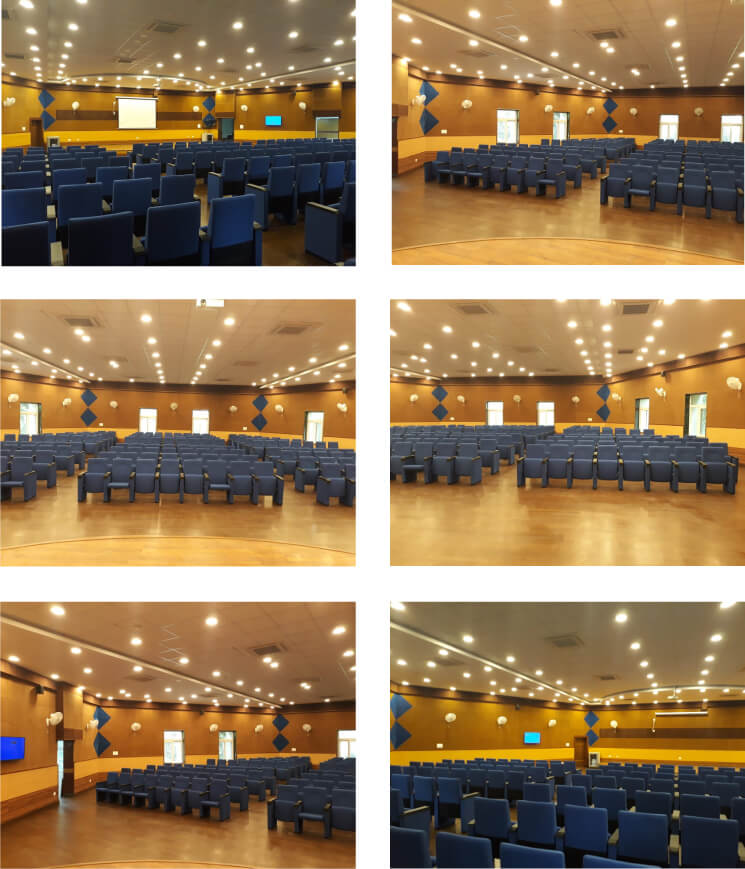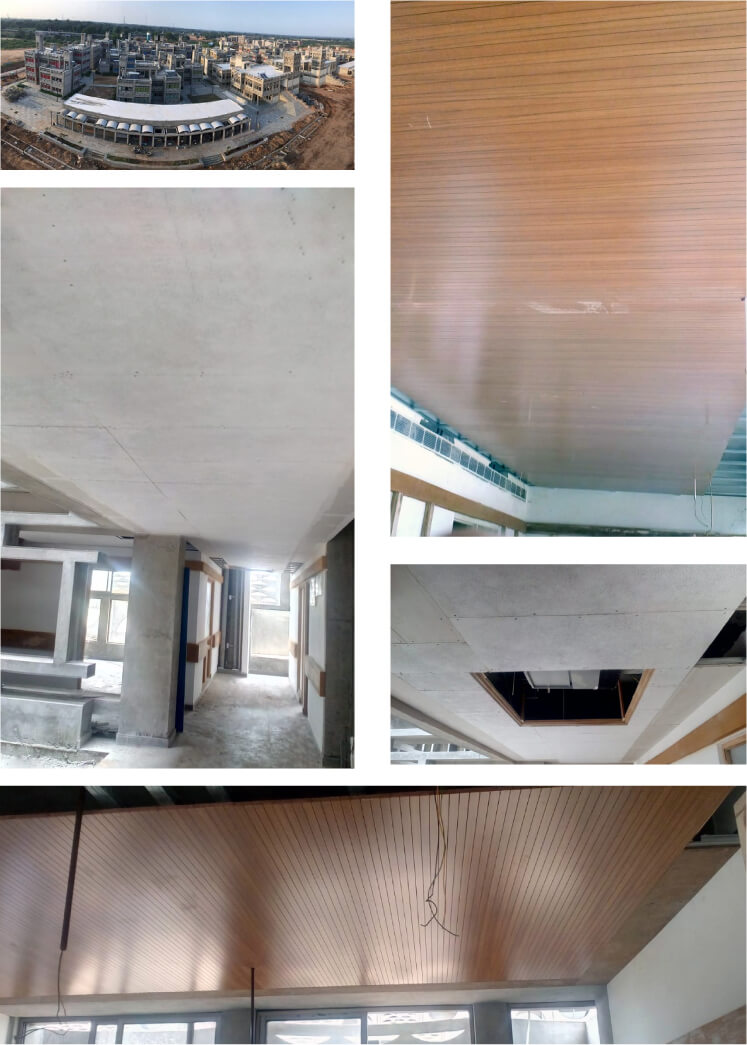 WEST
Raksha Shakti University (RSU)
www.rsu.ac.in
Place         –  Lavad, Dehgam
Segment   – Education
Architect   –  Vastushilp
Installer     –  Green Build
Consultant – Suri & Suri, NCR
Products   –  Mat Solo,
.                      Slats Surco
A new national-level premier educational institute on security administration appoints India's architectural genius, Vastushilp, for its new campus, which gets thoughtful acoustical surfaces by Anutone
Vastushilp is led by the redoubtable Prof Balkrishna Doshi, recently the proud recipient of the Pritzker Prize, architecture's equivalent of the Nobel, the first Indian winner in its 40-year history!
Vastushilp chose Anutone's expertise and insight in products, systems and solutions for architectural acoustics at the RSU campus
SOUTH
Shree Sarasswathi
Vidhyaah Mandheer
(SSVM)
www.ssvminstitutions.ac.in
Place         –  Mettupalayam
Segment   – Auditorium
.                     [Education] Architect   –  Sundharam
Installer     –  Matrix
Contrator  –  Image Icon
Products   –  Slats Surco and
.                      Stretch NRC for
.                      hall panelling with
.                      Subtex Ebony for
.                      stage ceiling &
.                      Strand Ebony for
.                      stage panelling
As the SSVM group of institutions grow and expand in southern Tamil Nadu, they rely on Anutone for their acoustical requirements
In this case, a contemporary-themed auditorium gets bright, vibrant interiors with acoustics built in for its young audience of students.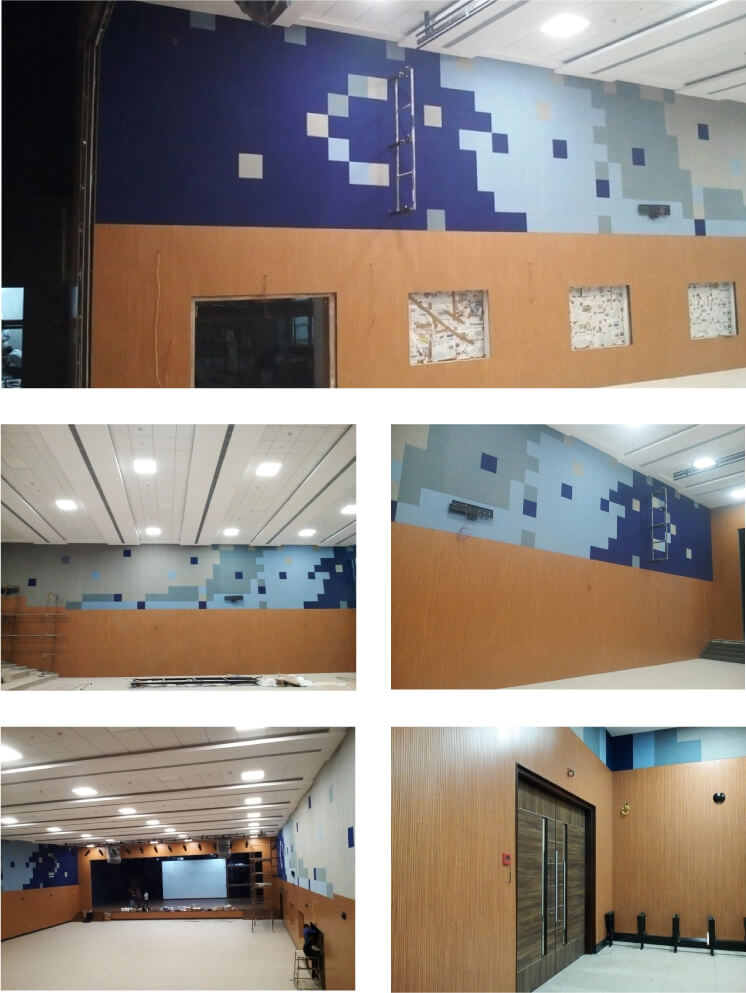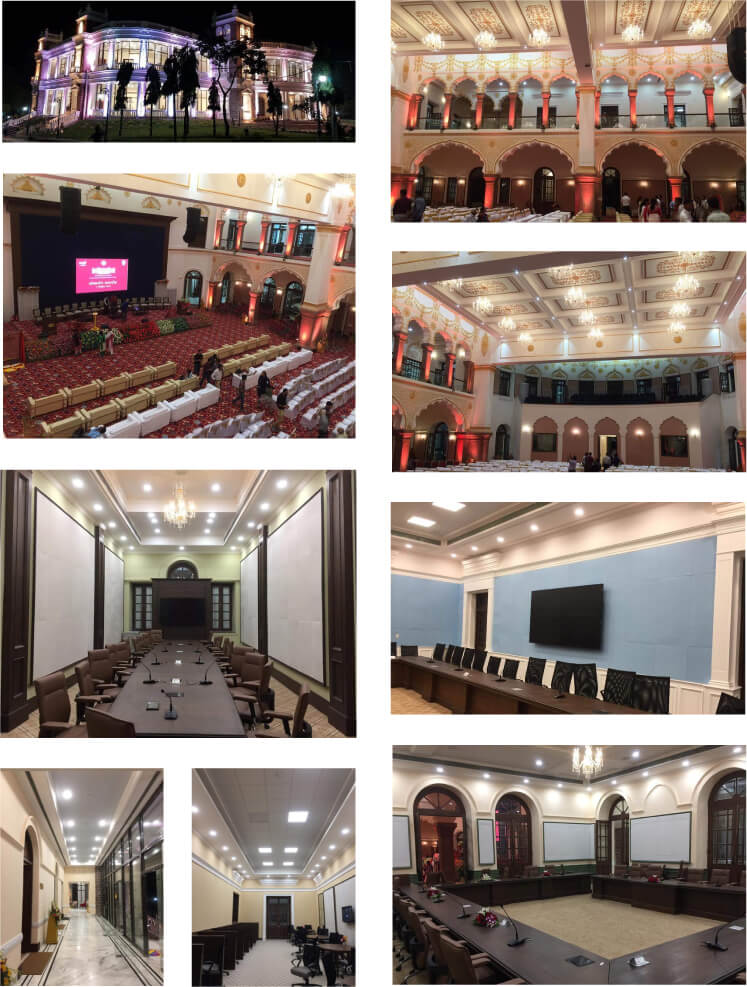 CENTRAL
Minto Hall
www.bhopale.com/place/minto-hall-bhopal
Place         –  Bhopal
Segment   – Convention
.                     Centre
Architect   –  Urban System,
.                      Delhi NCR
Dealer       –  Home Decor
Contractor-  Swaran Projectech
Products   –  Subtex Nubby,
.                     Pixel 3/8,
.                    Stretch NRC
A heritage project with a storied history deserves careful restoration and subtle acoustics that doesn't detract from the grand decor of yore
Minto Hall, built in 1909, as a guesthouse to the adjacent Raj Bhawan became Vidhan Sabha  after Independence which moved out in 1996. After 20 years, Tourism Board decided to restore the iconic landmark to its original grandeur and glory!
An enduring brand in acoustics pays homage to an enduring monument of history!