Different regions, different segments, different products
An update on recent projects across India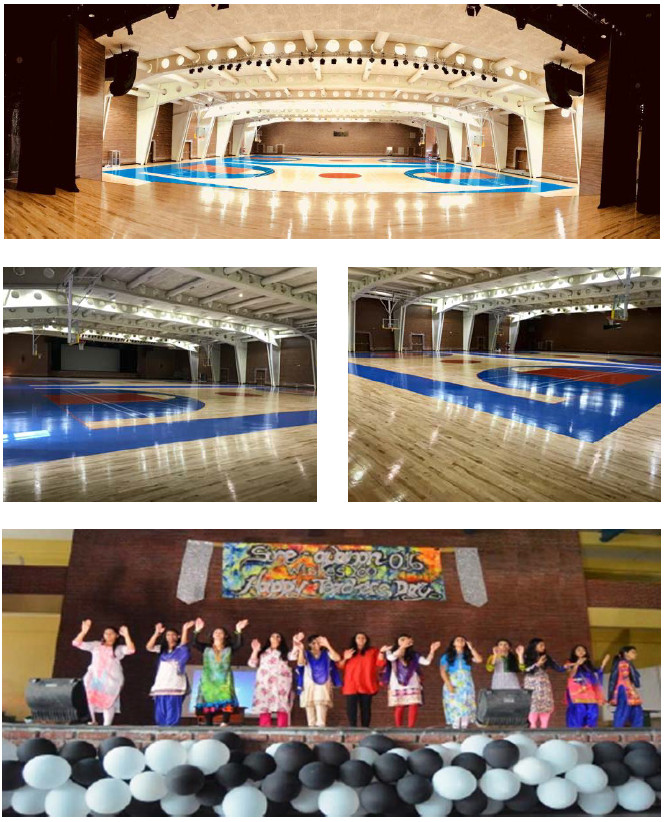 Unison World School
www.uws.edu.in
Place       –  Dehradun
Segment – Education
(Multipurpose Hall)
Installer   –  F2C Interiors
Products –  Slats Surco,
SynthPF, Strand,
Subtex Ebony
The all-girls residential high school is a prestigious educational landmark of Uttarakhand's capital. It features world-class facilities at its state-of-the-art campus and naturally acoustics is important. And, naturally, Anutone is the choice!
The multipurpose hall is one of the most useful social spaces in the school campus as it serves as a 1500-seater auditorium, sports courts and the unique feature is column-less RCC structure with tennis courts on the roof! Student spectators are able to listen well due to the acoustics!
Emami Chisel Art Gallery
www.emamigroup.com/emami-art
Place       –  Kolkata
Segment – Public Building
Installer   –  Subhash International
Products –  Tufbloc
With 1500m2 of exhibition space, ECA is an immensely popular destination for the art enthusiasts of Kolkata and is promoted by the Emami Group. The client's need was for a supersmooth surface that is durable and has the strength to take light fixtures and art paintings. They must be able to repeatedly use fasteners wherever required for different art exhibitions through the year.
Anutone delivered with Tufbloc that is uniquely installed on the brick substrate as a wall lining with cement mortar. Tufbloc serves the purpose of a supersmooth surface that is tough enough to take fasteners wherever, repeatedly!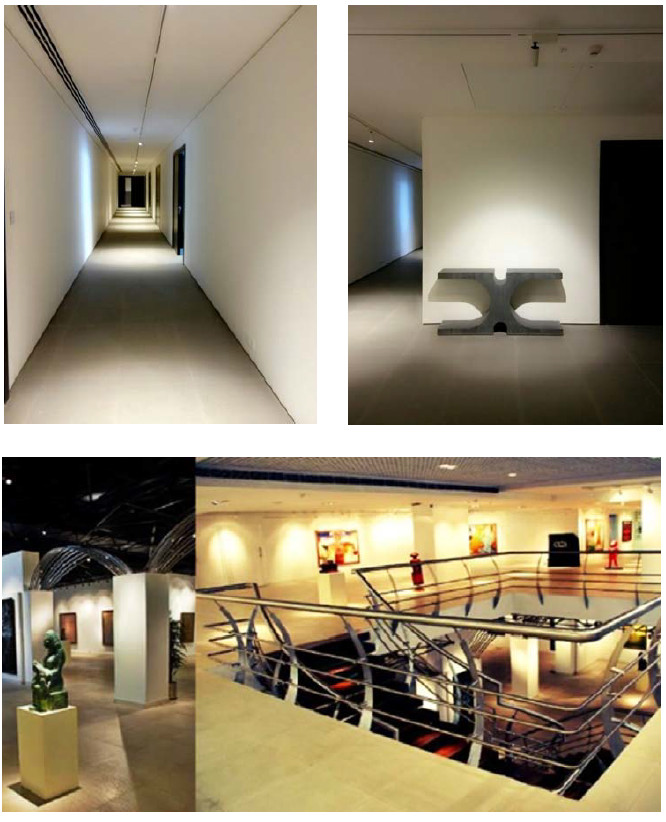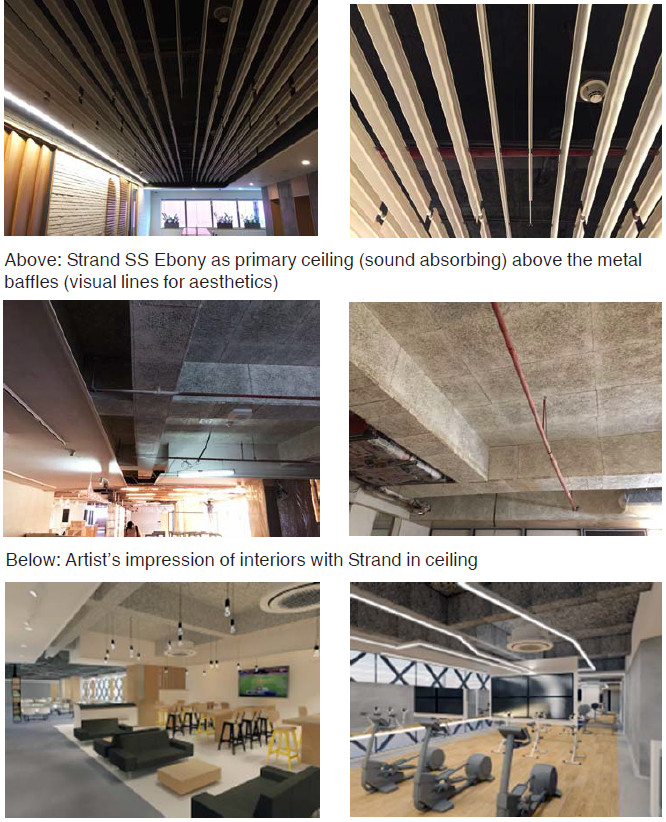 India Infoline (IIFL)
www.indiainfoline.com
Place       –  Mumbai
Segment – Office
Architect –  Opolis
Installer   –  Hindustan Industries
Products –  Strand SS Ebony, Strand SS Primer
Opolis Architects have created another masterpiece in the form of the Mumbai office of India Infoline. Since concept stage of the project, Opolis were very particular about the exact aesthetics being realised in reality from the rendered images that were ideated and yet the specific spaces also being acoustically comfortable.
Hence where visually strong cues and directional lines were desired Anutone's Strand SS Ebony was used above white metal baffles and where exposed concrete like rough surfaces were desired, Anutone's Strand SS, which features unpainted coarse fibres, was used. Anutone has all the answers!
Carnival Cinemas
www.carnivalcinemas.com
Place       – Thiruvananthapuram
Segment – Cinema
Installer   – Virtuoso Plus Builders & Developers
Products – Roctex Ebony
Malabar Developers chose Carnival Cinemas as their anchor tenant and crown jewel for the Mall of Travancore (MOT). Carnival Cinemas did not disappoint and this 7-screen multiplex in the Mall of Travancore is definitely one of their best in Kerala if not in the whole of South India.
The best go with only the best! Acoustical ceilings with Rocktex Ebony by Anutone. So pristine immersive audio is delivered to every seat just as the movie director intended.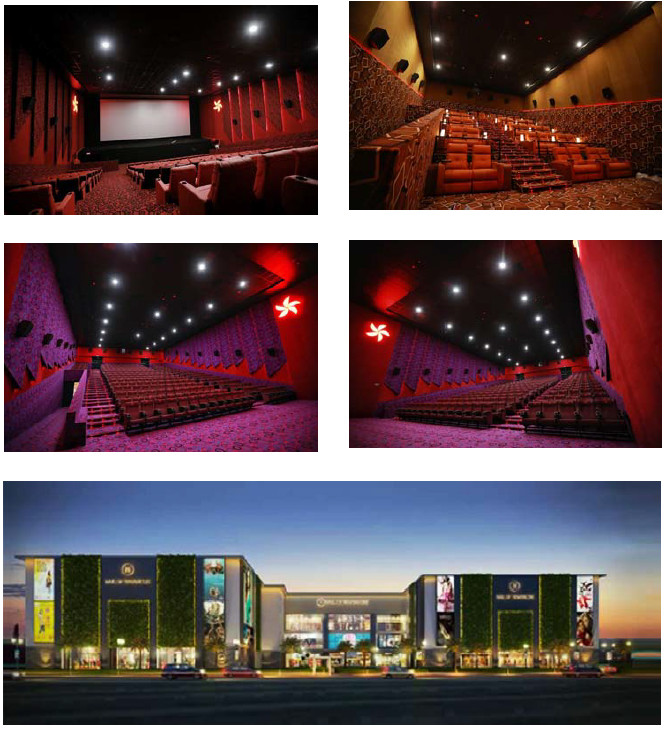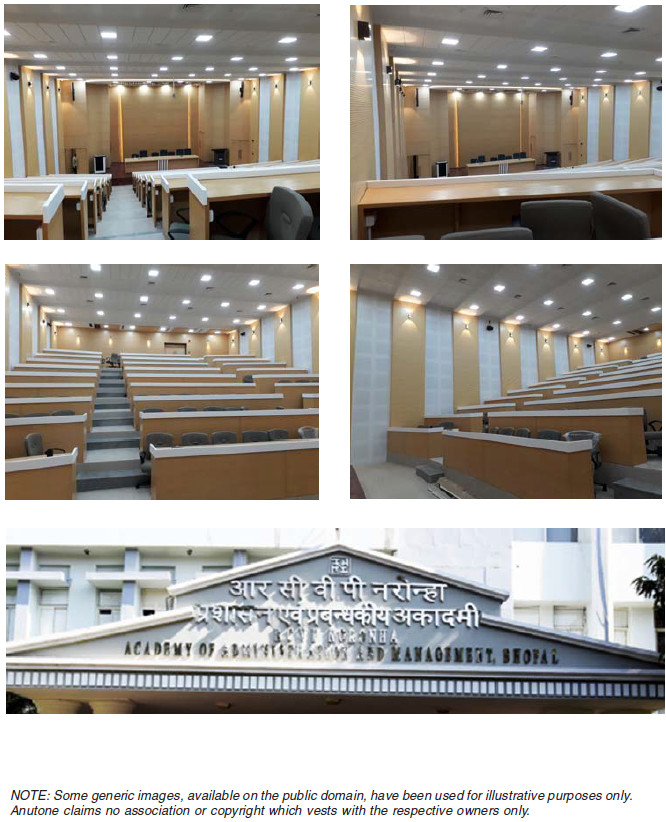 RCVP Naronha Academy of Administration and Management
www.rcvponline.com
Place       –  Bhopal
Segment – Education
Dealer     –  New Look Furnishers
Installer   –  Vastu Rachana
Architect –  Shailendra Sharma
Products –  Pixel 3/8, Slats Surco
This special project of MP PWD wanted absolute clarity in speech and precision in audio for their lecture halls and seminar rooms so that the IAS officers who come in for professional training can hear the faculty loud and clear.
Anutone delivered superbly with Pixel 3/8 micro-perforated gypsum panels and Slats Surco wooden grooved panels for acoustical panelling! Walls are the largest surface area available for sound absorption Hence outcomes were very effective and satisfying.