Projects across India from Defence to Banking to Education …
… product solutions for every functionality, every application, every venue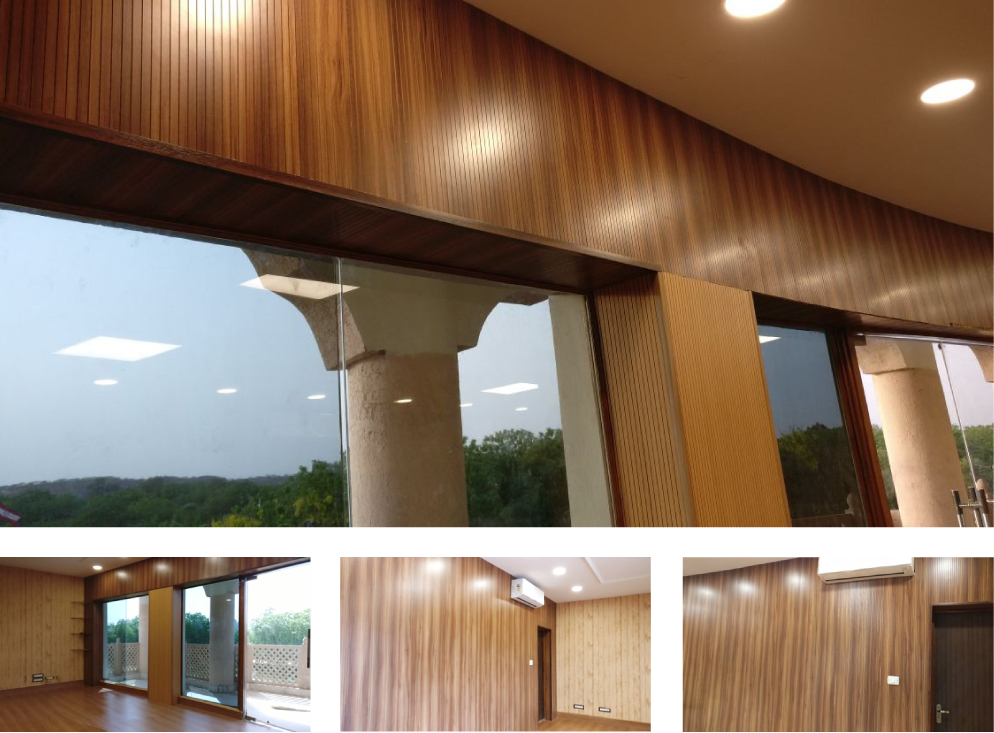 Corps Commander Office
Place        –  Jodhpur, Rajasthan
Segment  – Office (Defence)
Installer   –  Rishabhdev International
Products  –  Slats Surco
Wall panelling with Walnut Nuez and Maple Arce variants of Slats Surco results in classy interiors for the acoustical and visual comfort of officers.
Rich, warm woodgrains that provide a seamless visual of the walls, well executed by Rishabdev International
ICICI Bank
www.icicibank.com
Place        –  Noida
Segment  – Office (Bank)
Installer   –  Kundral Bros.
Products  –  Stretch Hush, Tufbloc
ICICI Bank is one of India's largest private bank and places strong emphasis on smart interiors that sound good too.
Anutone provides a combination of Tufbloc and Stretch Hush for the walls to make this hall look smart, sound good.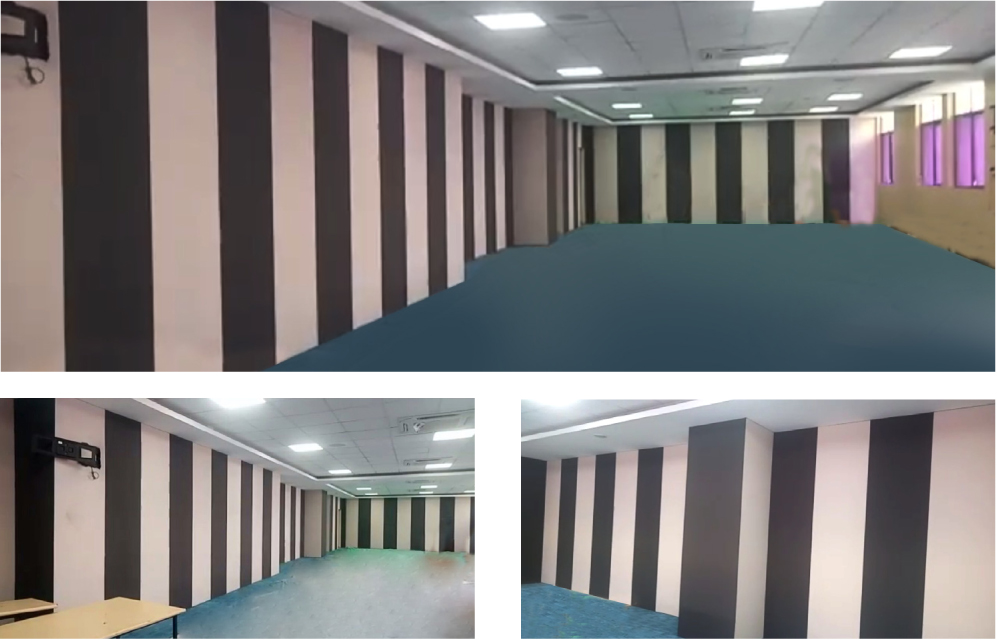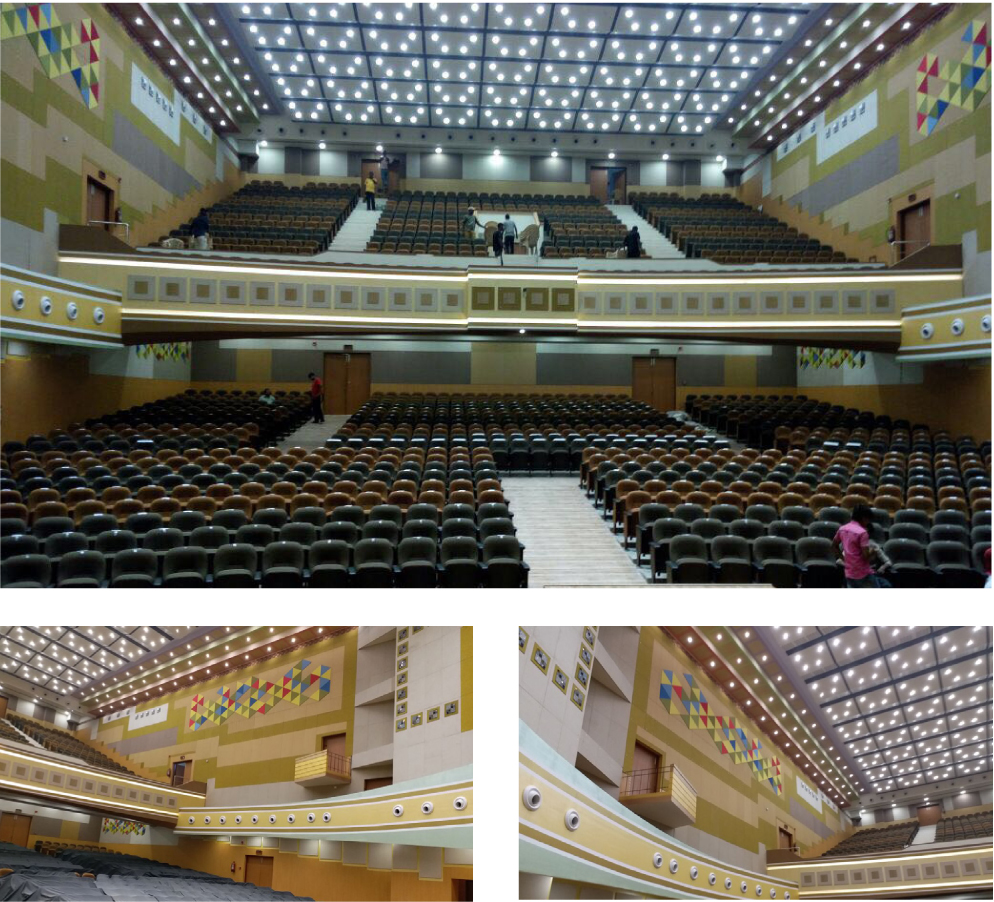 XLRI – Xavier School of Management (XIM)
www.xlri.ac.in
Place        –  Jamshedpur
Segment  – Education
Architect –  Lawrence Kunj
Installer   –  Grihalakshmi
Products  –  Strand, SynthPF,
Pixel 3/8, Tufbloc,
Slats Surco
A magnificient auditorium for India's premier management institute, that ranks high after the IIMs, now has a proud venue for convocation and performances.
For the best in acoustical performance Architect Lawrence always leans on Anutone and Ranchi installer, Grihalakshmi executes flawlessly
Don Bosco (DBK)
www.donboscokharagpur.org
Place        –  Kharagpur
Segment  – Education
Architect  –  Mitul Shukla
Installer   –  Creative Solutions
Products  –  Strand Duo, Tufbloc,
Synth
Anutone's Strand Duo converted innovatively at site by Creative Solutions, true to their name (!), into a plus wave baffle pattern that looks strikingly awesome against a black plenum and matches the external facade of bright, vibrant colours!
Strand Duo with both sides superfine, filament-like texture and pre-painted to perfection! Don Bosco, the first name in boys education across India, could not have it better!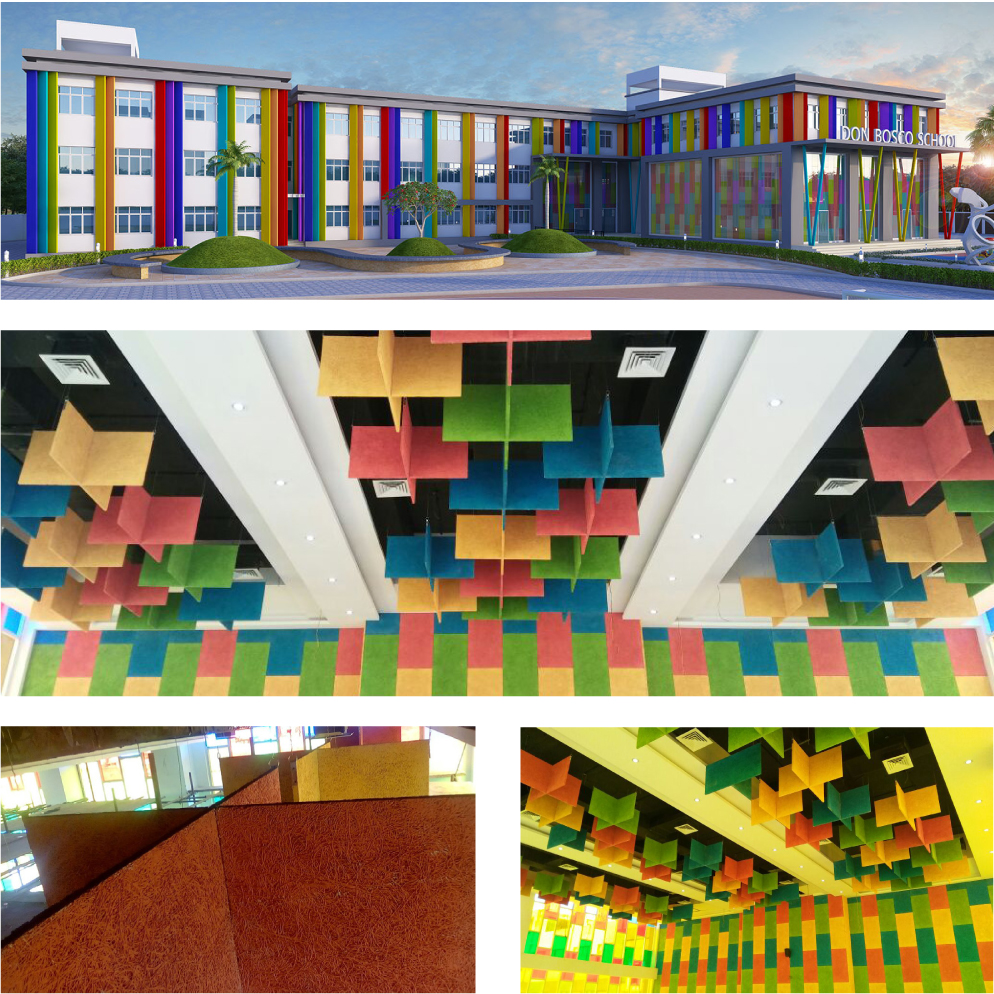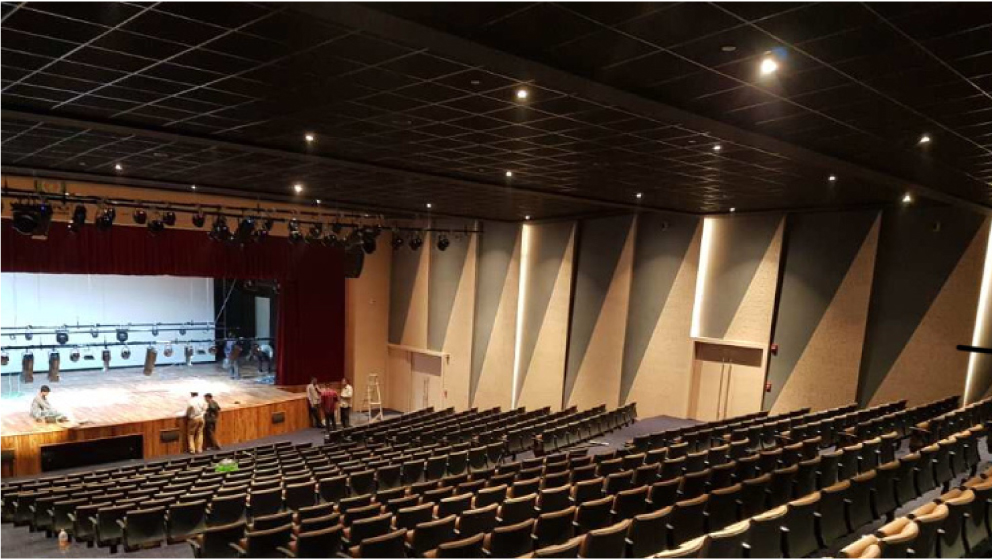 Oberoi International School
www.oberoi-is.org
Place           – Mumbai
Segment     – Education
Consultant – Munroe Acoustics
Installer      – A Ravi Corporation
Products     – Subtex Ebony
The Subtex Ebony ceiling provides the perfect neutral (visually) but effective (acoustically) counterfoil to scintillating performances on stage.
National Institute of Securities Markets (NISM) Library, Conference Room, Lecture Hall
www.nism.ac.in
Place       –  Mumbai
Segment – Education
Architect – Hiten Sethi
Installer   – Hindustan Industries
Products – Slats Surco,
Pixel 3/8, Spots MP,
ACT Wave GLD,
Stretch NRC
A prestigious project of Central Government, the sprawling campus in Patalganga boasts of world class infrastructure that includes an auditorium, well equipped library, lecture halls and conference rooms. Again, Anutone has been the continuous partner for acoustical panel systems and solutions.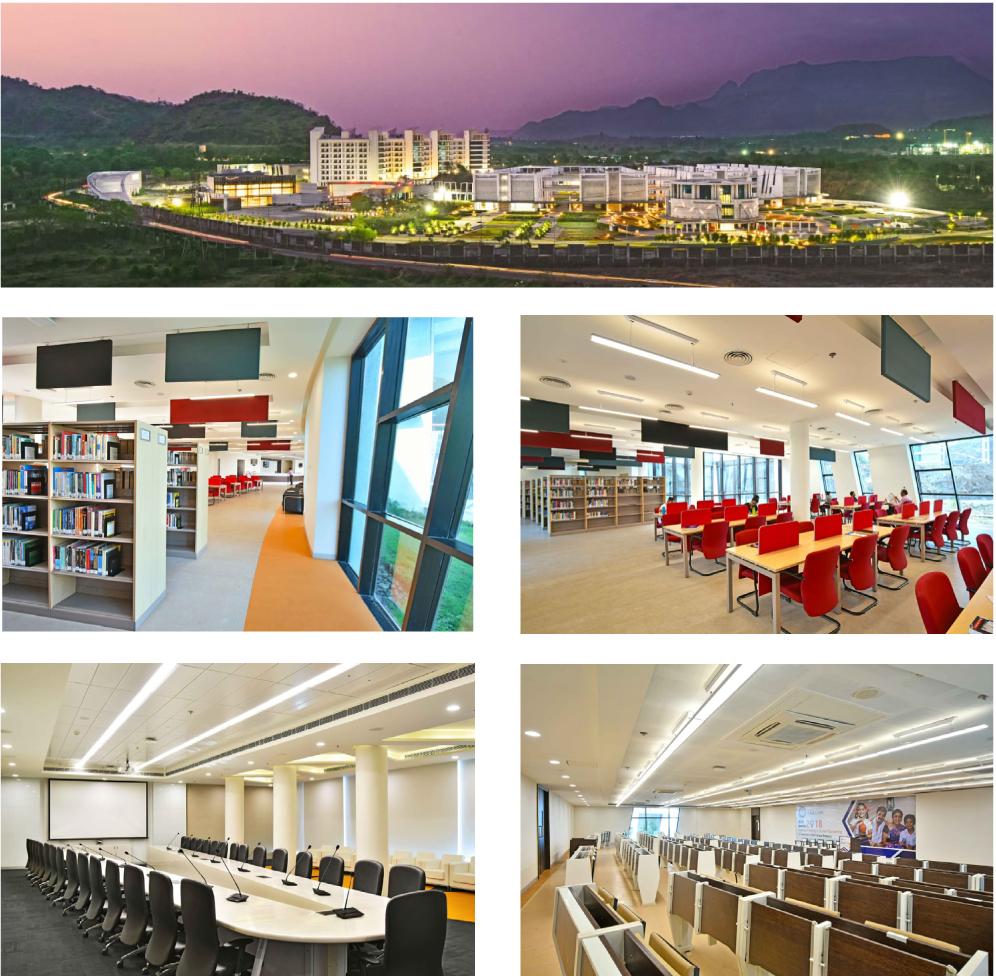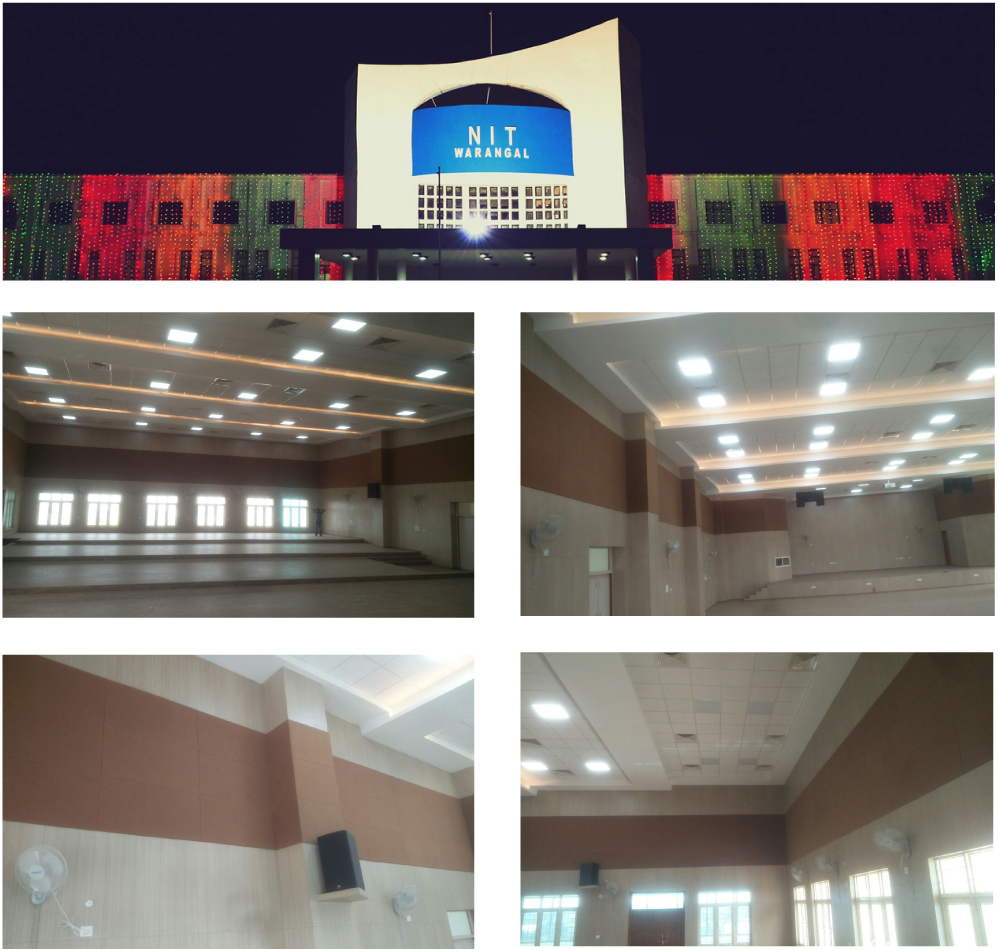 National Institute of Technology (NITW) – Chemical Block
www.nitw.ac.in
Place        – Warangal
Segment – Education
Installer  – RamG Building Systems
Products – Soak Plane, Synth Spots Taladro
NITW is one of the most eminent educational institutes of Telangana and Anutone has been its continuous partner for acoustical walls and ceilings as the campus expands rapidly.
These pictures are of one of the large-sized lecture halls which would have echoed very badly if it had not been acoustically treated with Anutone panels.
Jawaharlal Nehru Technical University (JNTU)
www.jntua.ac.in
Place       –  Ananthapuram
Segment – Education
Architect –  Rahul Jhaveri
Installer   –  Chisel Interiors
Products –  Subtex Nubby, Ebony, Slats Surco, Strand, Synth
The foremost resource in higher studies for the Rayalseema region of Andhra Pradesh, JNTU now boasts the most modern and technologically advanced auditorium as a befitting venue for all its multifarious programs. Imaginatively designed by Rahul Jhaveri and skilfully executed by Chisel Interiors.