North – Ambala school makes it big
School kids gifted state-of-the-art auditorium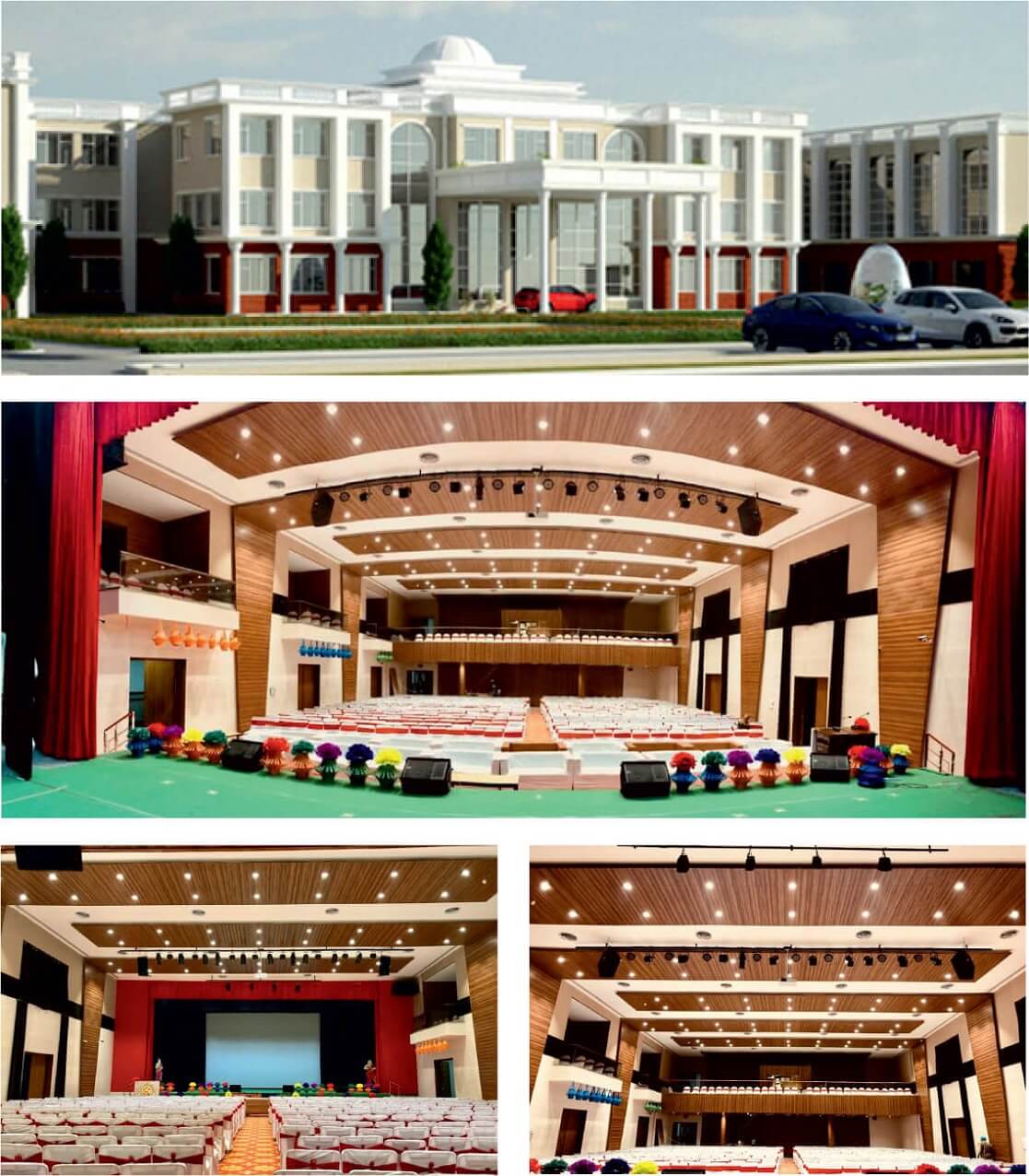 OPS Vidya Mandir | www.opsvidyamandirambala.com | Place – Ambala, Haryana | Segment – Education [Auditorium] | Dealer and Installer – F2C Interiors | Anutone Products – Slats Surco, Strand, Mat Solo, SynthPF
Requirements
OPS brief to Anutone was not just achieving acoustics suitable for a multipurpose auditorium in the education sector but doing so with striking visuals that are warm and comforting for students.
Solutions
The solution was a wooden acoustical ceiling with Slats Surco, walls with a combination of Mat Solo and Slats Surco, all backed with SynthPF as an infill for performance enhancement
Outcomes
The students of OPS Vidya Mandir enjoy giving performances as well as experiencing them in the rich ambience of an acoustically-compliant auditorium for multipurpose use in the education sector.
East – Kalinga scores a hit
Dedicated music and dance rooms with acoustics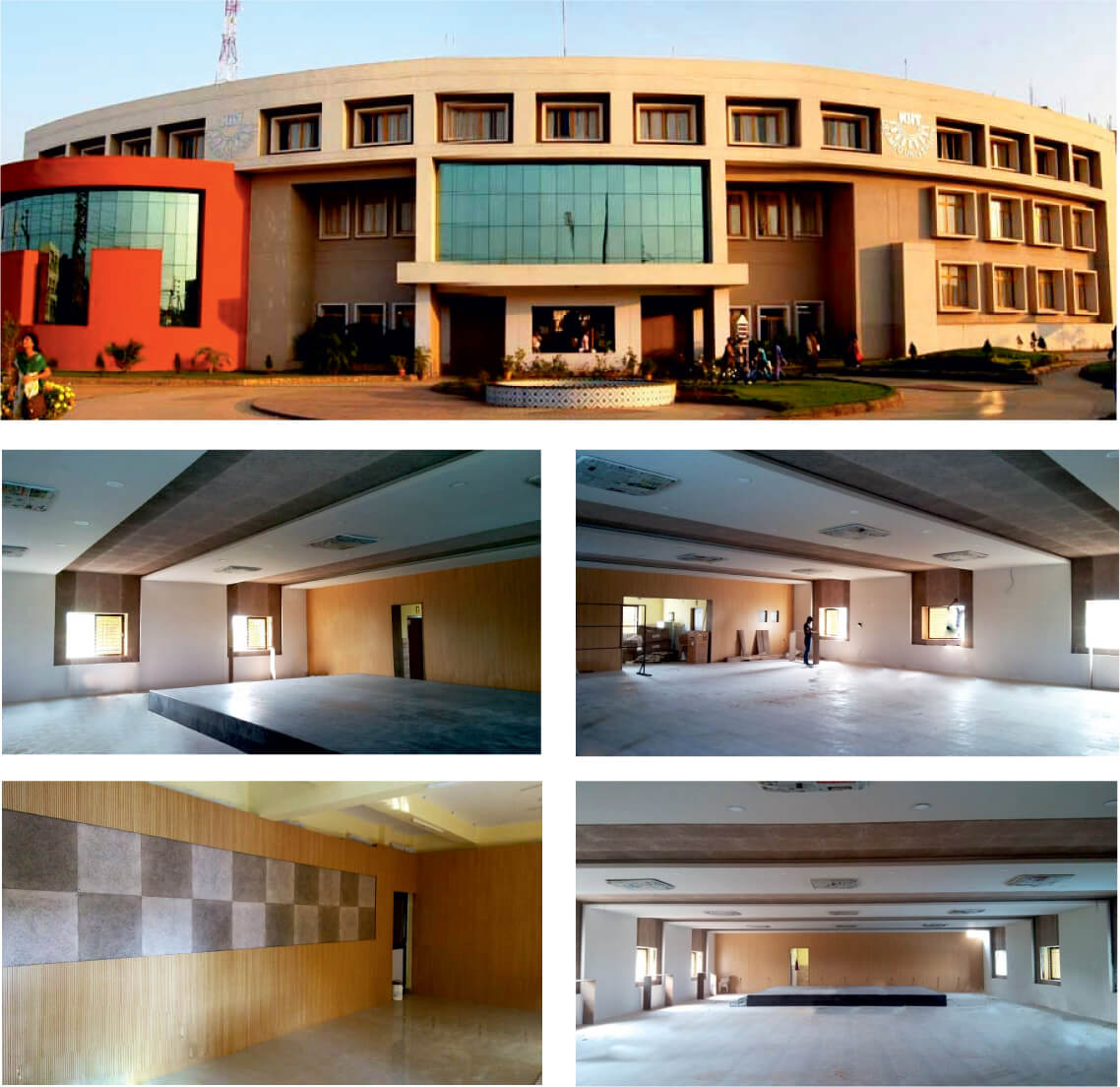 Kalinga Institute of Industrial Technology | www.kiit.ac.in | Place – Bhubaneswar, Odisha | Segment – Education [Music & Dance Rooms] | Architect – Jayanta Seal | Dealer and Installer -Creative Solutions | Products – Slats Surco, Tufbloc, Strand Colour, Synth PF
Requirements
Architect Jayanta Seal wanted to achieve for his client KIIT, harmony and synthesis of the brand promise and actual deliverables, the Kalinga group being famous across Odisha for their quality eduction and facilities.
For the music and dance rooms which are highly creative spaces Ar Jayanta Seal and KIIT wanted a certain vibrancy while controlling the vibrations of sound echoes and noise transmission
Solutions
The solution was a combination acoustical ceiling with Slats Surco for mid and high-frequency sound absorption and sound diffusion and Tubloc HDFR for low-frequency sound absorption and mid-high-frequency sound reflection.
The acoustical panelling is a combination of Slats Surco and Strand Colours for broadband sound absorption.
Both ceiling and panelling are backed by SynthPF acoustical infill for performance enhancement.
Outcomes
The students of KIIT enjoy creative sessions of music and dance in welcoming spaces that immediately put them at ease and make them give their best.
West – Amdavad Metro shines
Creates facilities, many for first time among India's metros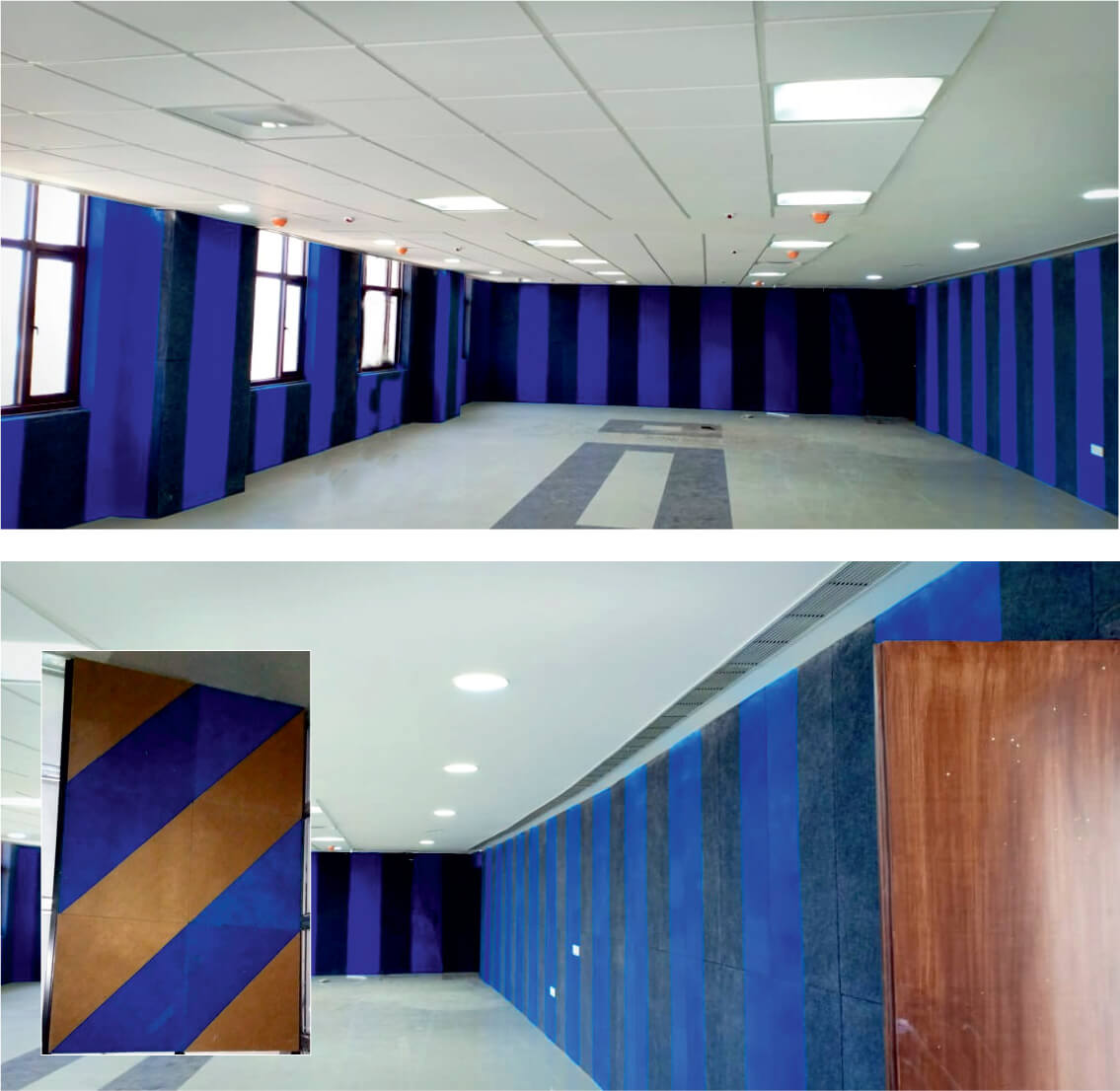 Amdavad Metro Station | Client – Gujarat Metro Rail Corporation Limited [GMRCL] www.gujaratmetrorail.com | Place – Ahmedabad, Gujarat | Segment – Station [Gyaspur Depot] | Architect – Rites www.ritesltd.com | Installer – URC Construtions www.urcindia.com | Anutone Products – Subtex Nubby, Soak Cord Binary & Soak Cord Triangle
Requirements
Contrary to popular perception, the working of a mass rapid transit rail network such as Amdavad metro requires soundproof spaces for quiet working of system engineers and operations managers. The need was for such large enclosed spaces to be treated for acoustics with aesthetics.
Solutions
The solution for bright, white, accessible ceilings in t-grid suspended systems was to use Subtex Nubby acoustical ceiling tiles in Skelet Trelis framing systems and Soak Cord in a dual colour pattern for panelling.
Outcomes
GMRCL's Amdavad Metro is very pleased with the results. Now engineers can enjoy their work with minmum disturbance and distraction. This has enhanced their attentiveness and efficiency.
South – Quiet coworking spaces
Indiqube makes it dynamic with islands in the sky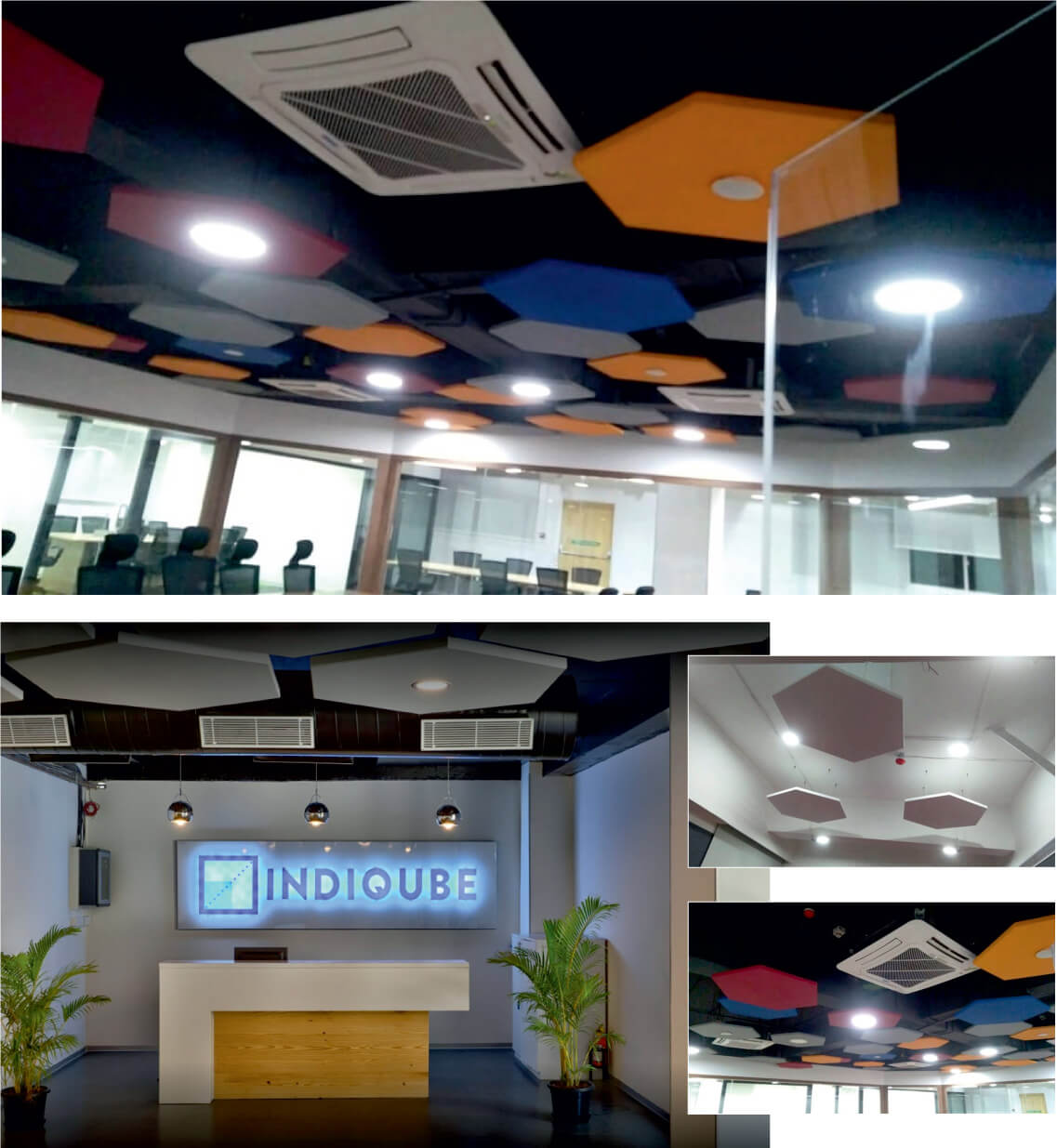 IndiQube www.indiqube.com | Place – Bengaluru, Karnataka | Segment – Office | Dealer and Installer- Chisel Sales | Anutone Products          – Subtex Shapes Nubby Hexagon Colours
Requirements
Indiqube as a young startup in the coworking space wanted a bright, vibrant and dynamic ceiling to reflect their corporate ethos and appeal to space users who are young techies from the IT|ITeS sector
Solutions
The solution called for doing away with boring whites and the conventional wall-to-wall grid ceilings and opting for open plenum ceilings with acoustical clouds that can be painted in a rich pallette of colours. Subtex Shapes comes to the rescue.
Outcomes
Coworkers find the Indiqube spaces fun that vibes well with both their personality and job profiles. Due to sound absorption on both surfaces of the acoustics is doubly efficient with much less panels used as compared to conventional grid ceilings.