The brilliance in design and execution of acoustical projects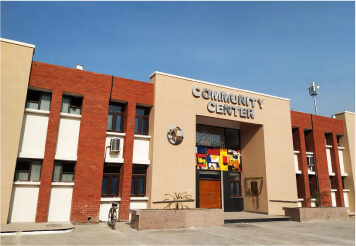 N – NORTH
Community Center
www.mcchandigarh.gov.in/
Place         –  Chandigarh
Segment   – Multipurpose Hall
Architect   –  Satish Panwar
Installer     –  GS Builder
Products   –  Slats Surco
Walls in halls need to be surface finished with cladding that is acoustically compliant, visually accentuating, user comfortable and fulfil building codes for fire safety and structural stability apart from the facility manager's concerns of easy cleanability and access to the utilities.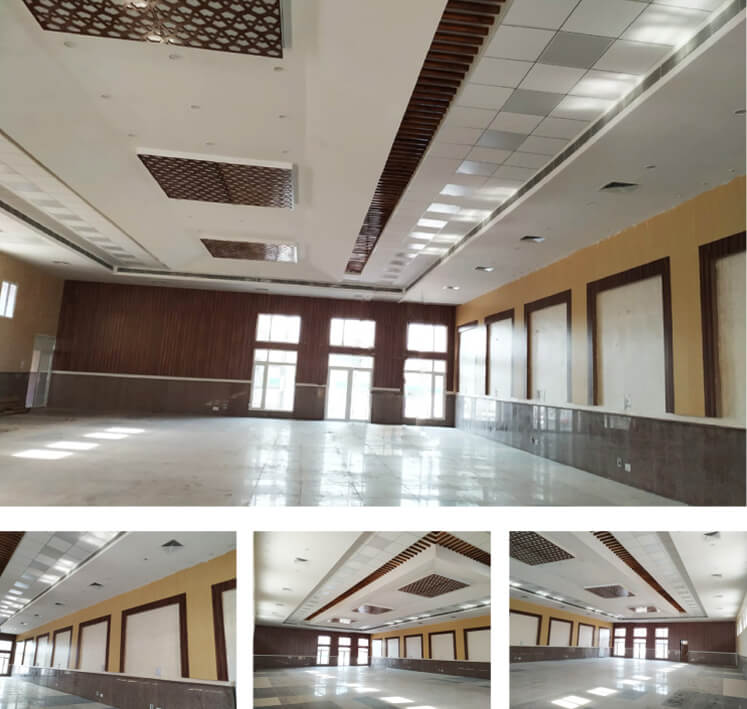 An acoustical panelling system such as Anutone's Slats Surco fulfils all these requirements. Slats Surco on Strut CC18 with SynthPF infill is acoustically sound absorbing, looks brilliant, meets codes and can be easily cleaned with dry wipe or vaccum apart from being a clipping system that provides access to services behind.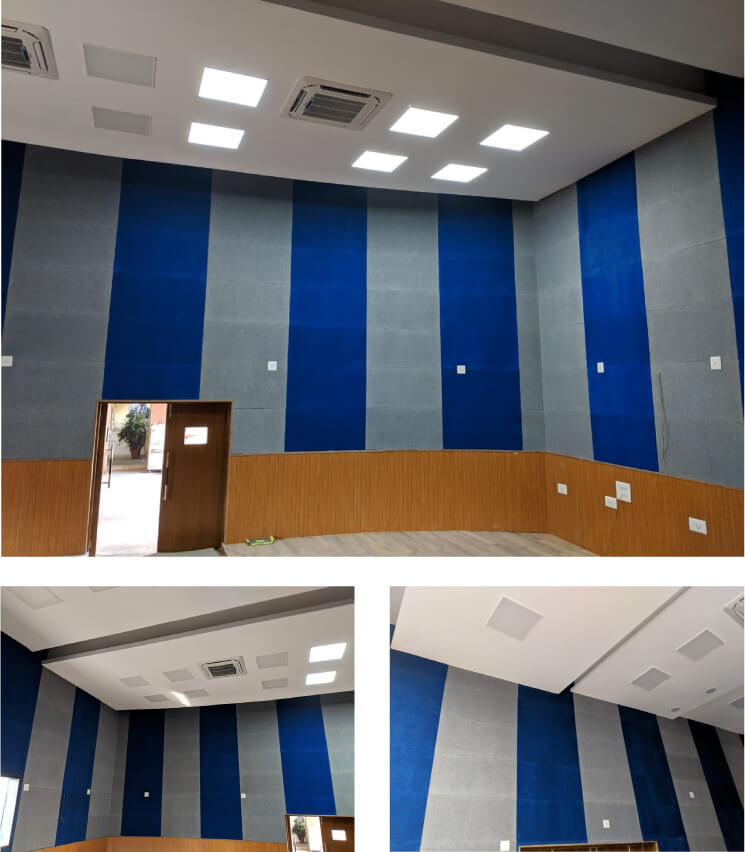 E – EAST
Subarnarekha Auditorium
Place          –  Jamshedpur
Segment    – Auditorium
Dealer        –  Grihalakshmi
Products     – Tufbloc, Pixel 3/8,
.                       Slats Surco,
.                       Soak Cord
Named after the famous river, Subarnarekha, which is the lifeline of the region, this landmark auditorium of Jamshedpur is the lifeline of the city for it's socio-cultural activities.
The customer desired a classic combination of white seamless ceiling, fabric walls on upper reaches and slatted wood on lower reaches.
Anutone delivered Pixel ceiling with Soak Cord walls on upper reaches and Slats Surco on lower reaches.
W – WEST
Awake Events
Place         –  Patto Plaza, Panaji
Segment   – Worship Space
                        [Prayer Hall]
Architect   –  Studio Earth ( Ujjawala Sinha)
Installer      –  Harshada Trading
Products   –    Tufbloc,  Subtex
.                       Shapes  Nubby
.                       Rectangle Concave
.                       | Convex, Synth PF,
.                       Strand, Slim
The architect wanted to achieve a place of worship for the client where worshippers can enjoy mass services and sermons with absolute aural clarity and artistic ambience.
The open plenum ceiling is dynamic and voluminous with Subtex Clouds Nubby in Concave and Convex curves that absorb sound from both surfaces and hence are more efficient than a conventional ceiling.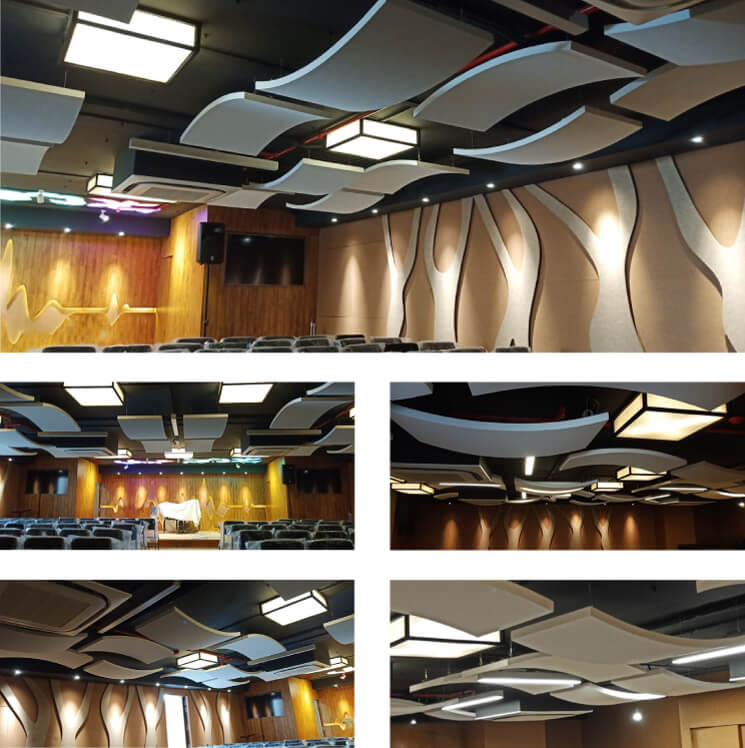 The panelling is a combination of SynthPF and Strand backer board on which Slim is shaped into tree-like patterns.
Tufbloc MgO board was used where plain ceiling and panelling was required to complement the rest of the interior elements.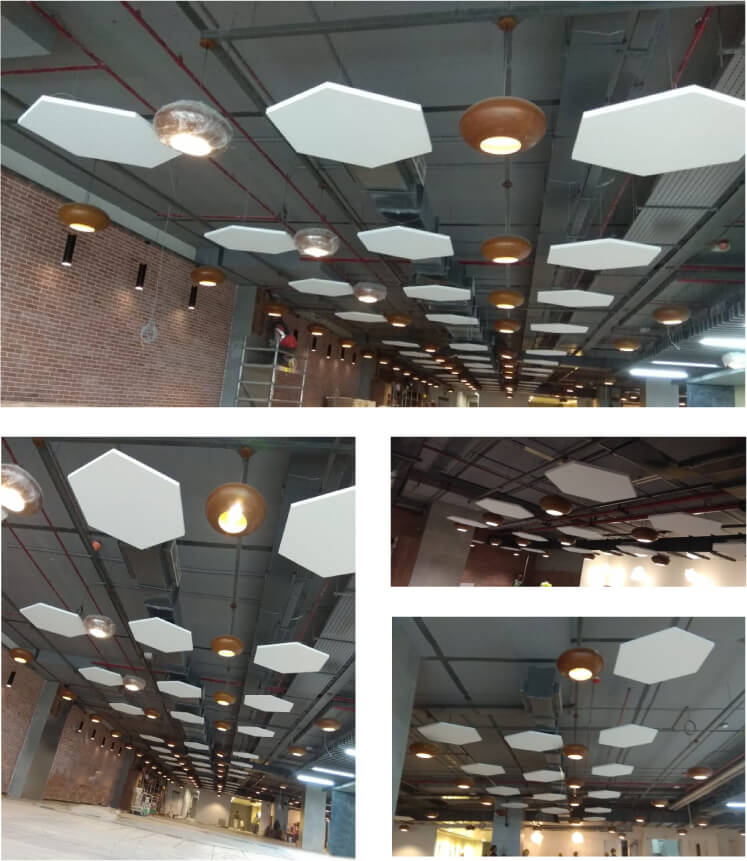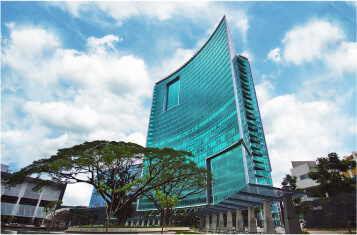 S – SOUTH
Amazon
www.amazon.in
Place         –  Bengaluru
Segment   – Office
Architect   –  DWP Interics
Installer     –  Theju Interiors
Products     – Subtex Shapes
.                       Nubby Hexagon
Open plenum ceilings are in and how!!! Every progressive architect wants to deliver dynamic ceilings and voluminous spaces to clients. The winner being the space user who loves to work in such an innovative and creative environment.
Anutone's channel partner and systems integrator, Theju Interiors, did a splendid job of suspending Subtex Shapes Nubby Hexagon at regular intervals in the open ceiling and achieving the floating looks as seen in the pictures above.
Subtex Clouds Nubby in different shapes (here Hexagon) scores over conventional grid ceiling in using less panels, absence of grid framework, quick and easy to suspend, double surface sound absorption, imparting dynamic looks and making a space look very voluminous.