Projects that become landmarks over time due to their superior fitments
And Anutone that becomes a landmark company over time due to its superior services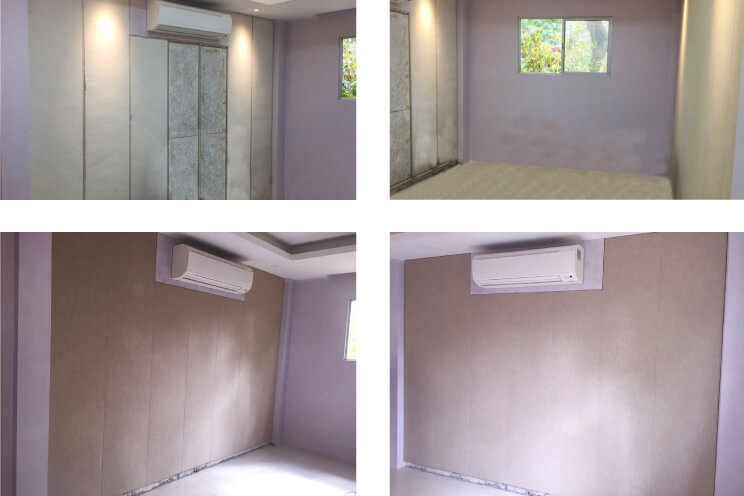 GMR Chairman's House
Place      – Delhi NCR
Segment – Home
[Teleconference Room]
Consultant  – RRA Gurugram
Installer  – J&B Sublime
Products – Strand, SynthPF
An acoustically compliant space inside the home office of one of India's most prominent corporate leaders for that perfect audio feedback during teleconferences with his team around the world.
Ravenshaw Convention Centre
www.ravenshawuniversity.ac.in
Place         –  Cuttack, Odisha
Segment   – Convention [Auditorium]
Architect   –  3D Vision
Installer     –  Golden Woodpecker
Products   –  Strand, Soak Cord, Slats Surco, Tufbloc, Subtex Ebony
For 150 years Ravenshaw College (now University), a beacon of education for East India, celebrates its exalted status with a refurbished multipurpose auditorium.
The grand hall is historic in its hosting several significant events including declaration of Odisha state and holding the first legislative assembly. Anutone does duty with its repertoire of acoustical panels.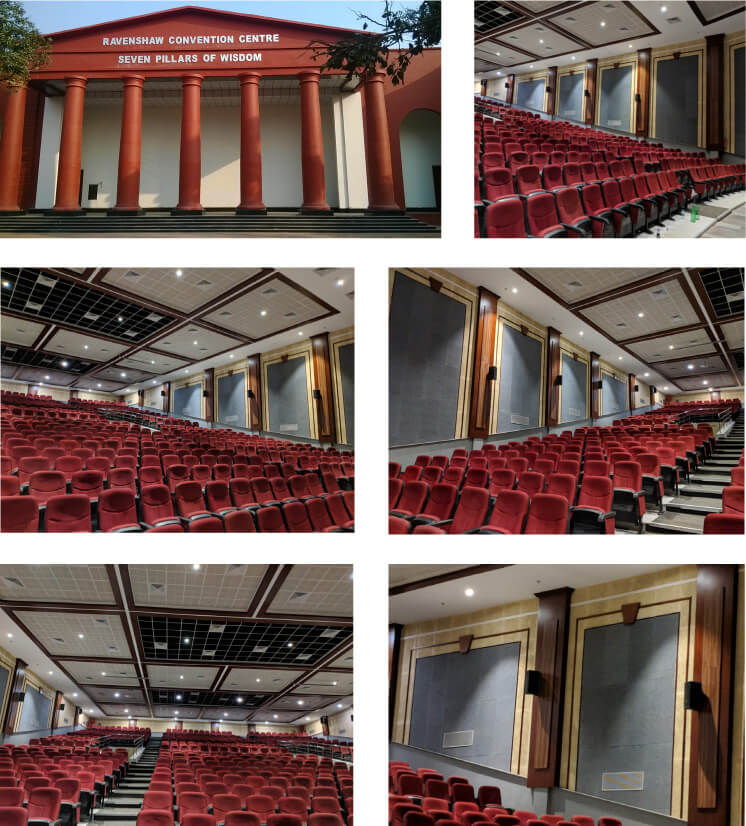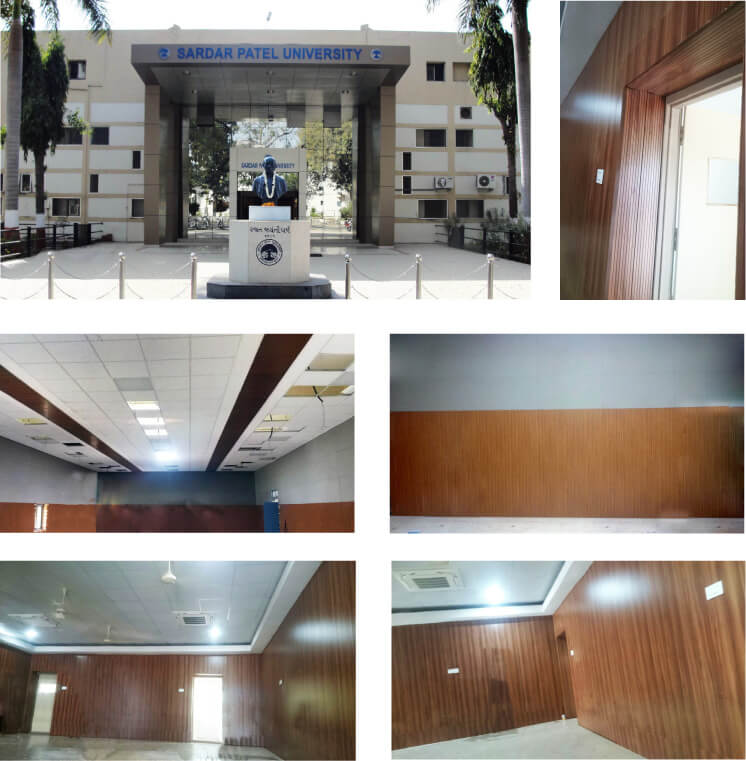 Sardar Patel University
www.spuvvn.edu
Place          – Vallabh Vidyanagar Anand
Segment    –   Education
[Lecture Hall]
Architect    –   Anand Vohra
Contractor – Samir Constructions
Installer      – Shree Krishna Corporation
Products    – Slats Surco, Subtex Nubby, Subtex NRC, Strand, Synth, Stretch NRC, Stretch SLS
A perfect example of how a wide variety of surface finishes can be realised from Anutone's vast portfolio of acoustical products, systems for a single project as a turnkey solution.
Saink School
www.kalikirisainikschool.com
Place       –  Kalikiri, Chittoor, AP
Segment – Education
[Auditorium]
Consultant  – SJP Consultants
Installer   –  Matrix
Products –  Slats Surco,
Stretch NRC
The aspirations of students at Sainik Schools is to either serve the armed forces, paramilitary battalions or the police.
This Sainik School in Andhra Pradesh serves the Rayalseema region. The spanking new auditorium with acoustical panels by Anutone helps the student, faculty and fraternity to gather in large numbers and listen with absolute clarity to speeches, performances and music.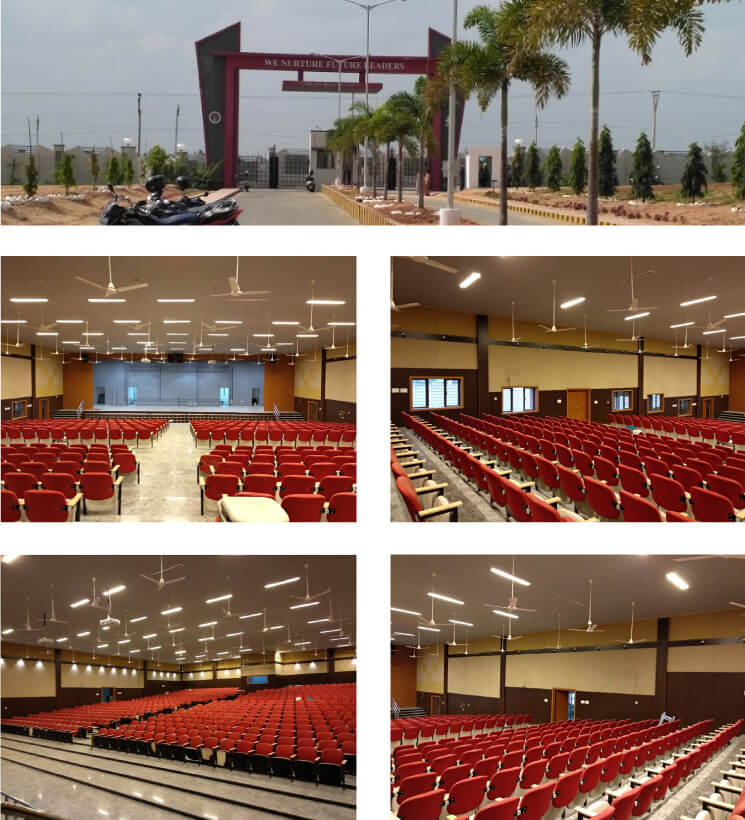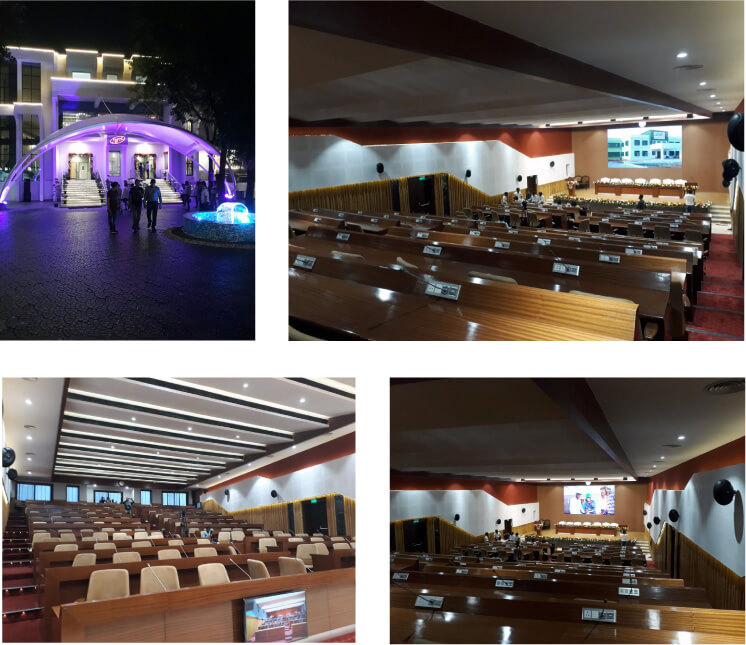 New Circuit House
Place       –  Raipur
Segment – Public Admin
[Seminar Hall]
Architect – RK Patel
Installer   –  BS Marketing
Products –  Stretch Hush,
Pixel 3/8, Spun Cord
This well-equipped training hall with the latest in multimedia tools of audio video at every seat and on the stage is the latest jewel in the crown of public administration of Chhattisgarh at the New Circuit House.
Anutone's acoustical panels help create the neccessary ambience for high power trainings and meetings.