Snazz Slate Series
Finally India gets acoustical ceiling tiles with glassfibre reinforced calcined silicate (GRCS) core. Anutone is pleased to introduce economical but effective ceiling tiles for government buildings with three dynamic surface finishes – Polka, Shimer and Spritz in the Snazz Slate Series.
The ceiling tiles sport densified edges of 14mm thickness with Steppe edge suitable for Skelet T15 grid of 600x600mm and a lightweight 7mm thickness at the centre. A supreme example of optimum utilisation of resources to meet intended outcomes.
The tiles are factory finished in natural white and can be further insitu painted to choice colours with acrylic emulsion without loss of acoustical ratings.
Snazz Slate Series
Slate Polka   –  Circular perfed in dual diameters
Slate Shimer –  Micro perfs and leaf design
Slate Spritz    – Pin and fissure perfs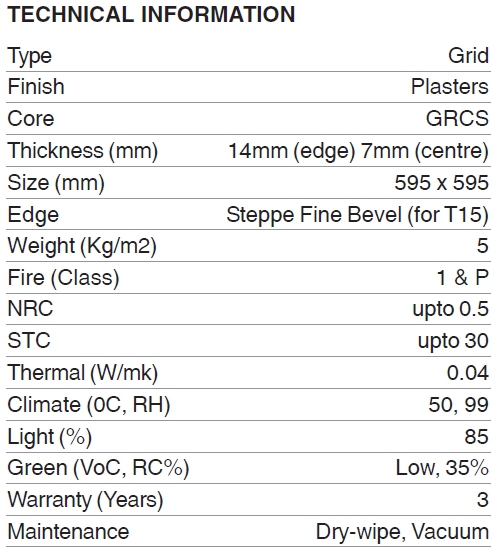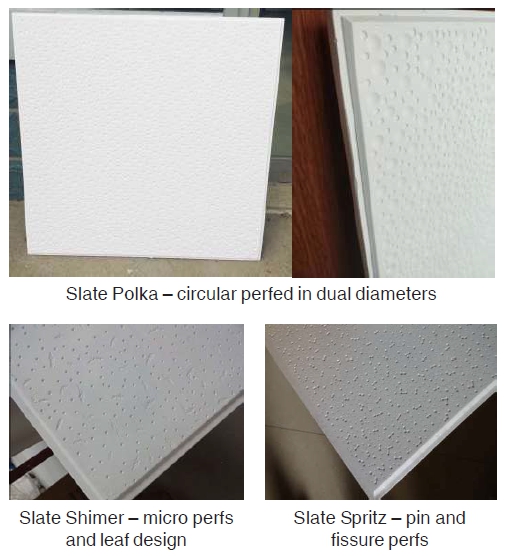 Caution! Due to optical illusion some of the designs can look bubbled up but move your vision side to side or up to down and you will note the true indentations carefully embedded on the surface.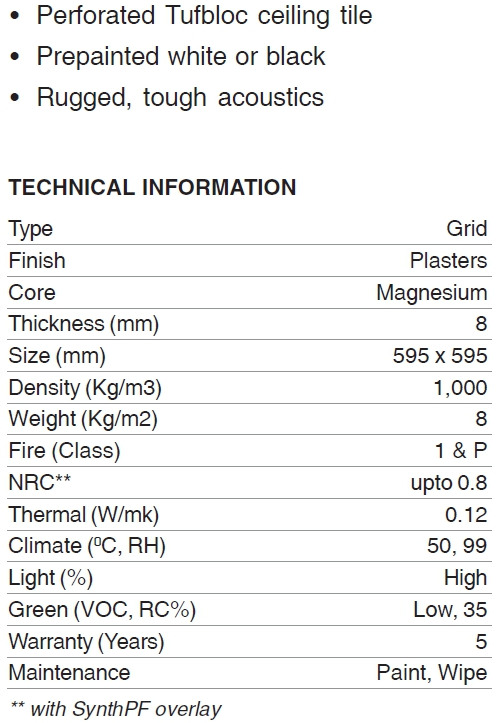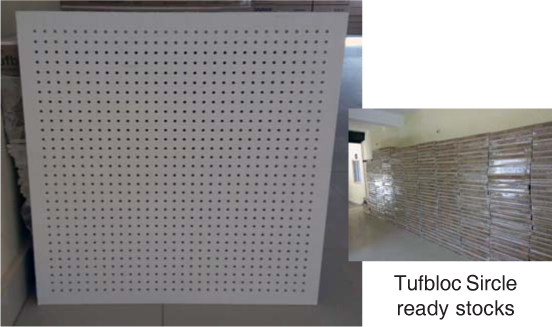 Perforated gypsum board can provide seamless, non-grid acoustics that looks good, sounds good. However gypsum suffers from generic deficiences like low resistance to water, fire, termite and impact. Hence its acceptance and adoption for acoustical ceiling and panelling is limited
Enter perforated Tufbloc … as in Tufbloc Sircle
Tufbloc Sircle gives you the dual benefits of a tough ceiling tile that is highly resistant to water, fire, termite, impact and also superior sound absorption. 6mm diameter circular perforations at 18mm pitch with white acoustical fleece. The RH99 rating is an added bonus!