Hotel stays and business
conventions go together
Acoustics for travel & trade sector
– hotels and convention centres
Anutone Inspiration Series
Anutone presents 6 magnificent design concepts for convention centres and hotels because this is how the economy can expand rapidly – with comfortable conditions for trade and business!
Anutone's design team works closely with clients, consultants and contractors to channelize their creativity into viable 3D models for acoustical vistas such that interior spaces are a delight to stakeholders especially end users which here are passengers.
1 CONVENTION – EXHIBITION HALL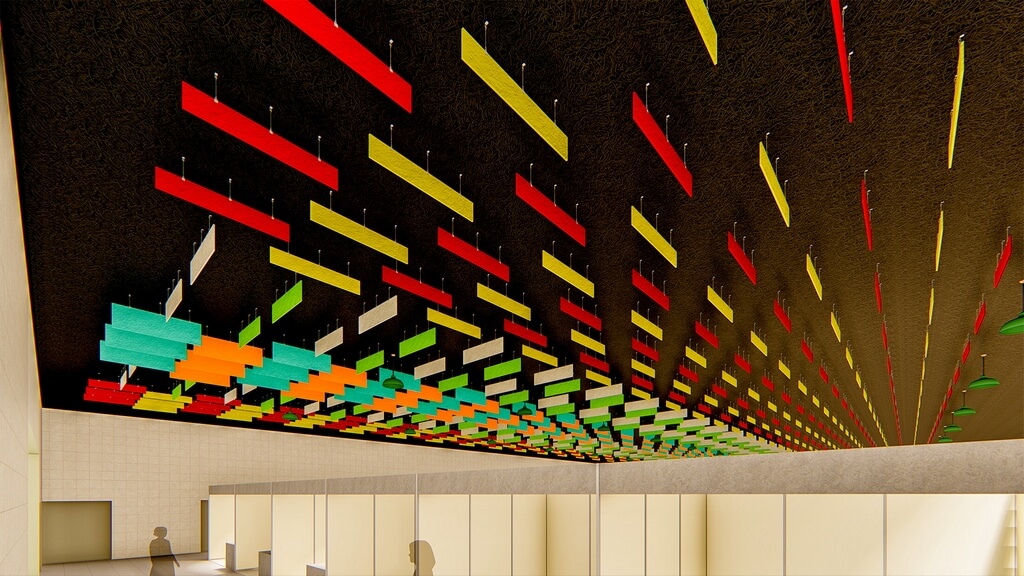 1 CONVENTION – EXHIBITION HALL
New-age design for new-age tradeshow floors

Comfortable ambience with five-star acoustic finishes

Primary Ceiling – Strand Ebony on Strut framing

Secondary Ceiling – Mat Duo in 6 colours

Basanti

Palash

Blue Martini

Granary Gold

New Lilac

Summer Green

Not just acoustics but aesthetics too to facilitate trade and  business that expands the economy
2 CONVENTION – SEMINAR HALL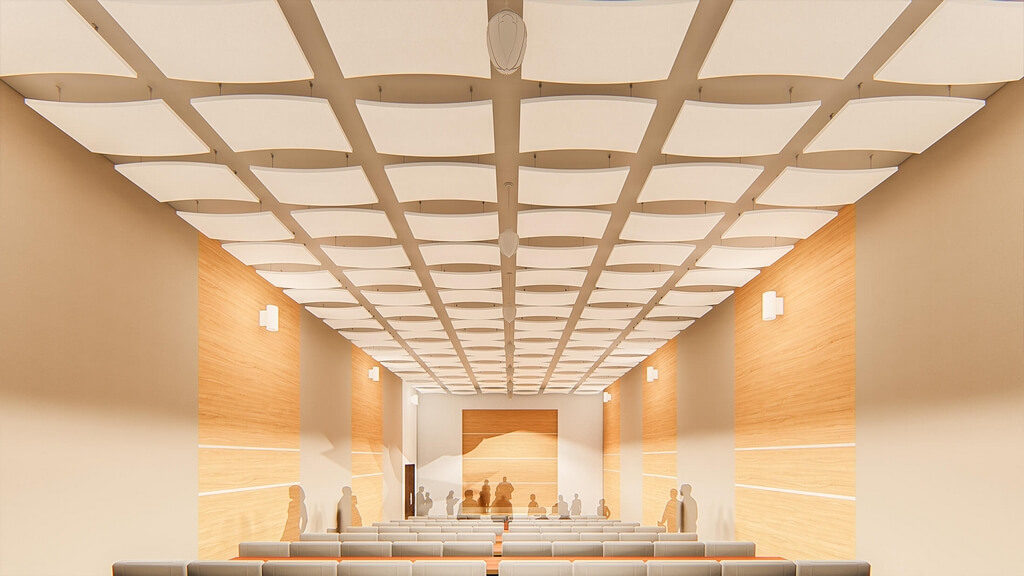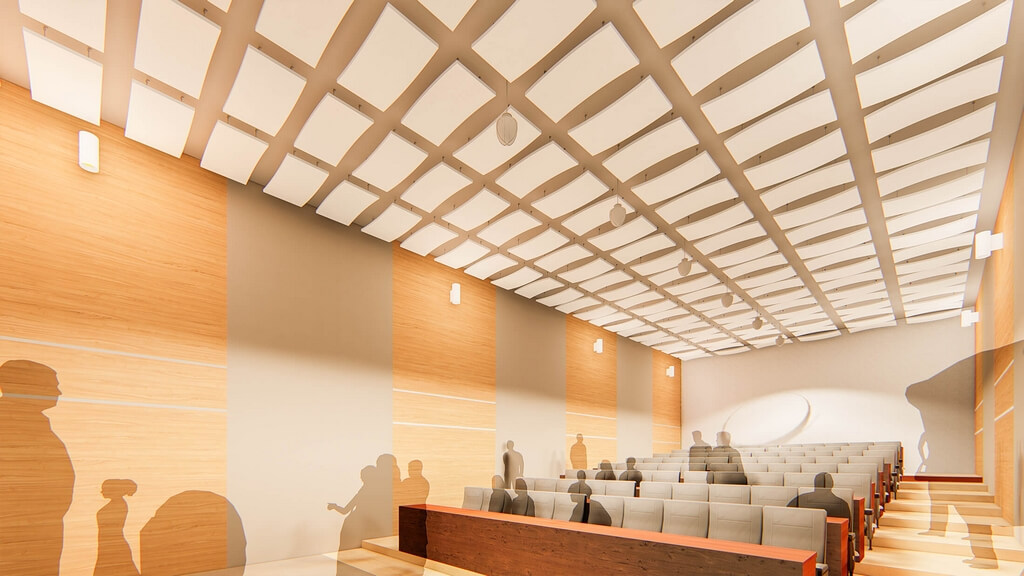 2 CONVENTION – SEMINAR HALL
Seminar halls is where the powerful pow-wow during a business convention – politicians, bureaucrats, industrialists, traders, agents and media

Hence, seminar halls need to exhibit the right ambience to get the vibes right and ensure easy flow of trade and commerce

Primary Ceiling – Snazz Pixel 0308 insitu painted white

Secondary Ceiling – Subtex Clouds Nubby Concave and Convex suspended alternately

Note the shadows of the petal clouds falling on the pixel primary ceiling due to uplighting and creating a contrast

Panelling – A combination of Slats Surco in Maple Arce and Stretch SLS in Buff
3 CONVENTION – VIP LOUNGE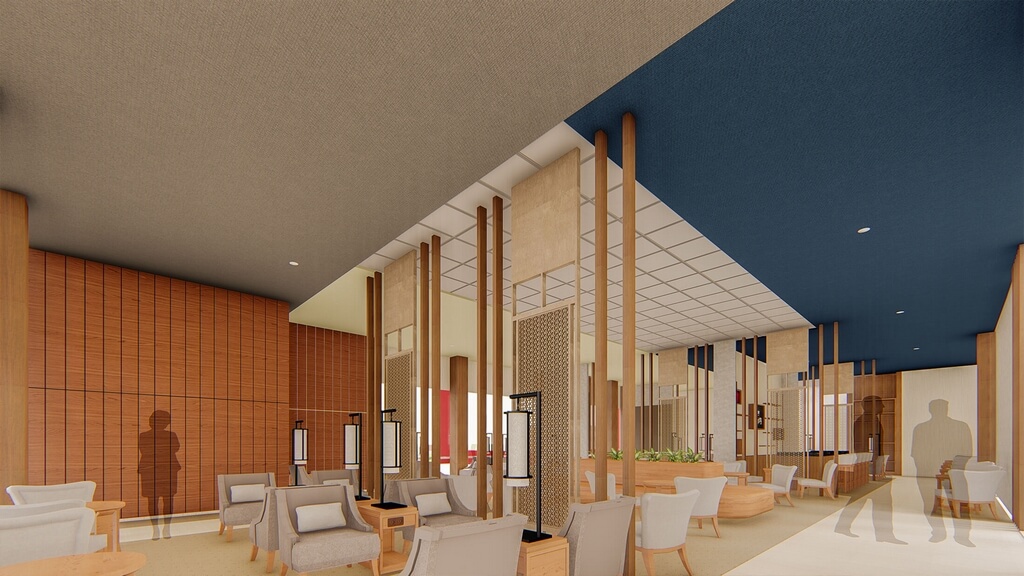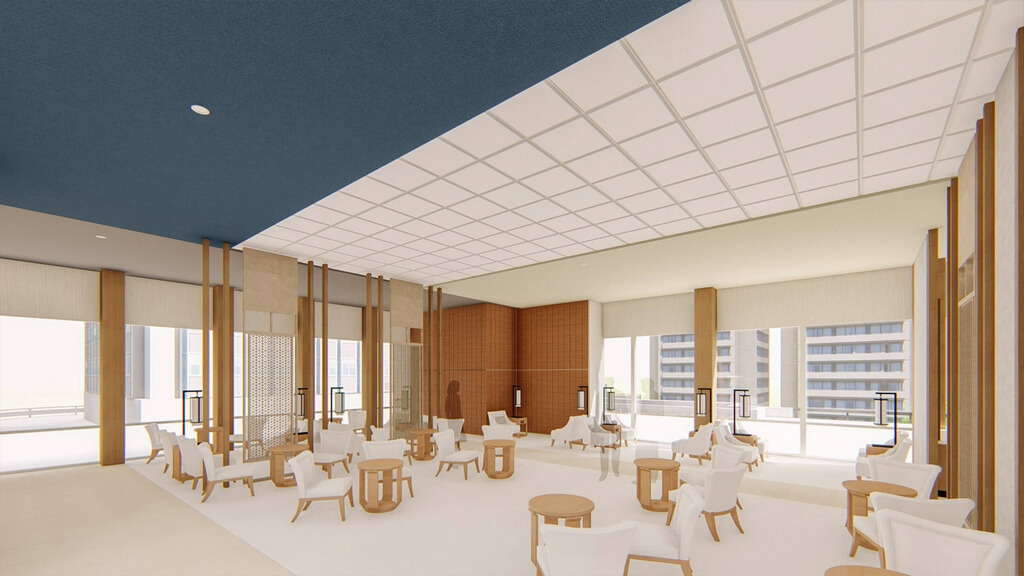 3 CONVENTION – VIP LOUNGE
The importance of VIP lounges cannot be over emphasized because it is for very important people

Quietness for comfort is the number one requirement and hence of high value

Ceiling – A combination of Subtex Nubby grid ceiling and Stretch SLS in 3 colours of Lake, Ultra Marine and Creme

Panelling – Slats Surco in Teak Teca
4 HOTEL – LOBBY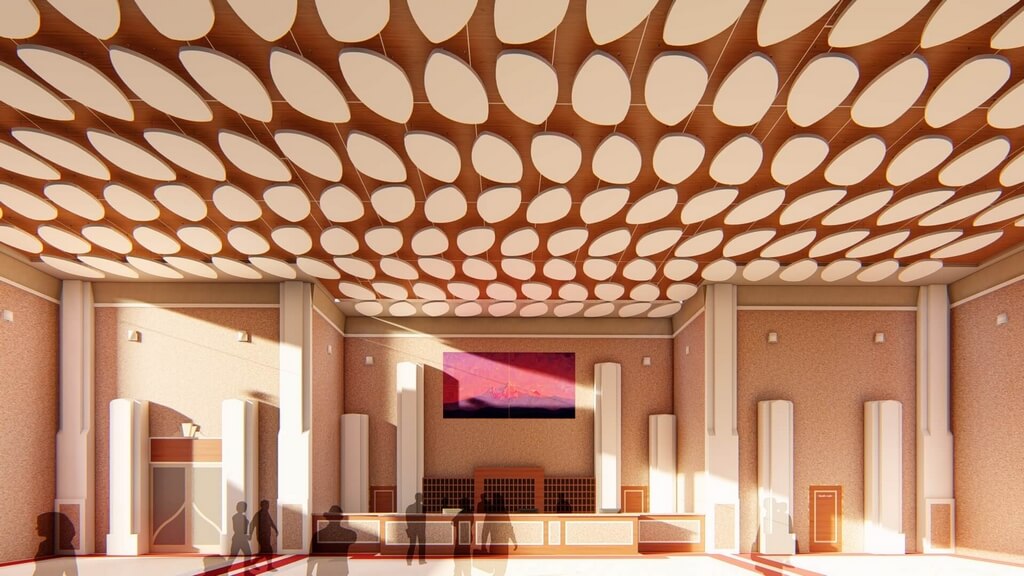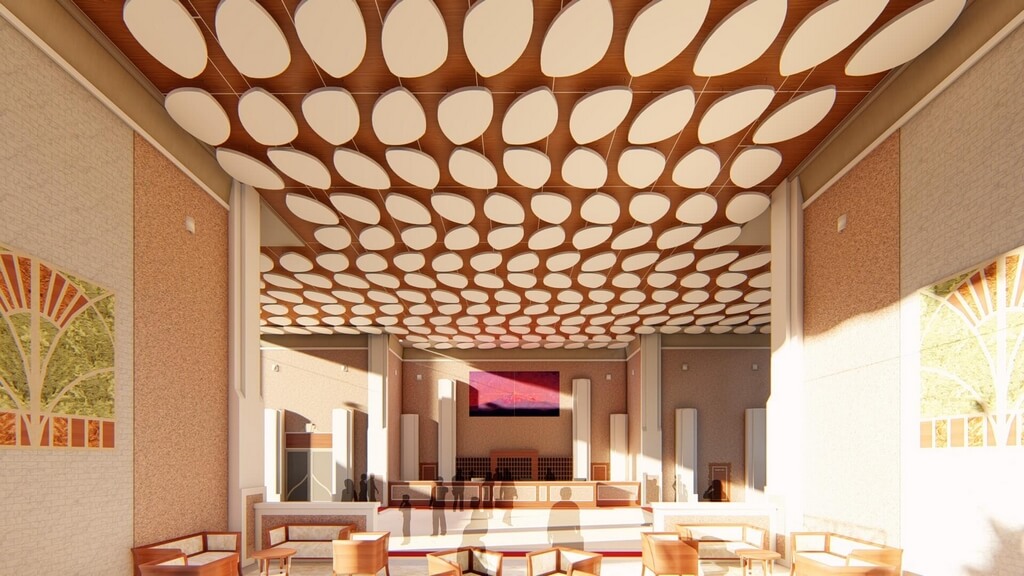 4 HOTEL – LOBBY
The lobby of a hotel is the first impression for a guest

For a guest to return again and again to the same hotel




it is not just the guestroom but the lobby also that is the determinator

Hence the lobby has to be both visually stunning and acoustical comfortable

Water bodies and piped music help with sound masking but first is the need for adequate sound absorption

Primary Ceiling – Sonator panels and planks in Teak Teca on Skelet t-grid framing in Global White as contrast

Secondary Ceiling – Subtex Clouds Nubby Petal suspended in a pre-determined pattern to realise the design intent (note their matching colour with the Skelet t-grid of primary ceiling)

Panelling – A combination of Synth Slim Feldspar walls and Paintings made with Subtex Dekor Grafix
5 HOTEL – BANQUET HALL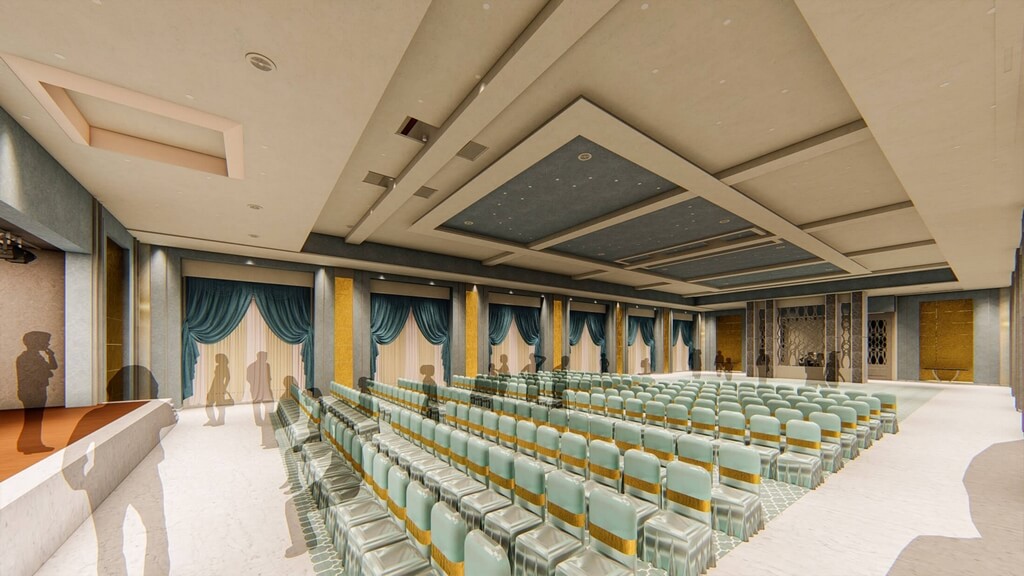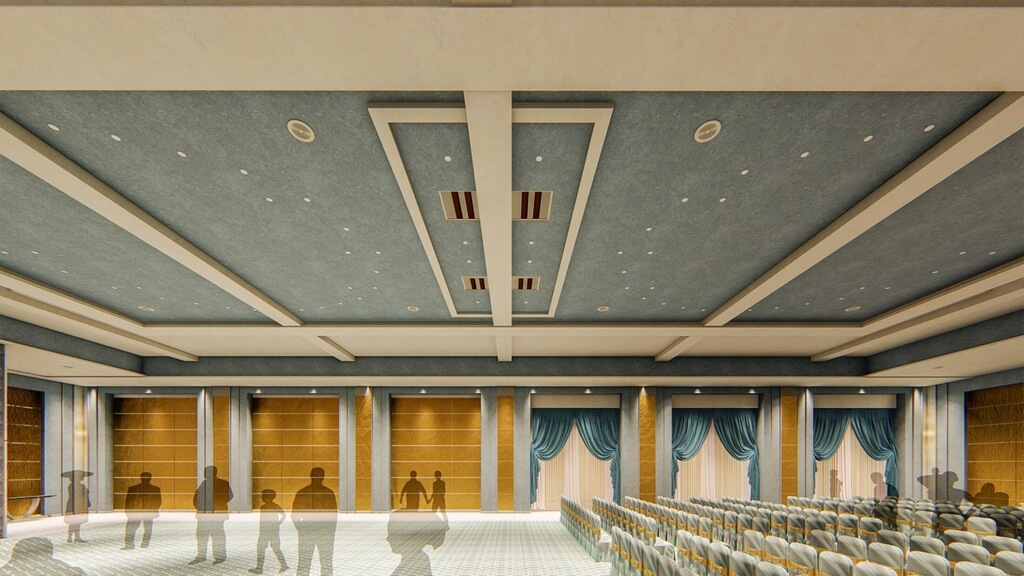 5 HOTEL – BANQUET HALL
Banquet halls are where all the action is

From big, fat weddings to fashion shows and product launches the audio can be deafening

The resultant cacophony is uncomfortable for both the participants in the banquet halls and guests elsewhere

Hence the importance of noise|vibration isolation and sound absorption – both being two very different aspects

Shell in shell – room in room – noise|vibration isolation with Tufbloc and MatBSB walls|ceilings and Float flooring all on resilient mounts for decoupling

Note – all penetrations like AC ducts and openings like doors need to be suitable noise rated for effective noise isolation

Absorption ceiling – Snazz Pixel Smery insitu painted




Gray Screen & New Lilac

Absorption panelling – Subtex Nuanz in Antique Gold
6 HOTEL – GUEST ROOMS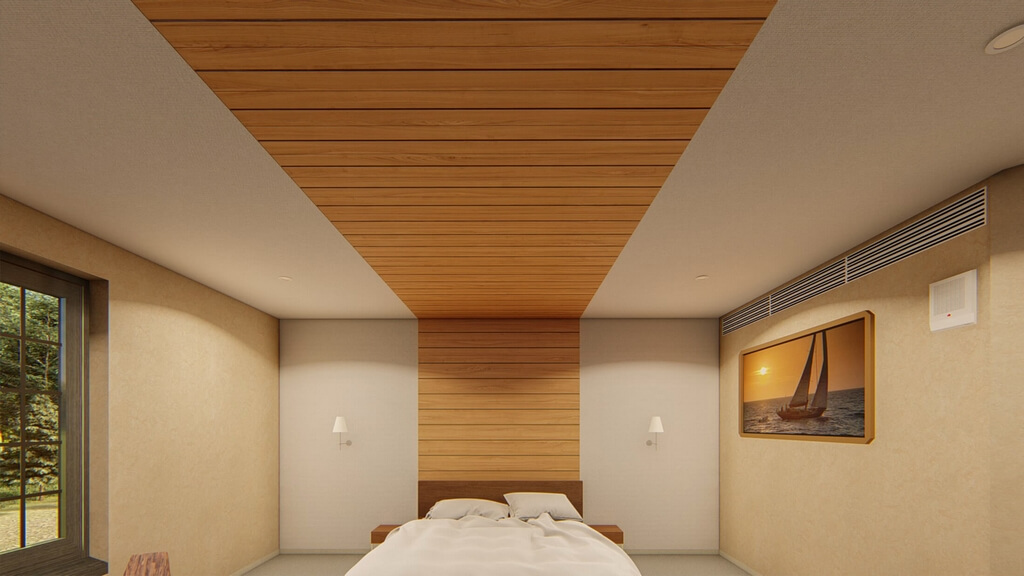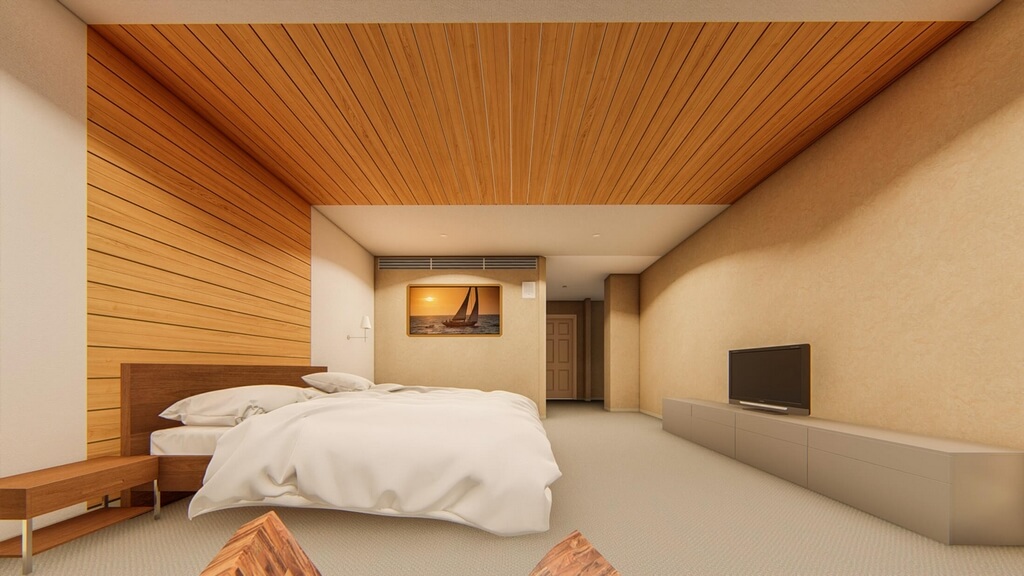 6 HOTEL – GUEST ROOMS
And finally the hotel's guest rooms where the visitor after a hectic day at the tradeshow wants some much needed rest

Both noise isolation and sound absorption are important to achieve background noise of RC30 with HVAC on in unoccupied state and RT 0.75s for <50m2 floor area

Noise isolation with Tufbloc and MatBSB walls

Note – penetrations like HVAC ducts and openings like




corridor doors need to be similarly and suitable noise-rated

Ceiling – Slats Surco L128 in Walnut Nuevo flanked by




Stretch NRC in Vit

Panelling – Slats Surco L128 in Walnut Nuevo flanked by Stretch NRC in Vit
NOTE
Project images are based on 3D renders for products, systems and solutions by an architect for illustrative purposes and Anutone claims no association of products to actual projects.
Product colours, prints, embossing, shapes are indicative and may differ on actual panels due to limitations.
Lighting plays an important role in the final visual perception of surface finishes and colours. Daylighting and house lighting can make a difference. Please request tabletop samples and site mockups for a true look and feel.
It is the responsibility of the user to conduct due diligence and assess the suitability of the offered products to their projects.
Copyright and Intellectual Property belongs to Anutone. No contents must be copied, scanned, reproduced, transmitted, stored, retrieved or otherwise used in any form without prior written permission of Anutone.
Download newsletter as a presentation (ppsx)