Let your imagination
soar or set sail
Acoustics for Airports
and Ferry Terminals
Anutone Inspiration Series
for passenger terminals
Anutone presents 8 magnificent design concepts for transport terminals in this and the next UPDATE. Airports & ferry terminals for now, railway stations & bus stands next week. Air, water, rail, road – we got it all covered for you!
Anutone's design team works closely with clients, consultants and contractors to channelize their creativity into viable 3D models for acoustical vistas such that interior spaces are a delight to stakeholders especially end users which here are passengers.
AIRPORT – CHECK-IN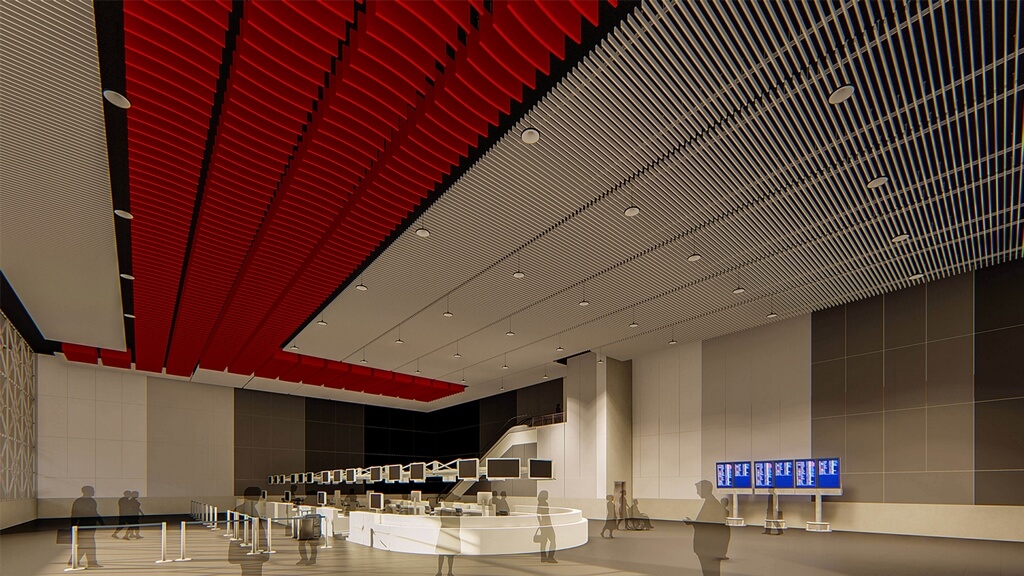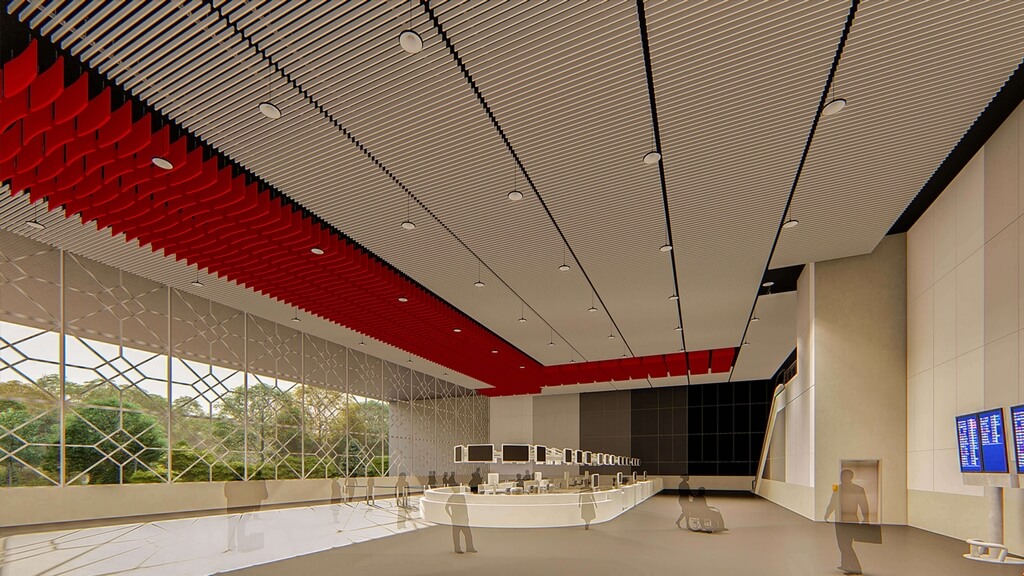 AIRPORT – CHECK-IN
The first impression for passengers is Check-In

Check-In is an area of immense and intense activity

Hurried and harried passengers need acoustical comfort

Hence the concept of quieting the voluminous area

High reverb time of >8s can be reduced to <2s

Primary ceiling – Strand Ebony on Skelet Ebony

Secondary ceiling – a combo of Serge Lance White and Subtex Wave Nubby Curved Colours (Palash)

Panelling – Slim Colours in 4 graded combo of Blanco, Granite, Carbon and Ebony
AIRPORT – BAGGAGE CLAIM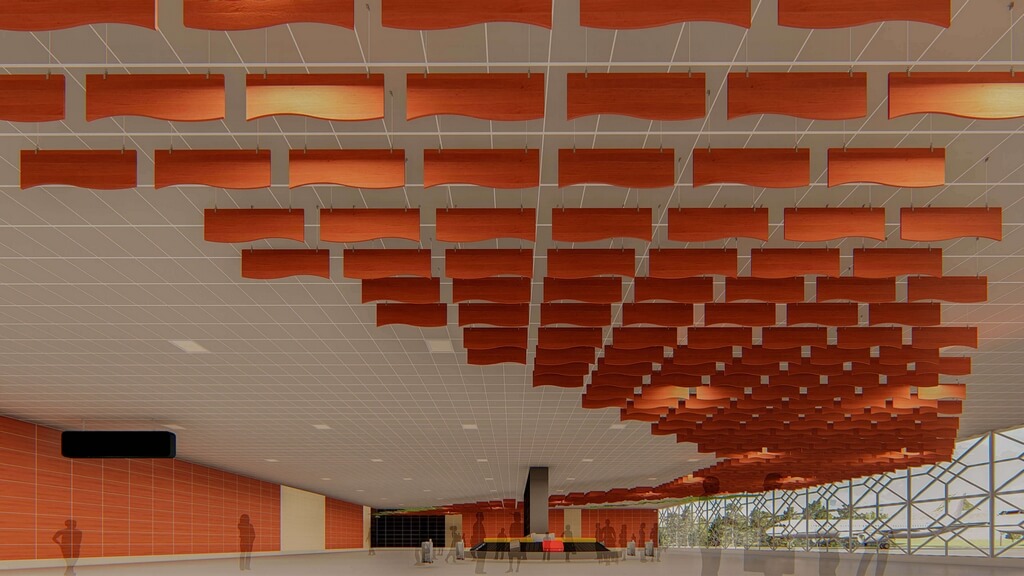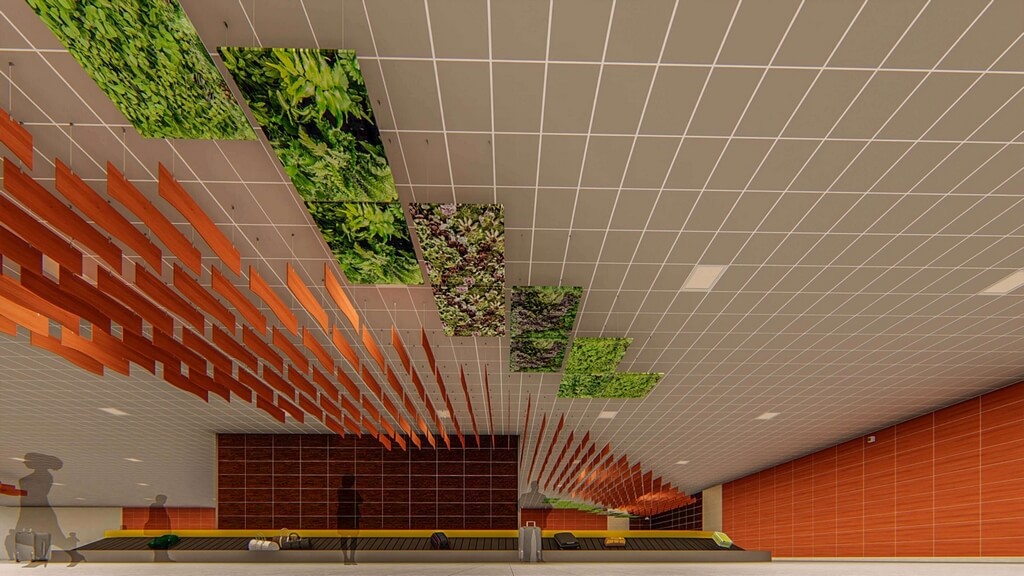 AIRPORT – BAGGAGE CLAIM
Baggage Claim is the last impression a passenger carries

After a short or long journey a passenger looks for calm

Not just quieting but to make it an interesting wait

Again high reverberation time (RT60) needs reduction

Primary ceiling – Serge Astral Lay-in on Skelet White

Secondary ceiling1 – Sonator Duo Shapes in Sapeli suspended in a curved cluster skirting the carousel

Secondary ceiling2 – and Subtex Clouds Dekor Grafix to bring in the woods and the greens from the outside

Panelling – triple combo of Salon Spots MP3 in Sapeli, Sonator in Mahogany and Strand Colours in Light Orchid
FERRY TERMINAL – BOARDING PIER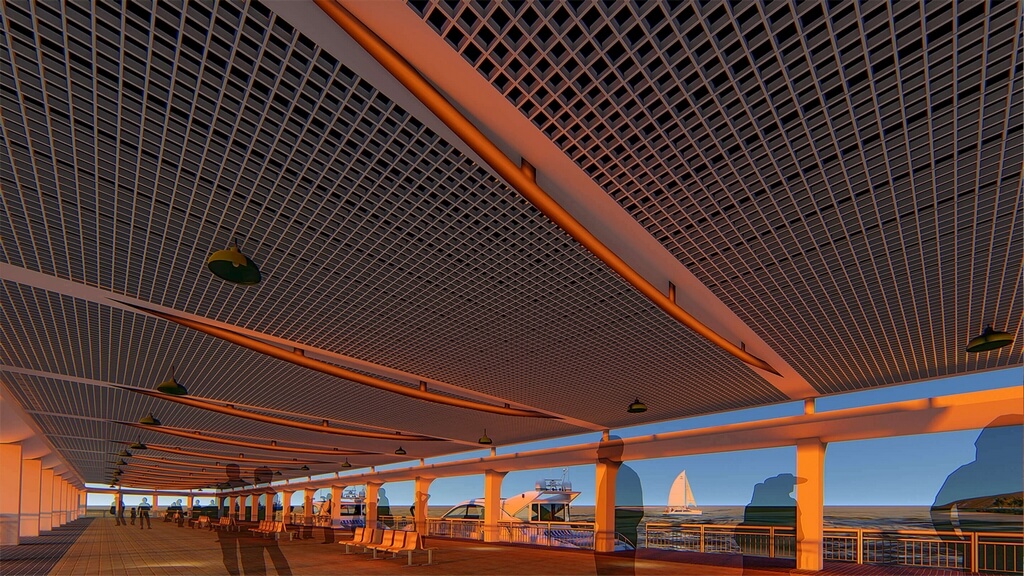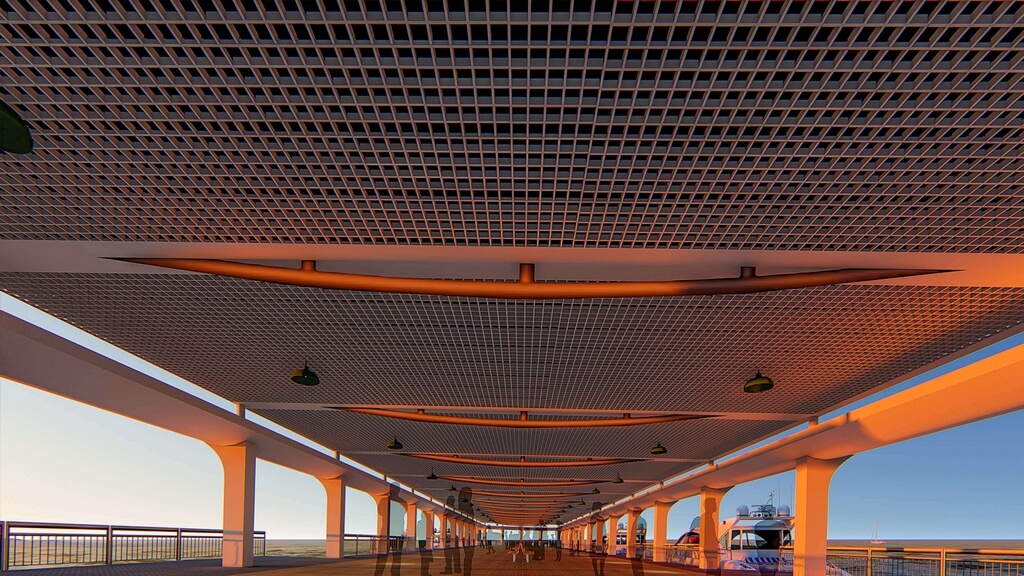 FERRY TERMINAL – BOARDING PIER
Sunset on the pier can be a very romantic moment

The right ceiling can be a mood elevator as a value-add

Being an open space it is subject to high salt corrosion

Aesthetics, ruggedness and acoustics are needed

Primary ceiling – Strand Ebony mechanically fastened securely on Strut framing to prevent wind uplift

Secondary ceiling – Serge Cubix T on Skelet T15 all in Global White to match the pier and yacht elements
FERRY TERMINAL – PASSENGER LOUNGE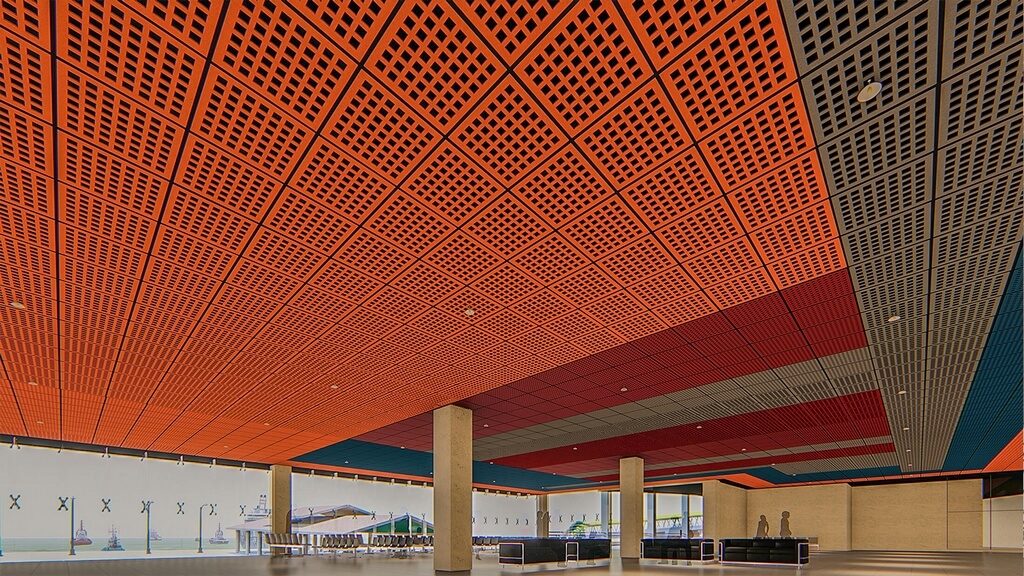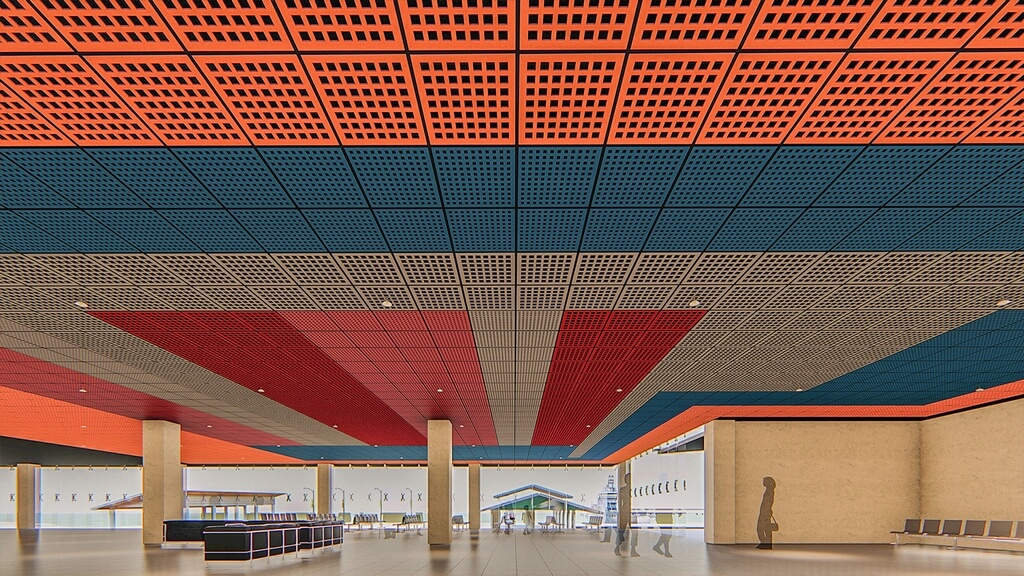 FERRY TERMINAL – PASSENGER LOUNGE
Cruise, ferry and marina terminals feature lounges

For pre-boarding, embarkation or disembarkation

Relaxation and circulation spaces for passengers

Air-conditioned and non-airconditioned spaces co-exist

Ceiling – Tufbloc Cuadrado25 and Tufbloc Cuadrado50




in Carrrotina, Palash, Siamese Blue and Winter Haze




on Skelet Ebony T15 suspension system

Anutone completes project narratives by combining

Aesthetic sensibilities

Acoustical knowledge

Product engineering

Installation guidance
NOTE
Project images are based on 3D renders for products, systems and solutions by an architect for illustrative purposes and Anutone claims no association.
Product colours, prints, embossing, shapes are indicative and may differ on actual panels due to limitations.
It is the responsibility of the user to conduct due diligence and assess the suitability of the offered products to their projects.
Copyright and Intellectual Property belongs to Anutone. No contents must be copied, scanned, reproduced, transmitted, stored, retrieved or otherwise used in any form without prior written permission of Anutone.
Download newsletter as a presentation (ppsx)