Hospitals have unique requirements of hygienic quietness! Anutone delivers!
Acoustical Walls & Ceilings for Hospitals
Current noise levels in the best of hospitals are definitely very much above the ideal 40dB mandated by World Health Organisation (WHO) which means there is a need for acoustics.
The 6D principles of acoustical application applies to all spaces especially hospitals:
Distraction-free – Communications between doctors and nurses and patients and support staff need to be in the clear the first time every time which can be facilitated with high speech intelligibility which means good acoustics.
Disturbance-free – Consultations between doctors and their patients need to be confidential in terms of not only visual privacy but also acoustical privacy.
Distortion-free – Group briefings to staff or group counselling of patients needs low-noise, low-reverberant large spaces for clarity of speech and fatigue-free listening.
Distress-free – Patients must rest well to rejuvenate and recoup their wellness for which sound sleep in quiet conditions is essential. Quick recovery is the key and acoustics helps.
Dissonance-free – Harmony of all frequencies with sounds that are free from room resonances
Distance-free – In large venues like auditorium, every seat is a prime seat. Equal loudness for all seats – front to seat, left to right, top to bottom.
Apart from acoustics, ceilings and panellings need to have the following virtues:
Visuals – be vibrant in their appearance and dynamic in aesthetics as gone are the days of staid, bland hospital interiors that look dull and depressing that make a patient feel more unwell!
Lighting – ceilings and panelling must accentuate indirect lighting to ensure diffused, shadowless, glare-free, soft luminance that is soothing to patients and harried staff alike. High reflectance ceiling tiles and wall panels from Anutone help in this case.
Hygiene – acoustical products must be zero or very low on emissions to ensure high levels of indoor air quality and positive air pressure. Surface finishes need to be easily maintainable.
Ceiling tiles like Subtex Nubby H+,  Pixel Square, Astral H+, Tufbloc Square and ceiling boards like Pixel Smery, Tufbloc and wall panels like Subtex KSL, Sonator are damp-wipable with disinfectant sponge systems.
Further, wet-wipability, washability and water repellancy in operation theatres, ICUs, laboratories, cleanrooms, kitchens and washrooms is supported by Astral Aquila and Tufbloc Vin ceiling tiles apart from Tufbloc ceilings and drywalls specially painted at site with anti-bacterial coatings.

Product Recommendations for Hospitals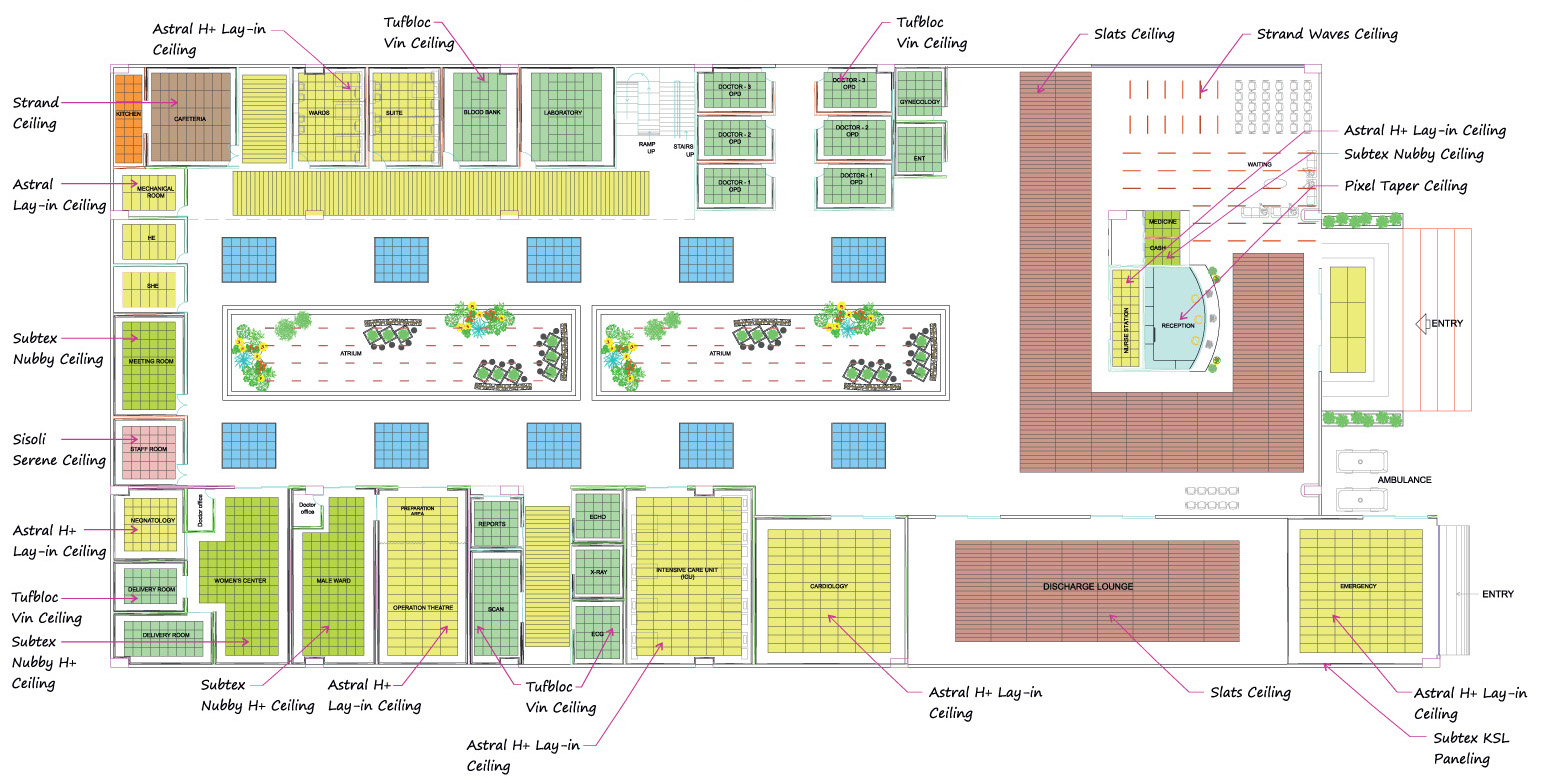 Healthcare References Successful hospital projects across India are testimony